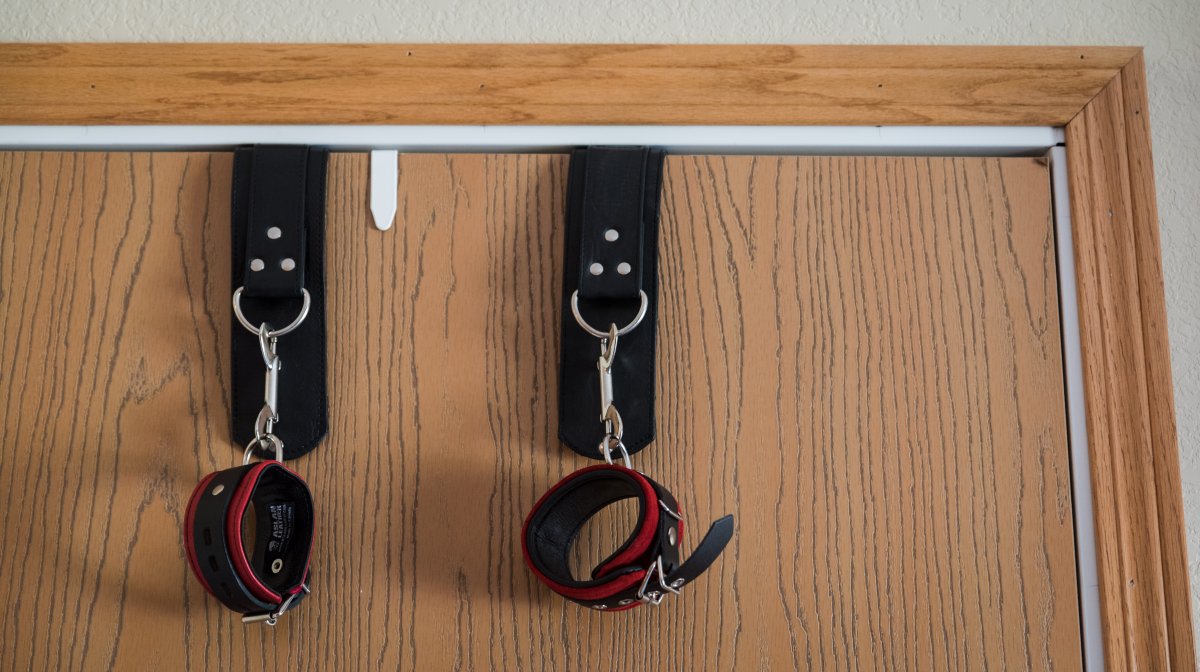 For those who can't modify their living space or just want an easy and discreet way to put up bondage points and then put them down, there's the Overhead Attachment Straps from MEO.de. Convenient and easy to use, these high-quality leather straps just loop on top of a door to wedge between the door and the doorframe. Once there, they stay in place against the door, and each strap's available D-ring allows for bondage possibilities up against the door. the Overhead Attachment Straps includes these two straps, fully-assembled and ready to go as soon as you open the package.

Like most MEO.de purchases, the Overhead Attachment Straps come packaged in a plastic, see-through bag. This bag will need to be destroyed to get the straps out, so don't think you'll be able to use it for storage. The bag includes a barcode for warehouse use, but it's otherwise instruction-less.
These straps don't really require much instruction, though. Each one of the Overhead Attachment Straps features a slim bar at the end of the straps. You open your preferred door, toss the straps on top of the door with the D-rings facing the side you want to play on, and then you shut the door firmly. Lock the door if possible. The straps will be over the top of the door, the door will be closed, and you will have two, unmoving overhead attachment points for playtime.
Once you have these straps in place, make sure you don't need to open the door again. They slide out extremely easily after the door is opened – even if no one is attached to them. To be honest, it's been a bit of a source of frustration when I know I need something in the other room and need to get through the door after I've set up the Bondage Attachment Straps. Make sure to plan ahead better than I do.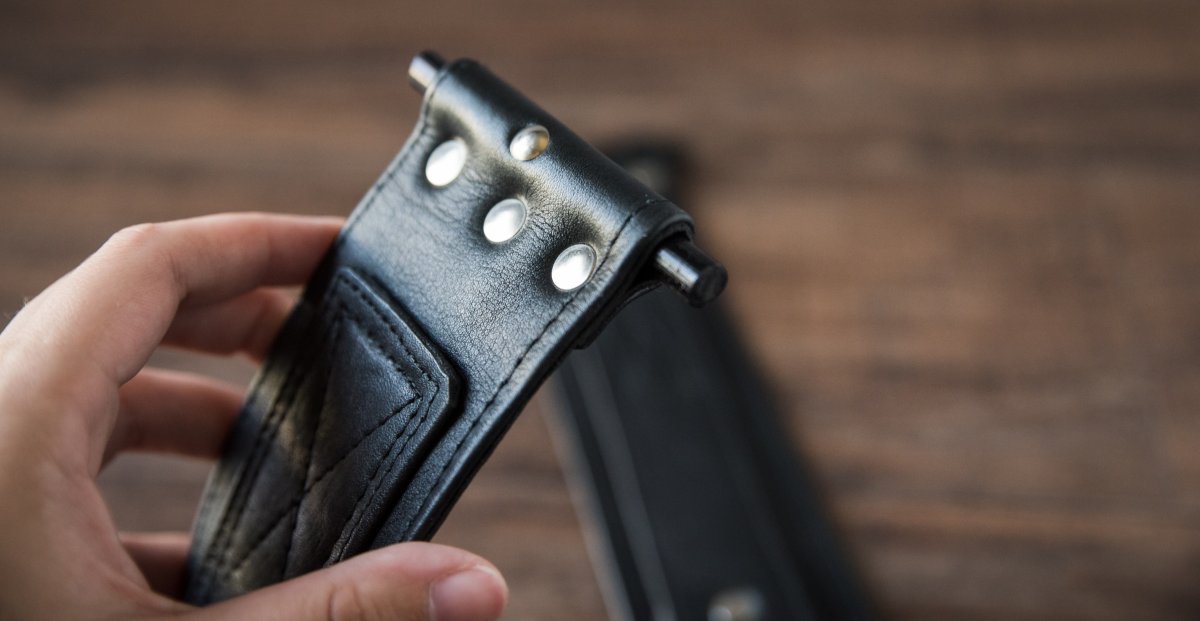 Depending on the fit of the door, the person on the unused side of the door will likely see very little. There will be a small black bar at the very, very top of the door. That's it. Unless someone is paying attention, they won't notice the Overhead Attachment Straps on the unused side, so don't worry too much about playing on people-facing doors. However, be aware that the person might think you "caught" something in the door and open it to tell you – OR they might hear your captive banging around on the door. Appearances may not be the only possible concern with that one.
The exact fit that these Overhead Attachment Straps have in your doorway is going to depend on your particular doorway. For example, my front door happens to have an interior rubber lining along the doorframe – which makes these straps a very, very tight fit, and once in place, the straps won't move an inch. However, on some of my other interior doors that don't have this rubber lining, the straps seem free to move around along the top of the doorframe a bit more. As a clarification, I'm talking about moving from side-to-side – not coming off.
As a note, some doors may not have the required/necessary space between doorframe and door to allow these to work. Most people's interior home doors should be fine, though.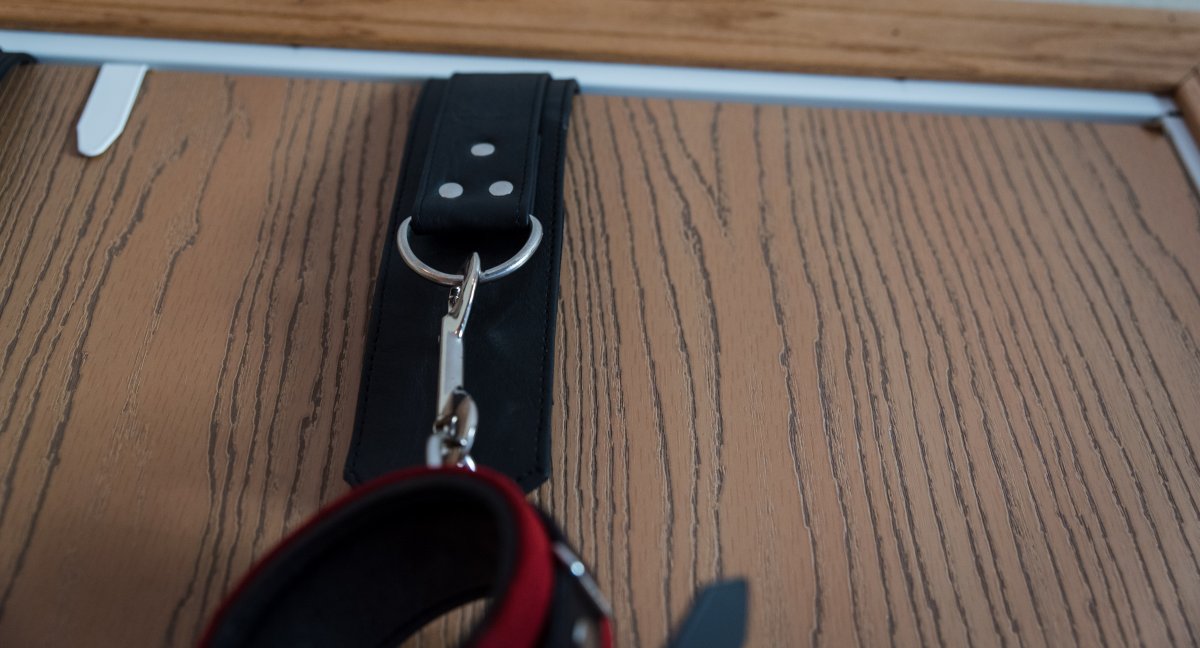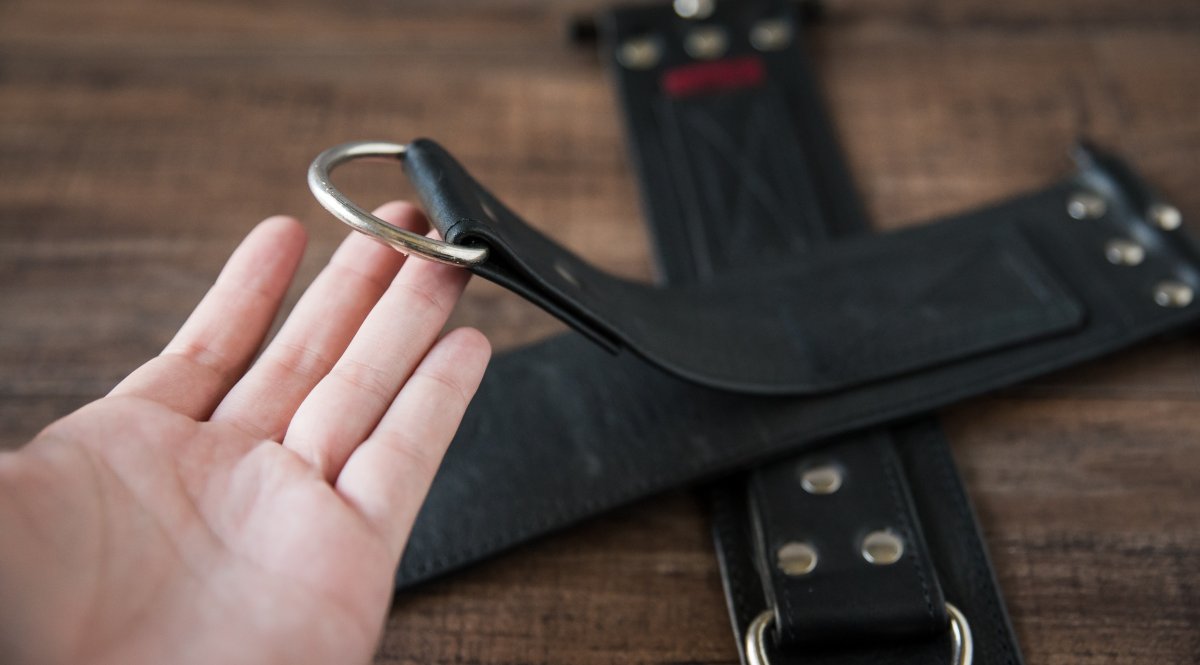 That being said, I've had absolutely no problems with the overhead attachment straps coming off. Once they're wedged between the door and the door frame, they seem to stay there pretty much perfectly. Getting them into position can be slightly frustrating (as mentioned above), but once there, they definitely stay. With the door shut and locked, I've had no problem with the door bowing or moving under the person's struggles either.
How well do they hold up? Fantastically. Even with multiple uses and multiple squirming submissives under the presence of these, I've had absolutely no problem. The leather is reinforced in multiple places near the attachment points including thicker leather all throughout the entire strap. Near the D-ring, there are a couple extra rivets while the loop near the doorway bar has extra rivets too.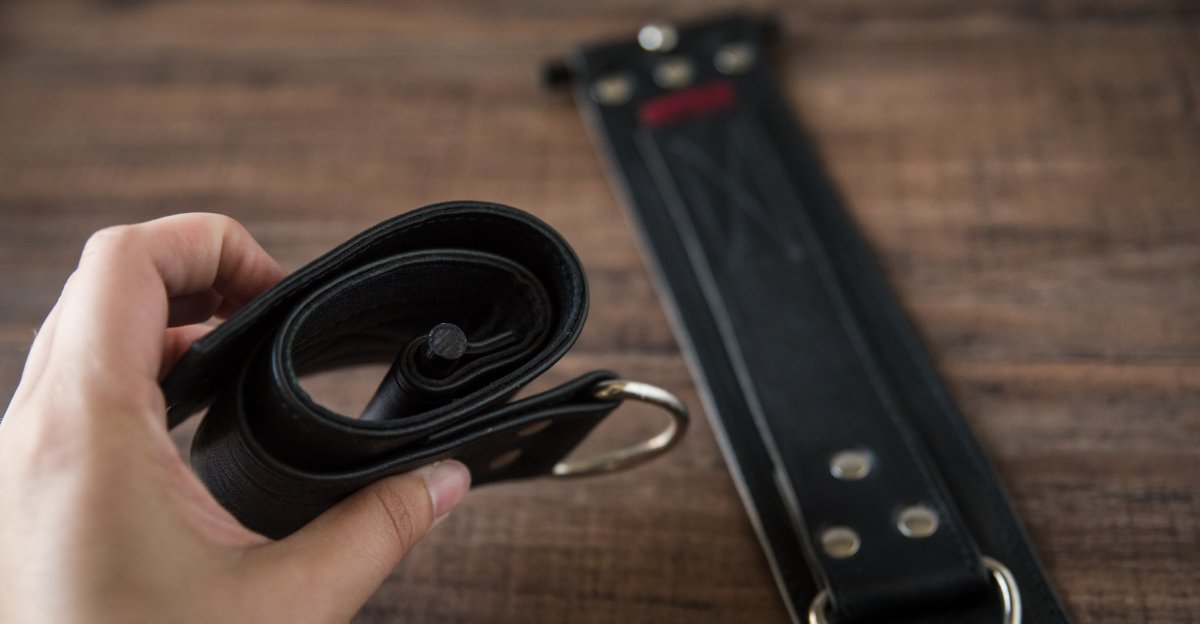 Do be aware that these straps were never designed to hold a full person's bodyweight. These are designed to be overhead bondage points – not suspension points. Don't try to hang your partner by just their wrists – or by just these two hanging points. It'll hurt them, possibly destroy the door, and may just rip the leather. Wouldn't recommend it. These are just designed to keep your partner's hands in an upright position and fasten/bind them to the wall/door behind them.
There shouldn't be much cleaning required with these straps. They shouldn't get much of anything on them. A gentle wipe-down with a slightly-damp washcloth on occasions should do a good job of keeping these nice.
Overall, I would enthusiastically recommend the Overhead Bondage Attachment Straps. Especially for people who are renting or who can't make holes in their ceiling/furniture, these straps are going to offer a secure and safe way to bind your partner to a fixed object. The straps are very durable, extremely easy to use, affordable, and just look sexy too. No complaints here; these are fantastic! Thanks to MEO.de for providing these over-the-door bondage options for my Overhead Bondage Attachment Straps review.