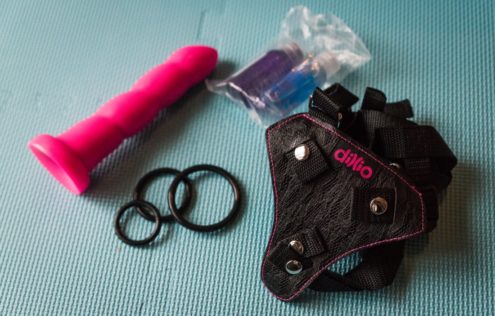 A dildo and harness set, the Dillio 6 Inch Strap-On Suspender Harness Set comes with everything you need, straight out of the box, to jump straight into strap-on sex. The harness is made from nylon with plastic buckles while the 6″ dildo is made from phthalate-free rubber. The dildo has an insertable length of 6.5″ and a diameter of about 1.25″ with a slightly tapered tip. The harness includes over-the-shoulder suspender straps for extra stability, has an interchangeable O-ring system, and fits a hip size of 60″.
The Dillio Strap-on Suspender Harness comes in a thick, sturdy cardboard box. The box itself is bright and eye-catching, and all of the product's information is included on the back of the box. However, if I were to pick this box up in-stores, I'd likely put it back onto the shelf as the harness box lists no sizing information – a huge no-no for plus-size in-store shoppers. The box is easily sturdy enough for long-term storage of the dildo and harness in this box. The box contains the strap-on harness and suspenders, the 6″ Dillio, three interchangeable silicone O-rings, a sample-sized bottle of Moist water-based lubricant, and a sample-sized bottle of Refresh Toy Cleaner.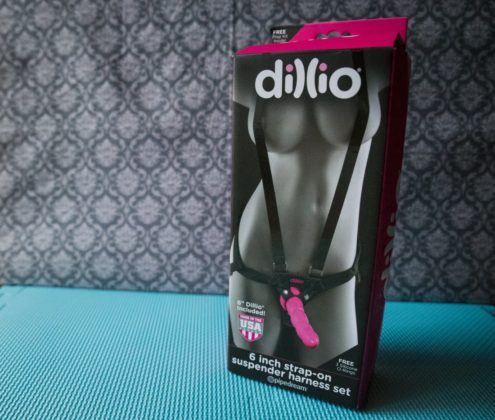 The Suspender Strap-On Harness included in the set looks like a small bundle of straps and buckles until you get the lay of the land. It'll likely take you a few times of putting on this harness before you'll be able to do it without getting confused in the straps. (To make it easier, storing this harness on a hanger with the shoulder suspender straps really does help keep things untangled). The harness itself is made fully from nylon with plastic adjustable buckles at the adjustable corners. The crotch/dildo area is unpadded with a felt-backed side (where the harness rests against the wearer's body) and a lace design on the display side. There are four snap buttons that unsnap and re-snap around an O-ring where the O-ring will hold the base of the dildo up against the harness. The over-the-shoulder suspender straps are not removable.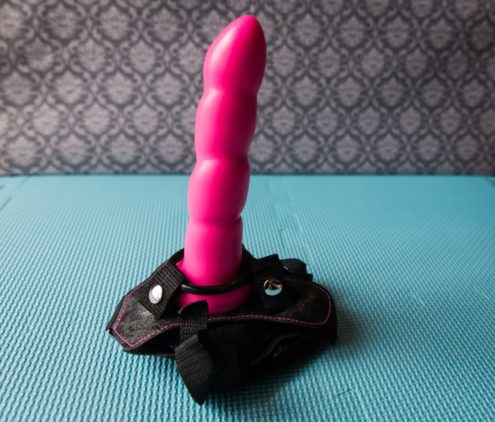 The included 6″ Dillio is the "Dillio Twister" model that Pipedream Products sells. It smells strongly of rubber and plasticizer, so you'll likely want to let it air out before you choose to use it for penetration. I'd also highly recommend using a condom on it because of it's porous design. The Dillio Twister has no texture to the surface of the toy; it's entirely smooth aside from the small segmented "bumps" that are easily visible on the photo. In addition to its simple design, the Twister Dillio includes a slightly concave base that allows the base to function as a suction cup. This gives you a bit of flexibility with your Dillio as you'll be able to use it, hands-free, without the use of the included strap-on harness.
As mentioned before, the Dillio Suspender Strap-On Harness has interchangeable O-rings. This means you can pull out this O-ring and slide in another O-Ring – and use virtually any dildo you'd like with the set. There's no reason to stick with this dildo unless you're in love with it – which gives the set added flexibility as you can add on new (and larger!) toys if you want as the two of you figure out what you love.
That being said, the included dildo does a decent job as an introduction to most type of strap-on play. The tapered tip makes it easy to insert (especially if you're new to pegging), and the gently waving shaft gives it a bit of sensation without being something so intense that it'll take time to get used to the sensation. The base's suction cup ability is strong enough to hold the toy to a floor – though not strong enough to hold it well on a wall. This offers some options for self and solo enjoyment in addition to use of the dildo within the strap-on harness.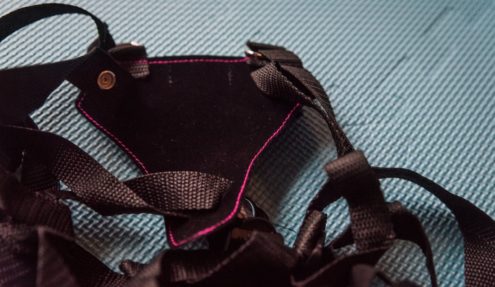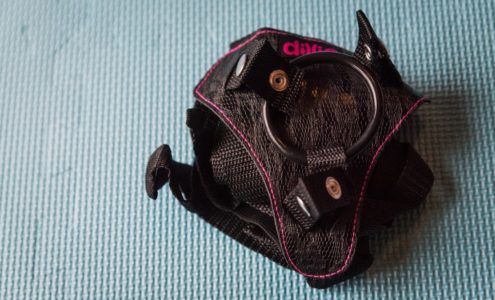 And what about the harness? It does what it's advertised to do. As mentioned above, getting into the harness is definitely a learning process, and keeping the shoulder straps on a hangar for storage helps a lot. You'll also want to keep an O-ring securely snapped into place on the front of the harness before attempting to put it on. None of the straps on the Strap-On Suspender Harness will stay in place without their fastenings being entirely snapped shut. Once you've figured out your perfect fit with the harness, it's possible to wiggle in and out of the harness itself instead of messing with fastenings every time you want to put it on.
The shoulder straps definitely do help distribute some of the weight of any dildo onto the shoulder in addition to the hips. It also provides a vertical "lift" to your strap-on dildo. Say good-bye to a droopy dildo! That being said, the suspender harness shoulder straps don't necessarily stay in place at all times, so don't expect them to be the perfect "nipple hiders" unless you are constantly adjusting the straps. With the movement of your body, the nylon straps of the harness will move too.
With most people's standard use of a harness, you don't necessarily need the extra support of a shoulder strap. Especially with standard, "realistic" looking dildos, there's just not enough weight to justify needing the shoulder straps. So with that in mind, the purpose of these shoulder straps is three-fold: 1) for those who love the look of the suspender straps and think it'd look sexy. 2) for those who are constantly annoyed by the drooping or a downward position of the strap-on dildo and 3) for those who use big-ass toys (like Bad Dragon or other gigantic toys) that likely weigh multiple pounds. For those who use these large toys, the included silicone O-rings won't likely fit the base of the gigantic items, but you can bring your own O-ring – and you'll be set to play. (My only complaint about using this particular harness for large, thick toys is that the harness itself isn't padded in any way which can become painful in some cases depending upon how heavy the toy is.)
As for sizing, I found that the 60″ hip measurement does seem to be accurate. I'm pretty close to that measurement, and while it's definitely tight and on the loosest settings, it *does* fit my hips. What's a tight fit is my thighs – right around the closest part of my body where a jock-strap style harness would rest. While it does fit 36″ thighs, it's a very tight fit, so if you're like me and carry most of your weight in your butt and thighs, keep this in mind. Anything under 56″ hips and 32″ thighs, though, and it should be a comfortable fit without too much tightness on the looser settings. As for the shoulder straps, as far as I can tell, they aren't adjustable in length. This means that if you have a short or long torso, this may not fit so well. For me, however, they were basically the perfect length.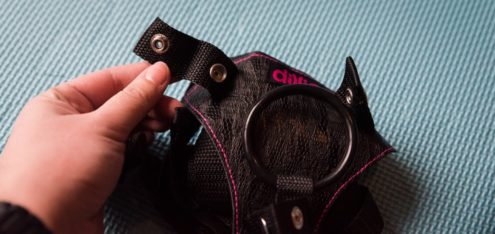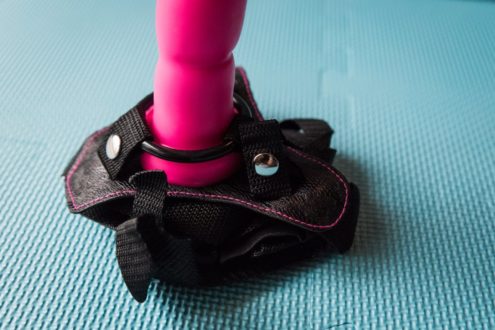 As the dildo is made from rubber, it's porous, and it should be treated as such. It can't be thoroughly sterilized, so once you use this dildo on a person, you'll want to consider it fluid-bonded – and only use it on other person's who share that fluid-bonded status with the original owner. The toy, however, can be given regular cleanings to help it remain clean. Warm water and anti-bacterial soap should find its way onto the toy before and after every use, and since the Dillio Twister doesn't have any intricate textures or crevices, it's extremely easy to clean. The surface of the dildo does seem to pick up hair and lint relatively easily, though, so you'll want to store it in a plastic bag (away from fabric bags) and make sure to give it a good rinse before any use without a condom.
The strap-on harness will require separate cleaning from the dildo. As it's mostly made from nylon and plastic, it's not designed for a washer and dryer. Instead, use a slightly damp washcloth with warm water to wipe down the harness as necessary. You may want to use that washcloth with anti-bacterial soap on the crotch portions of the harness to ensure it's clean. If possible, you may want to consider the Dillio 6 Inch Strap-On Suspender Harness to be a single-person harness if regularly used without clothing due to its difficulty in fully cleaning every inch of the material. When it comes to storage, all of the straps tend to go their own way, so you'll likely want to keep it in a bag of its own to ensure it gets as least tangled as possible. As previously mentioned, you could also hang the two shoulder straps over a clothes hanger, and that helps to keep the harness as a recognizable bundle when you want to use it.
Overall, the Dillio 6″ Strap-On Suspender Harness Set does pretty well for what it is: an affordable way to get into and enjoy strap-on play. While we likely won't be using the dildo too often (as it's smaller than our usuals and not made of silicone), it offers a beginner-friendly and body-safe-enough way to try strap-on play that doesn't break the bank. The particular shiner here is the harness and its ability to use gigantic toys (such as others that aren't included in the set). Over-the-shoulder straps aren't usually required for many standard toys, but once you get into the huge toys that weigh multiple pounds, an over-the-shoulder design like this makes everything much more comfortable. With the Dillio's Strap-On Suspender Harness interchangeable O-ring, you can bring your own O-ring and bring your own huge dildo – and you're set to play! Plus, the over-the-shoulder straps can look pretty sexy in their own right. Thanks to LuvToyz for providing this plus-sized strap-on harness for my Dillio 6 Inches Strap-On Suspender Harness Set.