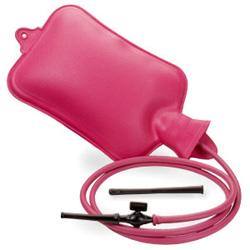 There are a plethora of guides online designed to help you give yourself an enema, and like anything else in kink, I recommend you read as much information as you can before you attempt something like an enema. However, this guide is much more focused on the kink aspect of enema play. Get a more comprehensive look at enemas by reading as much as you can – including this guide.
What Will an Enema Do?
An enema will, in simplistic terms, clean out the inside of the anal area. In more complicated terms, an enema adds fluid into the intestines which softens any mess inside the body to gently cause the body to have a bowel movement. Depending on what the state of your bowels are before you begin (how recently you've had a movement of your own), this enema can be almost entirely fluid or it can include small amounts of stool as well. An enema can usually be kept in the body from anywhere between 5 minutes to 30 minutes; it depends on what solution is used and how much is used. However, do be aware that you'll probably want to have a toilet nearby. The first enema may be the messiest, but subsequent enemas will be cleaner.
Enemas have been used to clean out the bowels for a very long time. They're used in medical settings for extreme constipation and some naturalistic lifestyles regularly use them as aids in relaxation and health. In a sexual setting, they are used for cleaning the rectum for anal play or for filling the butt for a pleasurable, full sensation.
Why Would Someone Want an Enema?
Some people enjoy the sensation of enemas purely for the sensation. Especially for those who enjoy anal sex, there's an intense "full" sensation that comes alongside having fluid introduced to the body. For intimacy, many couples find that the act of retaining and releasing the enema fluid can be an entire exercise in trust. For those that prefer humiliation, there are many avenues in administering an enema that can be used for embarrassment and humiliation.
For other people, enemas are entirely used for the practical purpose of cleaning out the rectum and anal area for anal sex. Especially for any type of rough or deep type of anal sex, there's a chance of encountering a bit of mess with anal. That's just part of having anal sex. However, some people feel more comfortable knowing that their bodies are already cleaned out before any type of anal sex happens – and enemas reduce the risk of running into any related mess.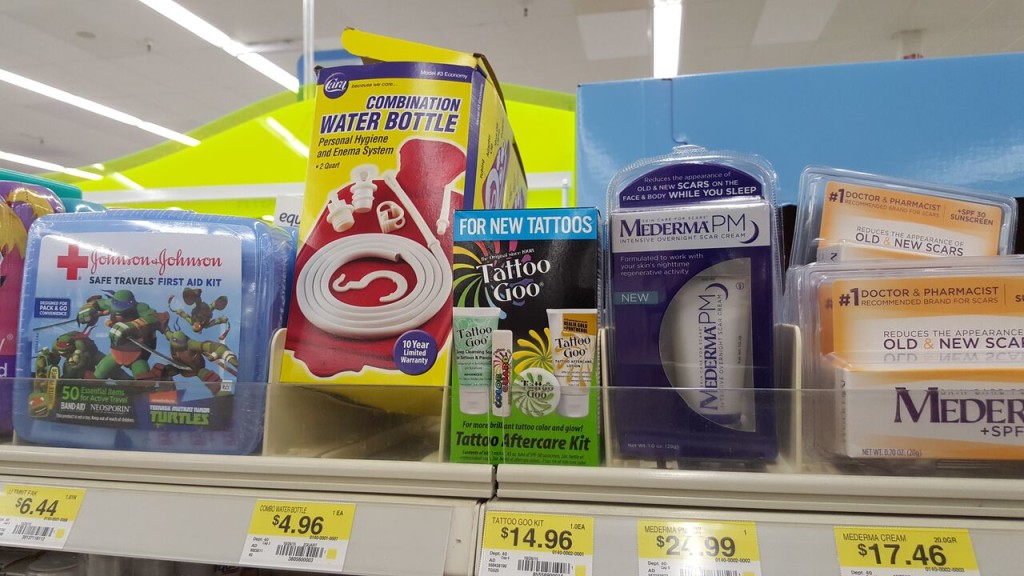 What Supplies Do I Need?
Out of all of the kinky activities out there, getting supplies for giving an enema might be the cheapest of them all. For a bare minimum set-up, all you really need is a reusable enema bag, salt, lube, and water. Wal-mart (and other big box stores, but the photo is from Wal-mart) will sell these combination hot water bottle sets for around $5. (In any store, they're usually located near the first aid or digestive items) If you fall in love with enemas, expect to replace this over time, but it will be sufficient for learning if you enjoy enemas.
There are multiple types of sets you can use to administer an enema. As mentioned before, the reusable hot water combination water bottle is the easiest one to find in stores. If you're looking for a different type of receptacle, you may have to do a bit more digging. A "disposable enema bag" is available if you're wanting to do a really messy enema that may be hard to clean. An "enema can" offers a metal canister to hold the liquid instead of the flexible bag, and they're the easiest to clean, but they're also the hardest to hide. A "bulb syringe" looks like a small nozzle attached to a hollow bulb. It allows you to easily draw water into the bulb and squirt it into the anus. Since the bulb is much smaller than any of the enema bags, it requires multiple "trips" to deliver the same amount of fluid. However, bulb syringes are extremely popular for humiliation scenes because of the interaction and need for multiple "fills".
As you find that you enjoy enemas or want to enjoy different sensations, you can always upgrade your enema equipment. Various attachments are available (such as penis-shaped tips or anal bulb tips) as well as unique types of enema bags. Don't forget that kits made from sexy colors (all black, etc.) and materials (high-quality silicone) are available as well. It's worth an upgrade if enemas have become a regular part of your sex life.
Where Should I Do This?
An enema can really be done anywhere. However, as the retention time is a bit slim, you'll most-likely want to do this somewhere where there's a toilet nearby. If a toilet isn't part of your scene, make sure you know of somewhere else that the enema can be released – a diaper, bucket, or other item. For most people, however, the most comfortable area for releasing an enema is going to be a toilet.
For administering the enema itself, you can use any surface. If you'd like to be as comfortable as possible, most people will enjoy having an enema done while laying on a bed. If you're concerned about any potential mess or would like to be as close to the toilet as possible, the bathroom floor (with a towel placed on the floor for comfort) is a perfectly good place as well. If you'd like both comfort and location, consider folding up an easily-washed comforter blanket onto the floor on the bathroom.
If you're using an enema bag, you'll really just want to look for something that has the right height for hanging the bag. You want something that's about two feet higher than where the butt will be. For some people, if you're on the ground for the enema administration, the bathroom doorknob will work fine. For others, you may want to improvise with closet door handles, dresser handles, or anything else. The proper height is important to ensure the most comfortable enema possible.
If humiliation play is your intent, an involved scene could be done in public without an easily-accessible toilet nearby, but be aware that this scene could go wrong in a way you never intended very quickly, so have your scene thoroughly planned out before attempting something like this. Make sure you know how your partner's body behaves with an enema as well. Have a Plan B in case things go differently.
How Do I Do An Enema?
Of course, this is the bread and butter of what you want to learn about, isn't it?
Prepare: You need to prepare your enema before you can enjoy it. For most beginners, a plain water and salt enema is the best choice. Use clean water for your enema; for most places, tap water will be more-than-fine. Turn on the faucet and allow the water to run until it's comfortably warm. You don't want it to be hot, and you don't want it to be cold. You want it to feel slightly warmed on your fingers. Around 95 to 105 degrees F is what most people tend to prefer. Too hot and you can harm yourself, but too cold causes cramping as well. The right amount of liquid is good as well. It's always better to overfill the bag than underfill it, so fill the bag with a bit more water than you think you'll need.
Add 1 tsp of sea salt for every liter of water you use. (Most enema bags are a standard 1.5 or 2 liter bag). Shake up the bag a bit to mix the solution before administering.
Before you continue, after the bag is filled with the solution, open the valve and let a little bit of the water flow into the sink. You want to ensure you have the air bubbles out of the valve. Air won't hurt you, but it can produce a bit of gas, and most people aren't looking for that. Thus, make sure the air is out before your enema.
You then need to find a good spot to hang the bag (assuming you're using a bag. If not, you can use a bowl filled with the water you plan on administering via the bulb) for your enema. You'll want the bag to be between 18 to 24 inches above the body while taking your enema. Too high can cause too much pressure. Too low may take longer to administer – but it's usually best to err on the side of too low if there's no other option. Drawer handles, door knobs, closet shelves, and anything else can be used to hang your bag; just make sure it's sturdy. 2 liters of water can get heavy.
Position: You want to get into a good position to enjoy your enema. Lots of people recommend doing your first enemas while laying flat on your back. You can also do them while lying on your side. You can take in the "face down, ass up" position, but be aware that it will push the enema further into your body than laying with your body entirely flat. If you're looking to retain more liquid, that position can be helpful, but if you're looking for a shallower enema, having a level position is best. Any pleasurable position you imagine people could get into (including Perth escorts!) can be a position that you can enjoy a enema in.
Administer: Now it's time to put it in. Lubricate the tip with your favorite lubricant, and slide it in. Once it's in and you're comfortable, you can unclamp the hose and allow the liquid to fill the body. There's really no "wrong" way to do this. Continue until you (or your partner) says that they're full, and then clamp off the hose again. For some people, this might be only a bit of water and for others, it might be more. Do what feels pleasurable to you.
Retain: Once you have the solution into the body, it's time to retain the liquid. Just clench the muscles like you would to retain anything else that you would from the butt. If you prefer the extra peace of mind, consider pressing a hand against the area. While I wouldn't recommend it for someone new to enemas, some people also like to add a butt plug in to aid in the retention.
The enema can really be held until it feels uncomfortable to hold any more. Some people will enjoy some discomfort while others mostly enjoy the sensation of the filling process. Hold for as long as you want, but be aware that, as a beginner, it may not even be more than two or three minutes. There's no "have-to" time limit.
Expel: Once you're ready to be done, you can move to the toilet and expel like you usually would. Even if it feels like you're "done", getting around and moving will probably cause a second trip to the bathroom, so it's recommended to stay around the toilet for about an hour after an enema. After you've finished expelling, if your goal is cleanliness, you can move onto a second enema. For a clean feeling, most people prefer at least two enemas. If your goal was the play itself, a single enema will work just fine.
How Can I Fit This Into a Scene?
If you're into humiliation, this becomes extremely simple to do. Tease them over what you're doing to their body. Gently "fuck" them with the tip as you administer the enema. Consider locking the door to the bathroom and making them beg for the key as they retain the enema. Force them to stand up straight for an "inspection" as they try to retain the enema. As long as you get a bit creative, you can come up with a plethora of ways for an enema to add to further power dynamics.
Not into humiliation? You can use enemas in a different way. It's very easy to use an enema as a caring and thoughtful gift that you give to a partner. Enemas can be given lovingly and gently as well. Consider gently laying out your partner in soft blankets as you prepare the enema, slowly lube up the tip, and slide it in. Let them languish in the pleasurable sensations as you touch their body. As they start to feel full, you can remove the tip. Consider more foreplay as they retain, and if your dynamic works best for it, leave them with privacy as they expel the fluid. Then you both will be ready for anal sex or other play; it can work as a wonderful type of foreplay for different scenes.
Of course, an enema can always be used as your own "private" scene as well. As you shave areas or wash up for particular anal pleasures, you can add your own solo enema to part of that solo preparation you do before meeting up with a partner. Figure out how to best fit an enema into what you want.
What Other Types of Enemas Are There?
There are a plethora of other types of enemas out there. As with anything involving kink, DO YOUR RESEARCH. Do not go about just using everything and anything in an enema without doing the research and thinking things through. I can really only recommend the basic salt and water enema for safety reasons, but if your curiosity is piqued by any of the other types of enemas out there, do your research and go very slowly.
Other enema types include liquids like milk and molasses, coffee, alcohol, soap, Epsom salt, yogurt, or others. Especially if you're hoping to use this for punishment or embarrassment, consider doing more research about the different types of enemas. Some will cause discomfort, some will cause urgency, and some can have other side effects. ALWAYS know what you're putting into someone's body before you do it. This isn't a time to experiment without your due diligence.
What Safety Concerns Do I Need to Have?
Enemas aren't without safety risks, but most of the risks are relatively minor when you know what you're doing. For one, avoid doing enemas on too-regular of a basis. Experts disagree on how often "too often" is, but more than one night a week may become problematic. You want your body to still have regular bowel movements and be able to balance itself.
For another, the act of having an enema can deplete the body of hydration. Make sure you regularly use salt in your enemas and avoid doing too many enemas at once. To help reduce the chances of dehydration, make sure to hydrate yourself the day of, during, and after your enema with regular water (you know, through your mouth). Using too many chemicals with store-bought solutions or plain water enemas may cause this to get worse.
Whether your bucket list includes enjoying deep anal sex, skydiving, visiting Brisbane escorts, or experiencing enema pleasure for yourself, you now have the knowledge to cross a couple of those things off of your bucket list. Make sure to do things safely – and of course, enjoy it!