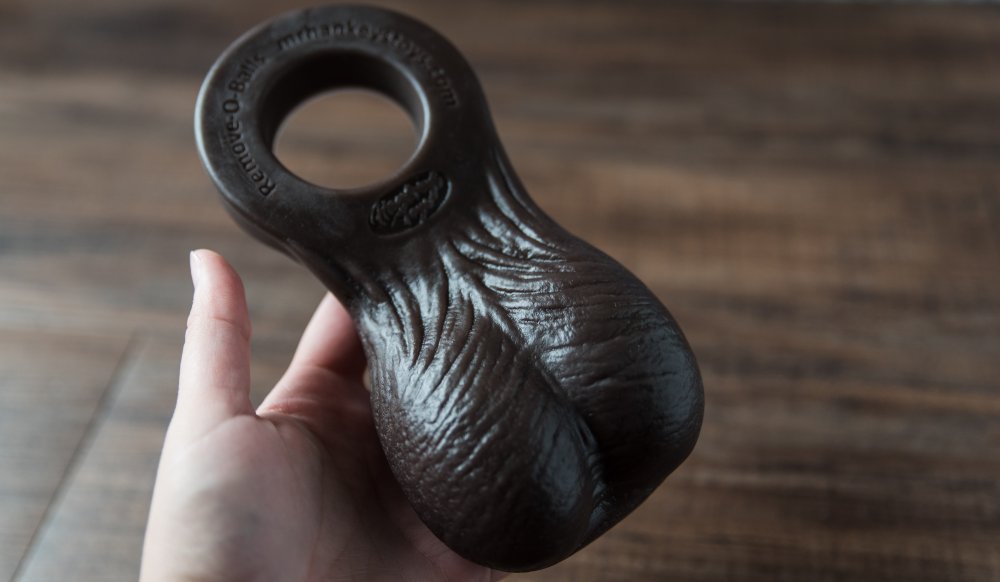 Is your dildo missing a little bit of something-something? Well, Mr. Hankey's Toys Remove-O-Balls are designed to help. Swinging, silicone testicles attached to a flexible, stretchy silicone ring, the Remove-O-Balls are designed to add the realistic sensation of testicles to any dildo. Available in three skin tone colors and made from silicone, the balls have a resting ring diameter of 1.75″ and testicle width of 3.75″.
Coming from a small studio, the Removte-O-Balls will come to you in a plain, unmarked brown box. Inside the brown box, the removable dildo balls will be wrapped in a plain black, opaque bag. Even if someone does accidentally open your box, all of the toys inside are hidden via this black bag.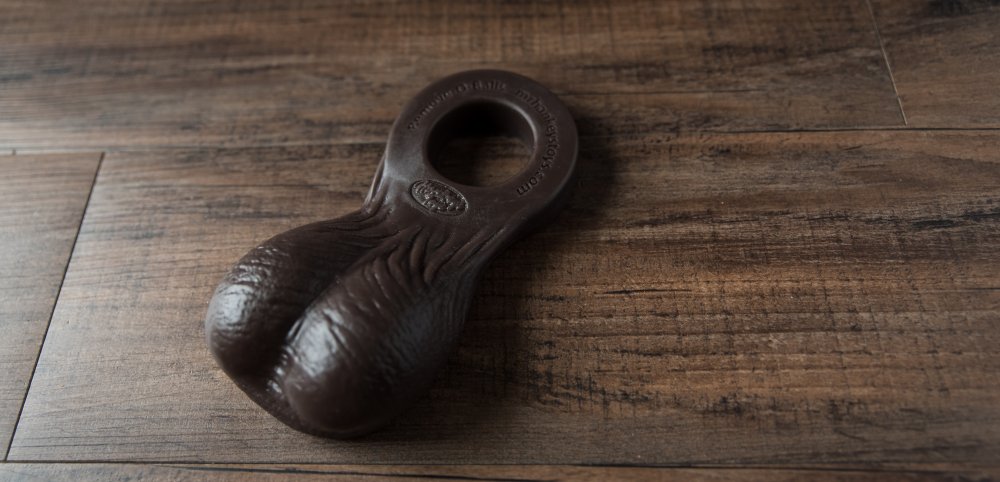 Now, I'll admit: the Remove-O-Balls look kinda weird. Well, more than "kinda". They look weird. Why in the world would you want to add some testicles to a dildo? Especially attachment testicles that are a separate part and seemingly useless outside of the visual?
First off is their application for strap-on use. When many dildos come equipped with their own testicles, they're placed on the base – which is exactly the part of the dildo that presses up against the wearer's body during strap-on use. Depending on the type of harness you're using, the balls might even be entirely hidden underneath the harness's fabric! For that reason, the balls of those dildos usually have very little movement or added sensation. That's not the case once you add the Remove-O-Balls. Not only are they going to sit outside the harness and in front of the strap-on O-ring, but they also move around – a lot. Every movement of the hips has these balls swinging with relative ease. Soft, gentle sex likely won't add much sensation for the receiver, but anything more than grinding will likely have these testicles swinging and hitting pleasurable areas for the person you're penetrating.
It's also worth mentioning that these removable silicone testicles for dildo can be used for other purposes. If you get especially rough or fast-thrusting with your own dildos, you'll likely create enough movement to experience the sensation these testicles can provide. You may also find these balls to be an especially great addition to partnered sex as a cock ring or for use on a sex machine or thrusting hand-held dildo machine.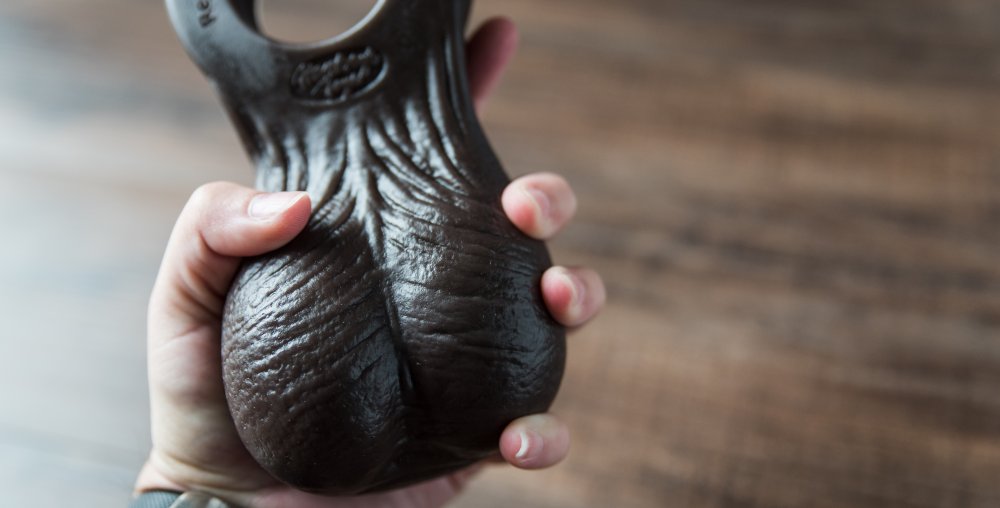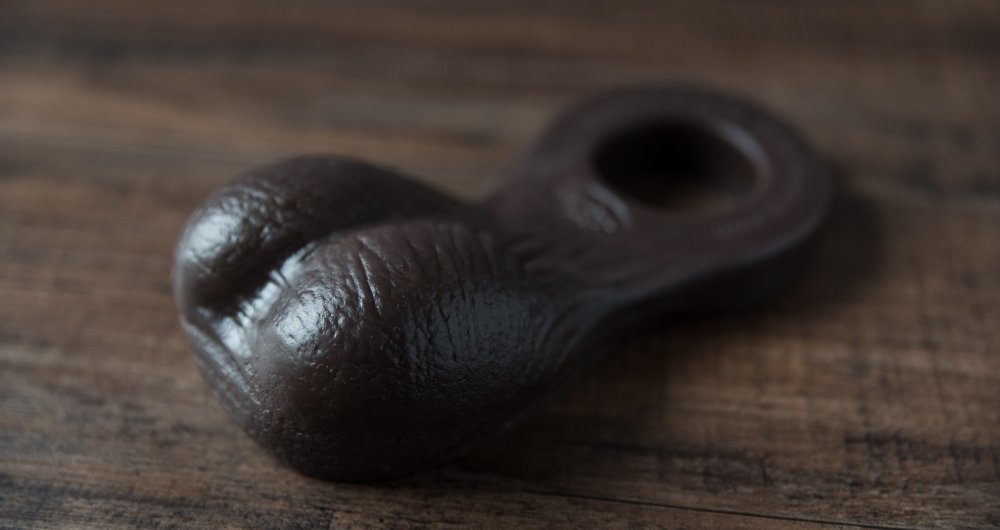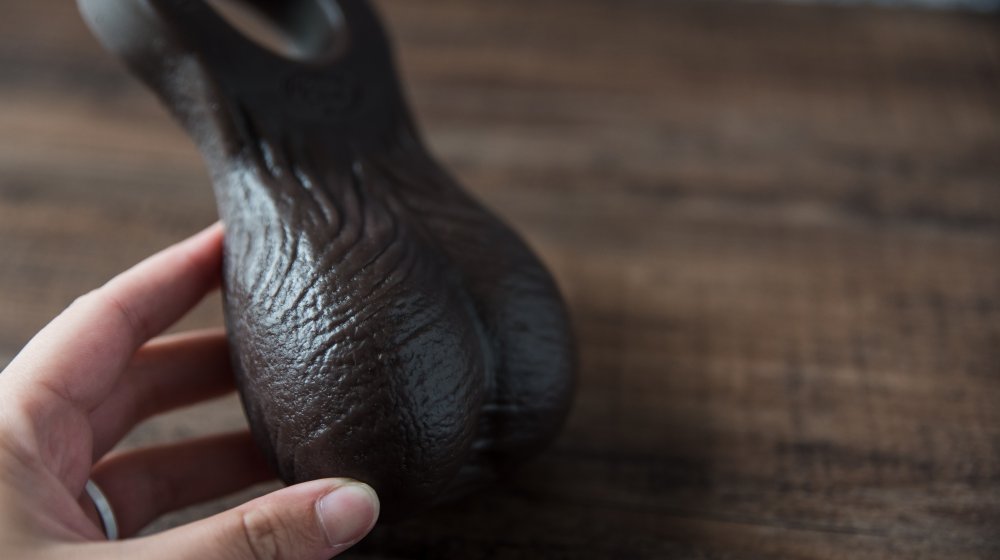 Second off is their unique "swinging" sensation that no other dildo balls offer. As mentioned above, most testicle-equipped dildos have built it into the base of the toy. That means very little (to none) movement of the balls. The Remove-O-Balls don't have that problem. They're stand-alone, and they move with every moment of the dildo. This movement causes the balls to "slap" up against the skin of anyone who's being pounded with the dildo. It's a particularly pleasurable sensation – one that I've heard a lot of my friends talking about as enjoyable. These balls can help create that in a way that no pre-built dildos seem to do. And when you don't want it? Poof! Just "remove" the Remove-O-Balls, and the sensation will be gone.
The Remove-O-Balls have a texture and design that lends themselves well to this swinging, strap-on use. The front of the Remove-O-Balls has a very life-like, wrinkled texture. The ring of the removable balls is entirely smooth. The backside of these balls is entirely flat and smooth to avoid adding extra bulk to the backside of the balls for no reason. Made from pretty firm silicone, the testicles move as one large "bundle" – don't expect a lot of bounciness or individual "ball" movement while using this one. The entire package moves as one with a good chunk of momentum behind it.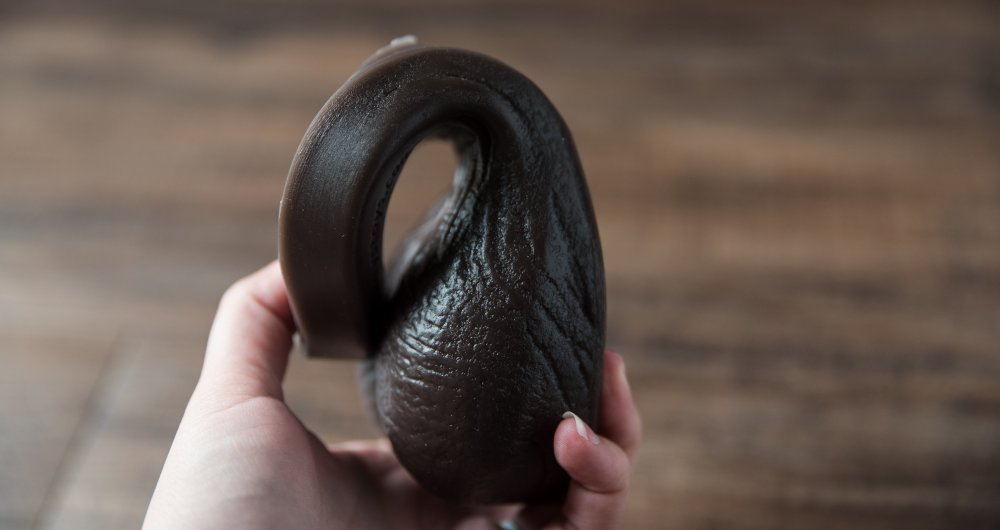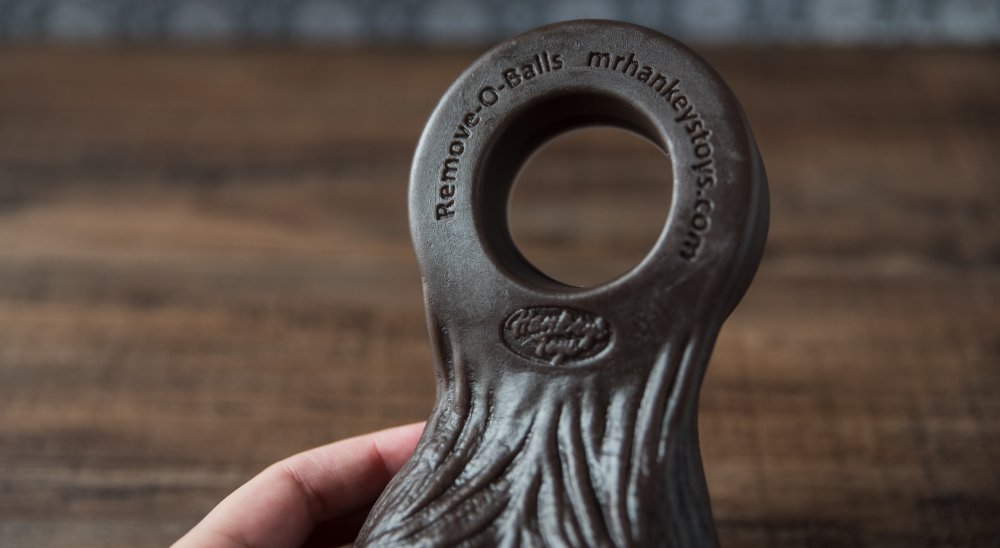 Getting these removable dildo testicles onto any toy isn't difficult. The ring of the testicles stretches out pretty nicely. Depending on the thickness of the toy you're using, you might have to have someone hold the dildo (or use your feet to keep it upright while sitting in an awkward position) while using both hands to stretch out the ring large enough to slide onto the toy. If you're having issues because of the width, remember that you can add some lubricant to the balls or the shaft of the toy to help it slide into its proper place. The balls stretch just fine, but they do require some effort to get them to stretch to the biggest sizes. But once they're in place, they stay just fine, and I've never had any issue with the balls sliding or moving out of their place at the base of the dildo.
The Remove-O-Balls are particularly well-sized for any of the Mr. Hankey's Toys. They share a thick O-ring that matches the thick bases of most of the Mr. Hankey's Toys. The balls stretch out enough (with a decent amount of pressure) to slide over the biggest toys that I own. That being said, the circular ring of the Remove-O-Balls is still relatively small at rest, so it also fits some of my medium-sized toys as well. (It does not, however, stay snugly on some of my 1″ diameter and similar toys. You'll need at least an average, 1.5″ or bigger thickness to get these balls to stay.)
The Remove-O-Balls colors perfectly match all of the shades of toys that Mr. Hankey's Toys sells. I have to admit wishing that they expanded some of their color choices of the Remove-O-Balls to match other various "skin tones" of silicone dildo manufacturers. While the Remove-O-Balls are great for use with Mr. Hankey's Toys, they've also been fantastic to use with our other dildos, and I do wish the colors matched a bit more. The sensation is still fantastic, though, so they get used regardless.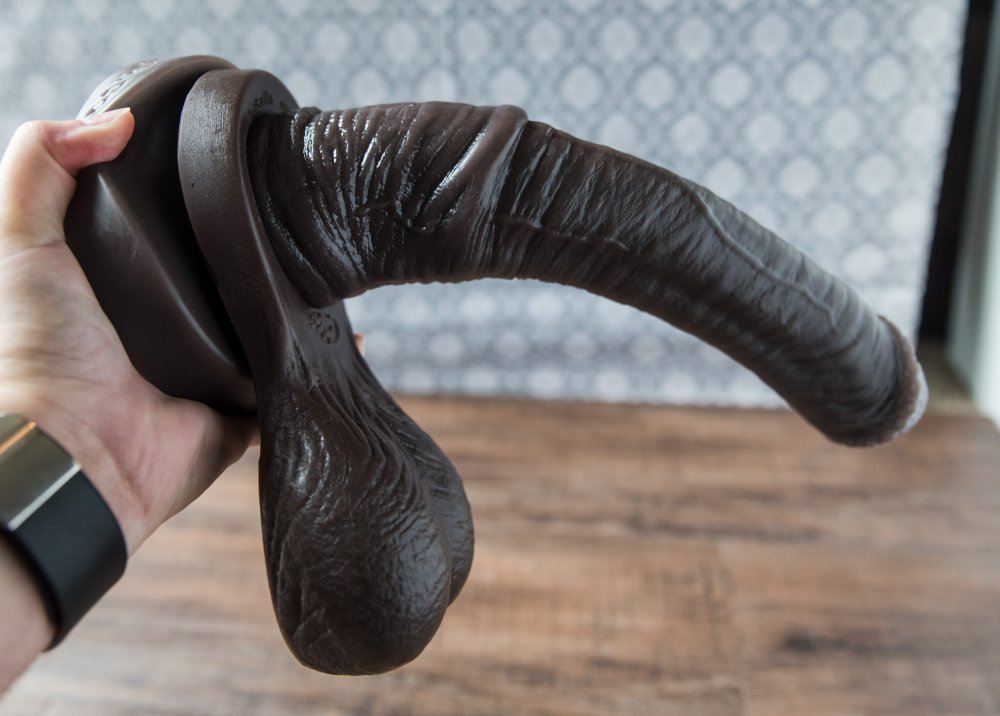 If you're using these removable sex toy balls for pleasure, you'll likely get some bodily fluids on them. Using warm water and anti-bacterial soap will clean up the surface of these silicone balls pretty quickly. You might want to consider getting a super soft toothbrush and doing in-depth cleaning along the texture of the balls on a regular basis. That, or you can consider doing some sterilization with boiling water or a water and bleach mixture. If using lubricant to get the balls onto the base of a toy, you'll want to use water-based lubricant. For storage, these removable silicone dildo balls are pretty easy to deal with. Just don't put them in direct sunlight or squish them, and you'll likely be fine. I'd also recommend against storing them stretched out on a dildo as you'll likely loosen the silicone's tightness over time with that plan.
Overall, while you'd think the Remove-O-Balls might just be a bit on the odd side or something you'd never imagine being useful, you might be surprised. They're extremely easy to use, add extra stimulation for people who like that feeling, and they're super A-Plus for use in strap-on harnesses. Fantastic job, Mr. Hankey's Toys. Thanks to Mr. Hankey's Toys for providing these removable dildo balls for my Remove-O-Balls review.