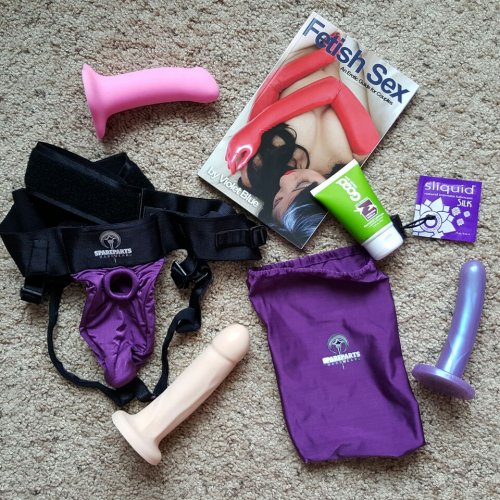 Spend a little bit of time in the BDSM community, and you'll start to notice that a lot of the gear for kinky sex happens to be made from leather or other animal hides. While the feel and smell of this sensual material is part of the appeal, some people, for personal or ethical reasons, choose to avoid animal products in their day-to-day lives. While it definitely makes shopping for kink items more difficult, it can be done. Sticking to your principles just requires a bit more effort – and in some cases, vegan options may be cheaper too!
Finding vegan strap-on toys doesn't have to be difficult. The most challenging part of the equation will be figuring out how to put all of these gorgeous toys together into a scene. While some items will be clearly non-vegan (any item made from leather is definitely not vegan), all it takes is a bit of research (and maybe reaching out to some manufacturers) to find toys that fit into your vegan lifestyle. Strap-on sex can be a wonderously enjoyable activity to enjoy with your partner, so don't let finding vegan items stand in the way of your pleasure. I'm here to recommend some of my favorite animal-friendly items out there.
The most important item to for vegan pegging is the strap-on harness itself. While this one is by-far the easiest to shop for, it can seem like your options are pretty limited since most harnesses are made from leather. With a bit of digging, you'll start to find harnesses made from nylon, spandex, and neoprene. By far, my favorites are any of the harnesses in the Spareparts line. The Spareparts Joque harness will always have my love, but all of the Spareparts harnesses are made from neoprene, fit onto the body like a second skin, are entirely machine washable, and many are easy to adjust by featuring Velcro or other easy adjustment pieces.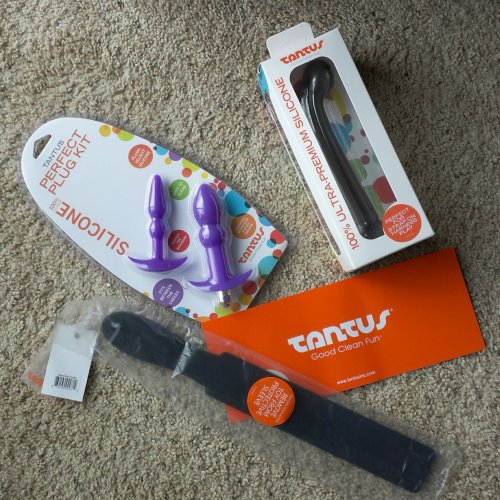 If you're going the body-safe materials route, it's likely that your dildos will be vegan. However, if you're experimenting with other types of materials, you'll want to be careful. Rubber can occasionally contain casein or can be made using animal-based acids. Some toys, even those made from non-rubber material, can include animal ingredients in the form of dyes or other additives. Contact manufacturers to find out what their toys are made from and how they're made, but as a general rule, non-porous and body-safe materials like silicone, glass, stainless steel, or wood are more likely to be vegan. For strap-on use, however, you'll want something with a bit of flexibility, so you should stick with silicone. Sticking with high-quality silicone has a higher likelihood of being made from a vegan process. If you're looking for good dildos to strap on, consider Tantus Inc. dildos for a wide variety of penetrating toys, FunFactory dildos for whimsical options, or Vixen Creations for realistic choices. For butt plugs to use underneath your harness, Tantus also provides quite a few silicone and body-safe toys.
Did you know your lubricant may not be vegan? Lots of lubricants contain dairy-derived enzymes such as lacoperoxidase. If you're truly trying to rid yourself of all lubricants made from animal by-products, you'll want to seek out lubricants that are made from 100% vegan ingredients. Don't forget to check the ingredient label during your research; glycerin is a common source of animal byproducts; ensure the ingredients called for "vegetable glycerin" just to be sure. If in doubt, don't forget that you can ask the manufacturer! For my favorite vegan lubes, check out what Sliquid offers. They have a whole range of types of lubricants including water-based lubes, anal lubes, and hybrid silicone-based lubes. Good Clean Love has also been one of my favorite organic lubricants as well; very thick and great for anal play.
As most people know, many condoms may not be vegan. The milk protein, casein, turns up in quite a few latex condoms, and non-latex condoms tend to be made from lambskin – which is clearly derived from animals. Where there's a demand, there's a product, though, and some companies now manufacturer vegan condoms – made from non-animal derivatives and devoid of casein. For vegan condom options, check out Sir Richard's Condoms or Glyde condoms. Both are vegan choices.
Butt plugs, vegan strap-on harnesses, dildos, vegan lubes, and vegan condoms should all get you on your way to enjoying strap-on play that agrees with your lifestyle choices. If you want to add even more fun to your session (such as bondage!), don't forget to check to ensure all of your pieces are vegan. Enjoy the orgasmic pleasure of pegging while sticking to your preferences!