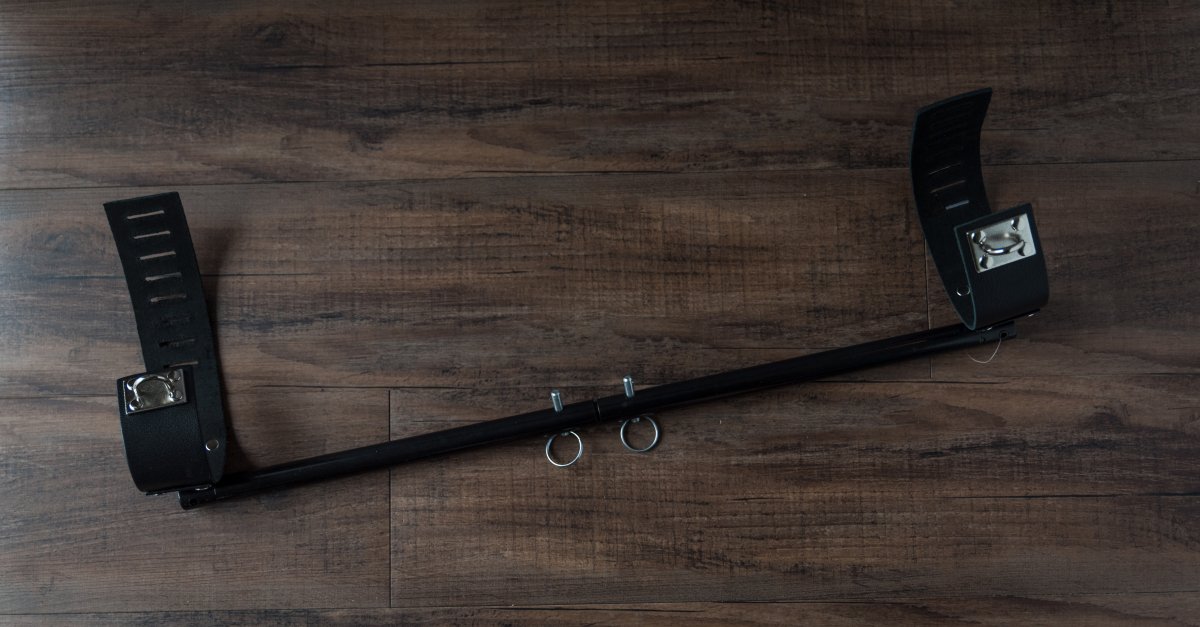 Spreader bars: fun, right? Well, when you're looking for an easy way to keep your partner's limbs apart, consider the Stockroom Adjustable Wrist/Ankle Spreader Bar sold by ManShop. Not only does it break down into three pieces (none longer than 15″), but it can be adjusted for various spreader positions in addition to working on either the wrists or the ankles. Each cuff is designed to fit a size between 6″ to 10.5″. The spreader bar itself can adjust from 23″ all the way out to 36″. The spreader bar is made of a lightweight metal and attaches to the cuffs via a curved piece of metal. The cuffs are made from a thick, single piece of leather with holes cut in the cuffs for a locking fastener to slide through. The cuffs do not fasten without some type of lock or external fastener through the holes, so this spreader bar set was definitely designed for use with locks (though I mention other options for fastening later on if you're uncomfortable with locks).
With such a big item, it's very little surprise that the spreader bar comes with minimal packaging. It will be shipped in a plain, brown, discreet box. It will have a small tag on it that says "Stockroom" that's simple to cut off, but other than that, your toy will come straight and "ready for play" straight out of the box. It does not, however, come with any locks or fasteners, so you'll likely want to have those ready to take full advantage of the spreader bar.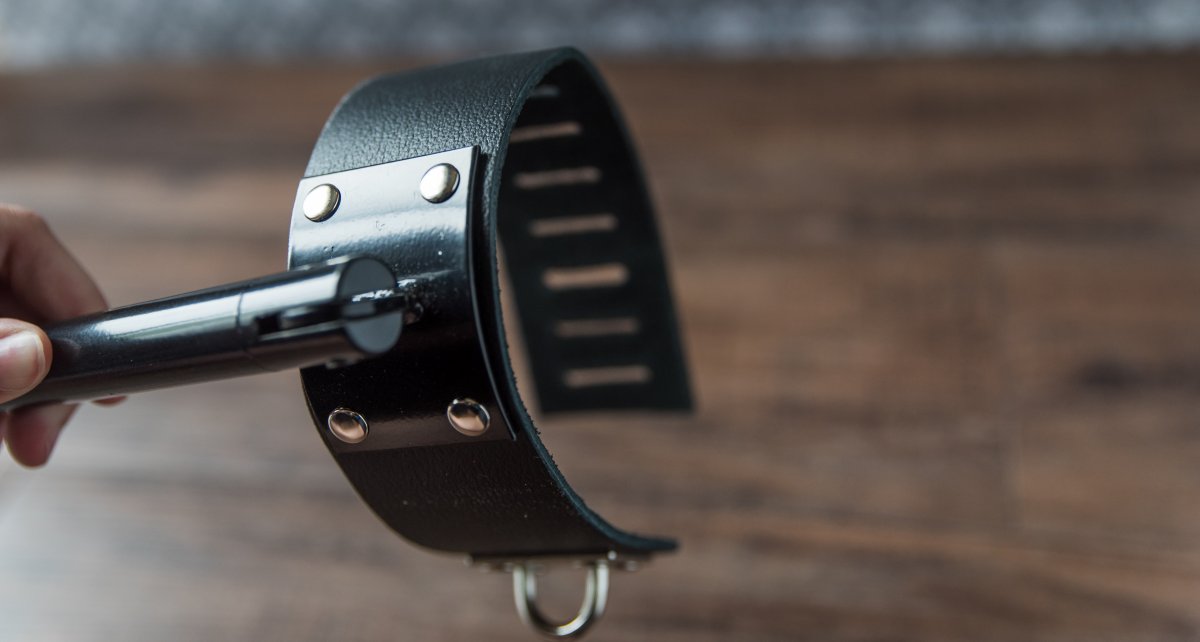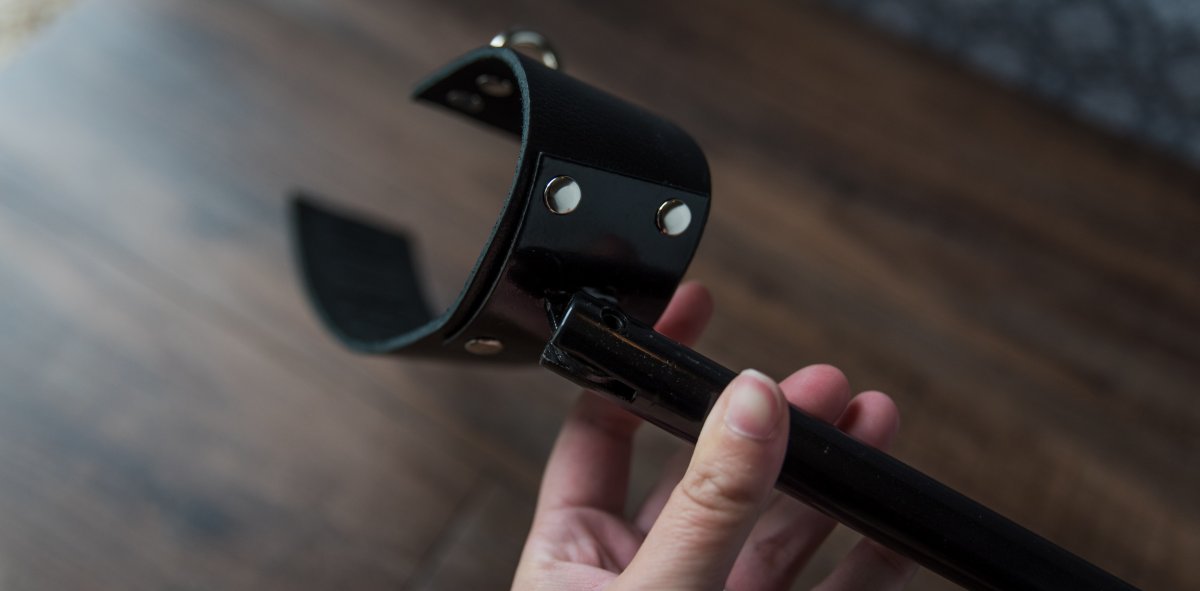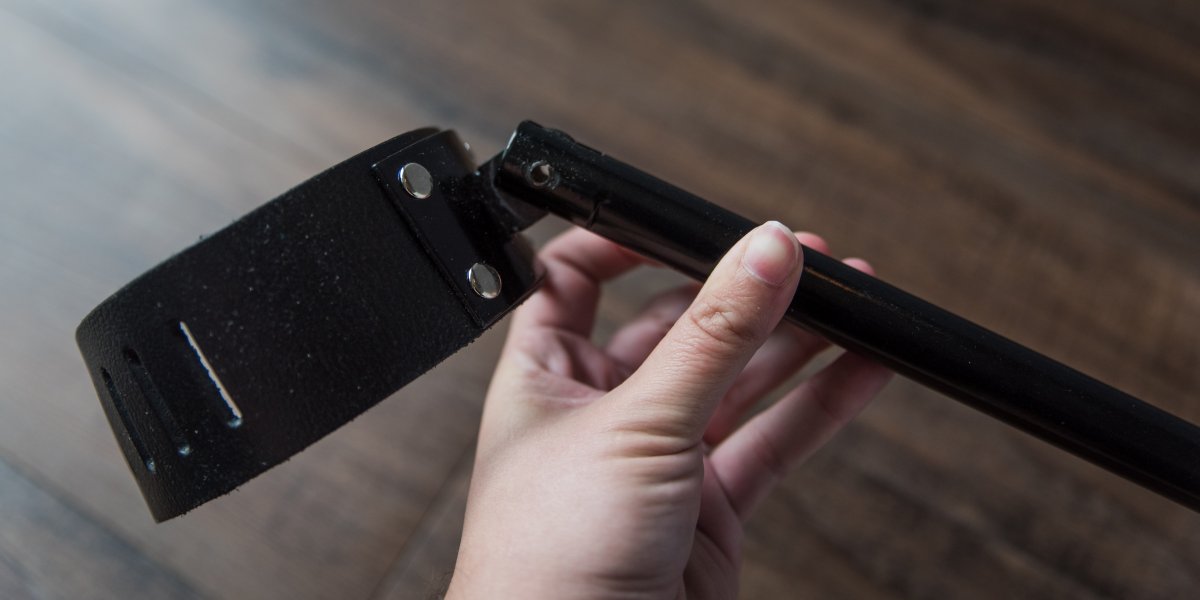 Unlike many other spreader bars out there, the Adjustable Wrist/Ankle Spreader Bar comes with its own cuffs. As-in, these cuffs can not be removed or changed out for your own favorite pair of cuffs. On one hand, this works particularly well for "one item only necessary", so you won't be carrying extra items out to play. On the other hand, you'll have to religate your favorite cuffs to another scene as this spreader bar comes with all of the cuffs you'll need.
Each cuff is relatively minimal as well. Each cuff is a nice, thick, single layer of leather. The cuff is attached to the metal spreader bar by a curved piece of metal. This means the cuffs can not be removed. The cuffs can be widely adjusted to fit either ankles or wrists, and they do not have their own secure fastening system. With any bit of struggle, the strip of leather will come off of the metal bar. However, this type of cuff was designed to be used with a lock. Once a lock is slipped into the fastening metal loop, the cuff will not come undone. If you aren't comfortable using or don't have any metal locks, anything that can be slipped into the metal loop would work – such as a carabiner or anything similar. You just need something that will keep the leather portion from sliding off the metal loop that the cuffs are equipped with. This means, if traveling, you'll want to plan ahead with something that fits that description.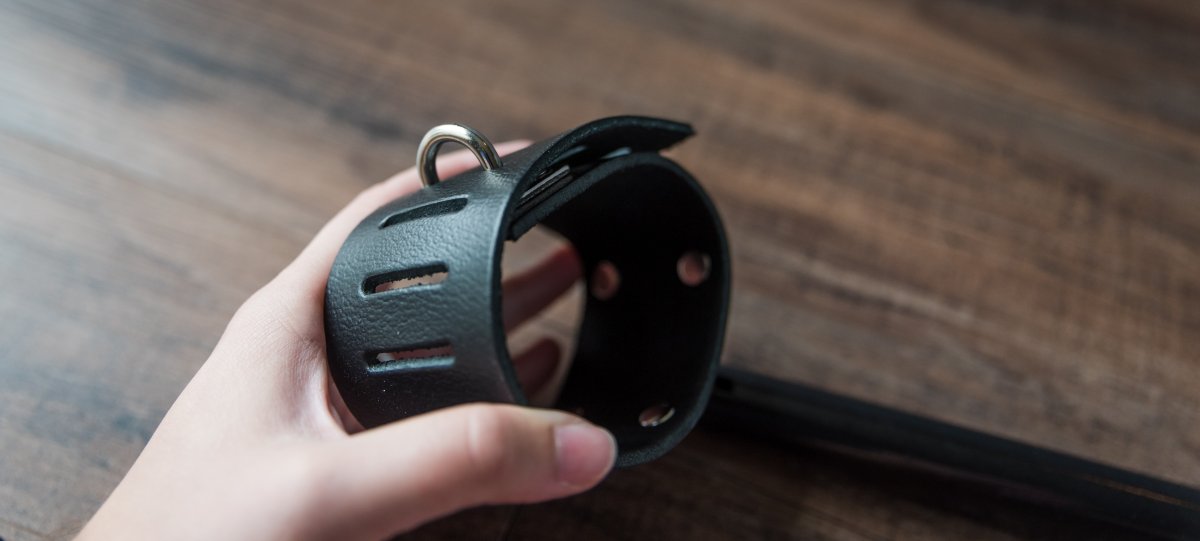 The cuffs are relatively comfortable as well. They aren't nearly as comfortable as the faux fur or plush cuffs that I have around the house, but the single, thick layer of leather manages to ensure that your captive will stay captive without getting too uncomfortable. Any extreme position can start to get uncomfortable, though, if the edges of the leather cuffs are pressing into the skin in any way. Allowing a bit of extra range of motion when using this adjustable spreader bar will ensure that your captive stays comfortable while still staying bound.
Adding to the comfort, each one of the cuffs is mounted on a moveable joint that attaches to the spreader bar. This joint allows the cuff to reposition on either side of the bar or on the ends of the bar. It does not allow for full, 360-degree movement, but it will move on a single 180-degree adjustable pivot. This is unique from most spreader bars as the design of most bars will allow the cuff to move in any direction. This will allow you to use the spreader bar in more positions while still providing a firm, "bound" feeling to your captive when they have very little movement with their limbs when attached to the spreader bar.
Now – as for the spreader bar itself. As you can see from the photos and the title, this spreader bar is designed to be adjustable in length. This adjustability is done through two small pins (attached to O-rings) that pull out of the two holes in the center of the bar. The pins are pretty easy to pull out, and they go back in pretty easily as well. They aren't going to slide out during use, but unlike some of the adjustable furniture I've used like this, I also don't spend twenty minutes swearing, breaking nails, and so forth just to adjust the length.
That being said, I don't see a "simple" way to lock these pins to ensure your captive can't pull out the pins themselves if you're using this adjustable wrist/ankle spreader bar for the ankles. You might be able to figure one out if you get creative. As it stands, I'd just recommend ensuring that the wrists are bound and away from the spreader bar if you're worried about a bratty submissive trying to escape. (As a note, however, even if they did pull the spreader bar fully apart, because of the design of the cuffs, they'd still have a giant, metal bar sticking out of each side of the cuffs, so they really wouldn't be "free". The bars wouldn't be connected to anything, but it would definitely limit movement.) There's nothing keeping this metal adjustable spreader bar from pulling apart fully into three pieces, so there's no "stopper" point to keep the pieces from coming fully apart (such as – if you're adjusting the bar during the middle of a play scene with a struggling partner).
This lack of a "stopper" is what means the travel-friendly spreader bar can come apart into three pieces for travel purposes. When fully assembled, in the best possible arrangement, this spreader bar will require at least 23.5″ of space for its length. When pulled into three parts, that number changes drastically to 15″. If you regularly travel and require a lot of discretion in smaller bags, this spreader bar fits the bill.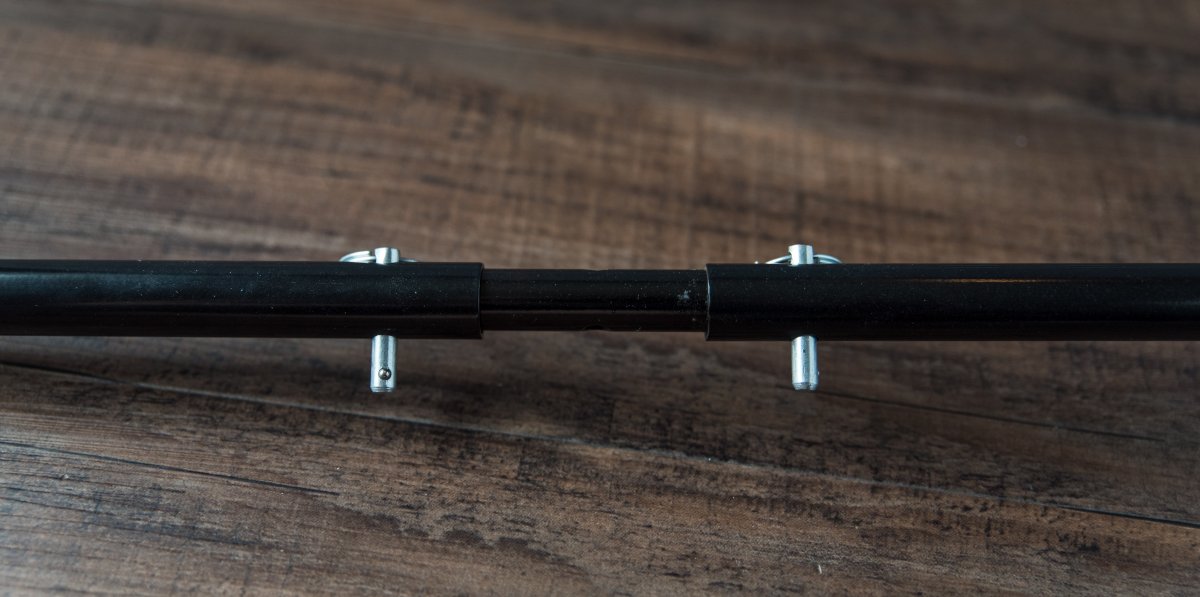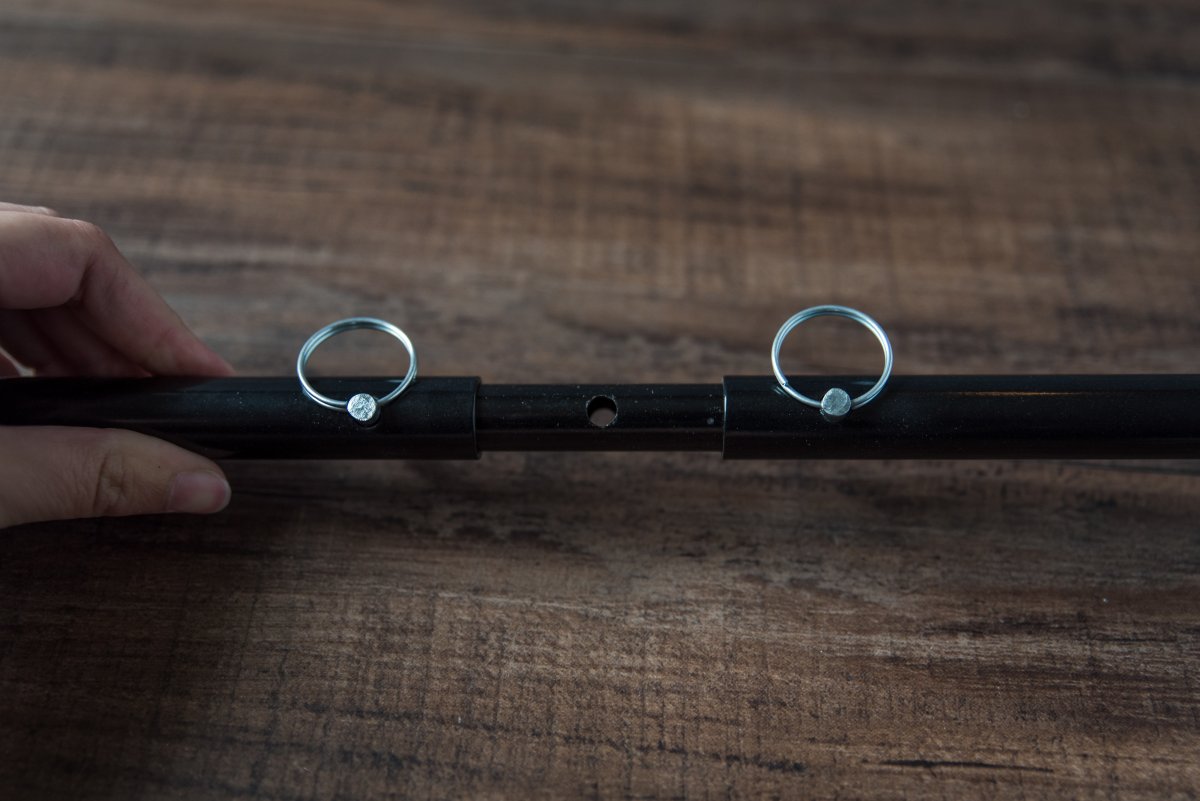 It's also worth noting that there was some paint rust on the interior bar of the spreader bar. It didn't affect use or look, but it rubbed off all over my hands (and then the paper towels I used to get the rest). It took some of the paint off the interior bar, but once it was wiped down, it doesn't seem to be shedding anymore.
There isn't much cleaning to be done with the Adjustable Wrist/Ankle Spreader Bar. You'll likely want to wipe the leather cuffs down with a slightly damp washcloth, but it doesn't require any scrubbing. The metal bar itself can be wiped down in the same manner. Try to avoid using any abrasive materials to avoid scratching up the paint or the leather of the spreader bar. For storage, you'll likely want to allow this spreader bar a bit of width because of the metal cuff attactment points (at least 3″), but because the bar can break into parts, you'll require less length than most spreader bars. It could be stored in most small spaces, and depending on the size of the drawer, it could be stored in some clothes drawers.
Overall, while I'm a bit frustrated by the fact that I need to add extra locks/fasteners in order to fully close the cuffs, I have no other complaints about the Stockroom Adjustable Wrist/Ankle Spreader Bar. In addition to being easy to tote around and lightweight, it adjusts really easily, offers a pretty wide variety of uses, and can be used any way I want. In fact, I haven't come across a situation yet where I'm like "darn. This one won't work". It's a nice, all-purpose spreader bar that will likely start traveling with me to play parties and other kink events. Thanks to ManShop Toys for providing this adjustable spreader bar for my Travel-Friendly Stockroom Adjustable Wrist/Ankle Spreader Bar review.