Designed as a huge penis extension option, you have the Fantasy XTensions 9″ Silicone Extension. Hollow on the inside, the interior chamber is made from hard plastic while the external portions of the dildo are covered in silicone. This large dildo comes with an O-ring attached to stretchy harness straps that can be used (and removed, as desired) to hold the dildo up against the body. The interior chamber is 1.6″ in diameter while the exterior total size of the dildo is slightly under 2.5″ diameter with a circumference of about 7″. The dildo is 9″ in total length. The optional-use, included harness fits a variety of body sizes all the way up to 50″.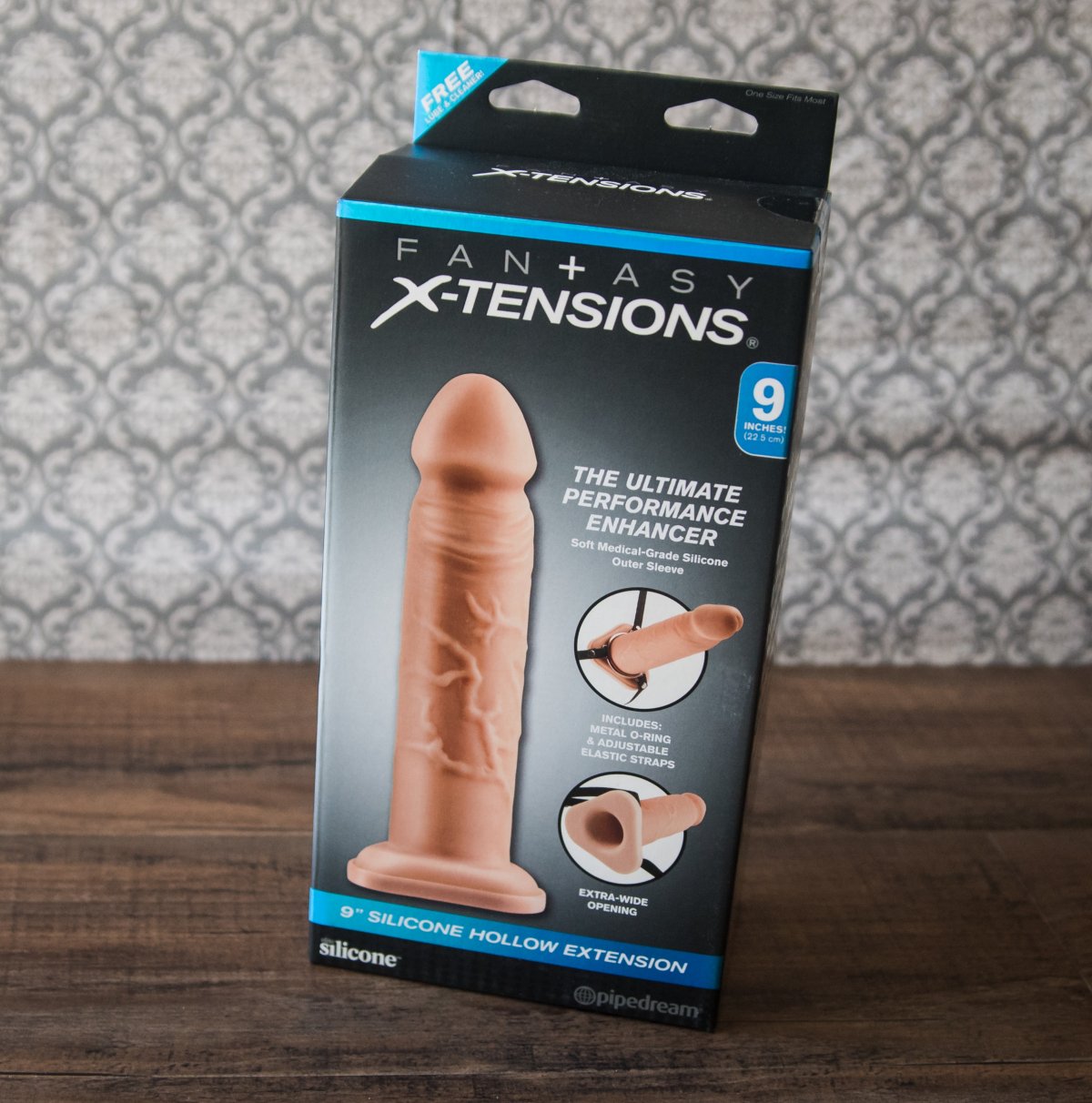 While the box this dildo comes in isn't discreet, it is made from cardboard and relatively sturdy for long-term storage. The box includes the market wording for the dildo – but that will give you all the information and numbers you need for the toy. The box is noticeably larger than the dildo itself (about 3x the size of the toy), but it's well-designed and pretty to look at. Again, though, while it makes a good storage option due to its sturdy cardboard, it's also not particularly discreet.
This sex toy also comes with a couple sample-sized packets of Pipedream Products' other products. That is two small, Antibacterial Toy Cleaners (single-use pouches) along with a single-use sample of their Moist Body Lotion which is a water-based lubricant. All samples are single-use – and they should be enough to give you all you'd need for that single use. (You might want some water-based lubricant for the outside surface of the dildo, though. This sample pouch only seems to provide enough to lubricate the interior.)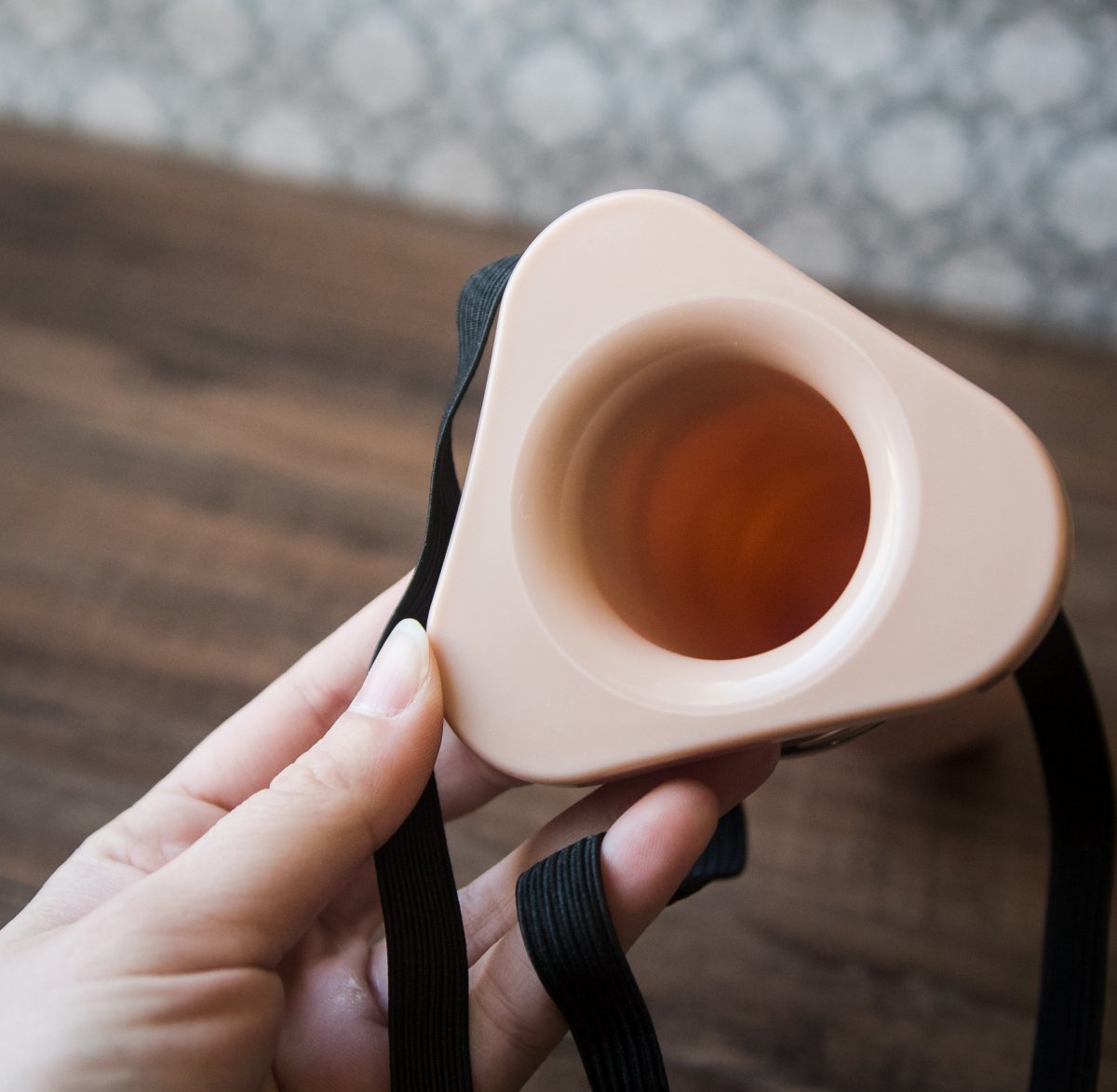 Depending on the penis size of the user, it's possible to fit an hard, erect penis inside of this large hollow penis extension. The interior opening is 1.6″ in diameter – which is definitely large enough for some erect penises. Whether erect or flaccid, make sure to add lubricant to the biological penis before sliding it into the hole of this extension for comfort. The interior material of the extension is a slick plastic (which is unlike the exterior material which is a draggy-type of silicone), though, which helps with slipping the biological penis inside of your hollow dildo.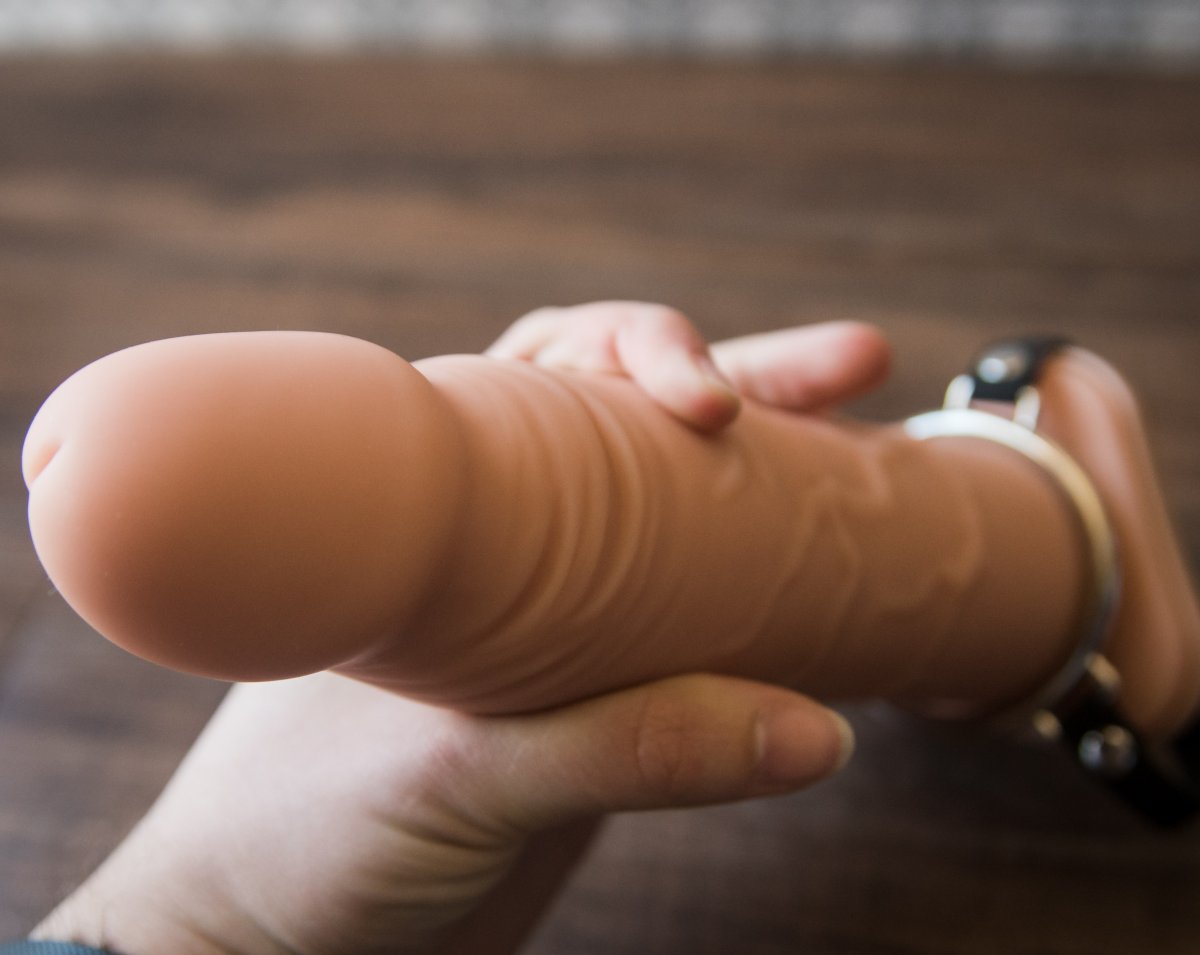 This strap-on penis extension is not for the feint of heart for the receiver. Not even in the slightest. Along with that 9″ of advertised length comes a noticeably-thick girth – over 3″. That girth makes it, well, HUGE. It's not just "huge", it's HUGE. It rivals some of the girths of toys in "Large Toys" sections of sex toy sites. Unless you particularly enjoy stretching or thicker toys/penises, you'll probably want to take things extremely slowly with this one. Make sure to use lots of lubricant and go gently to allow your body to warm up to the size of this toy.
Now, this thing is not kidding about being the "ultimate" "performance" enhancer – and that's because it transfers virtually no sensation to the penis itself while wearing it. If you want your partner to stay nice and aroused without much sensation on their penis to cause orgasm, this is the extension to get. There will be, quite literally, zero sensation translated to the penis inside of the extension. The interior plastic makes sure of this. This make be exactly what you want – or not what you want. It's just something to be aware of.
For the above reason – and because of the long length and girth of this strap-on dildo – I'd really recommend this strap-on dildo over penis for people with cuckold or submission fantasies. Without involving a third person in their kink, the dildo can be strapped onto the body and provide a different experience than a person's own biological size.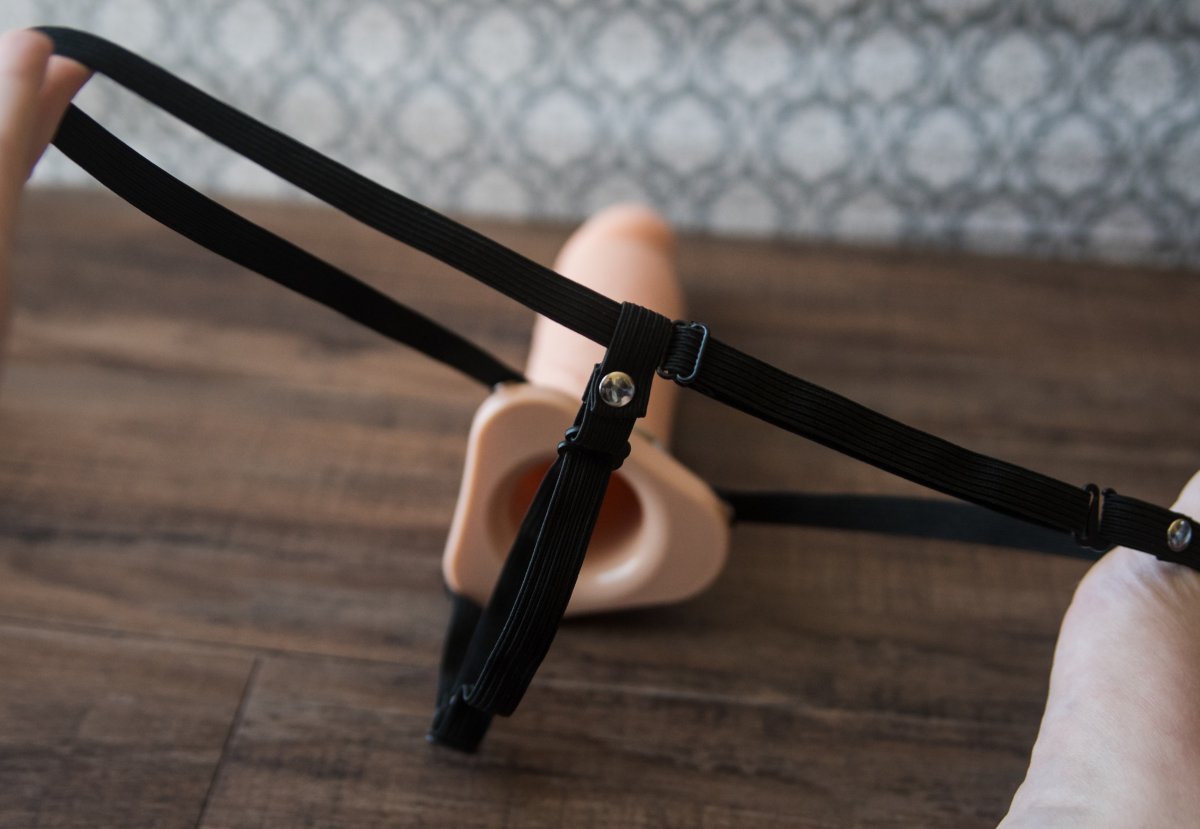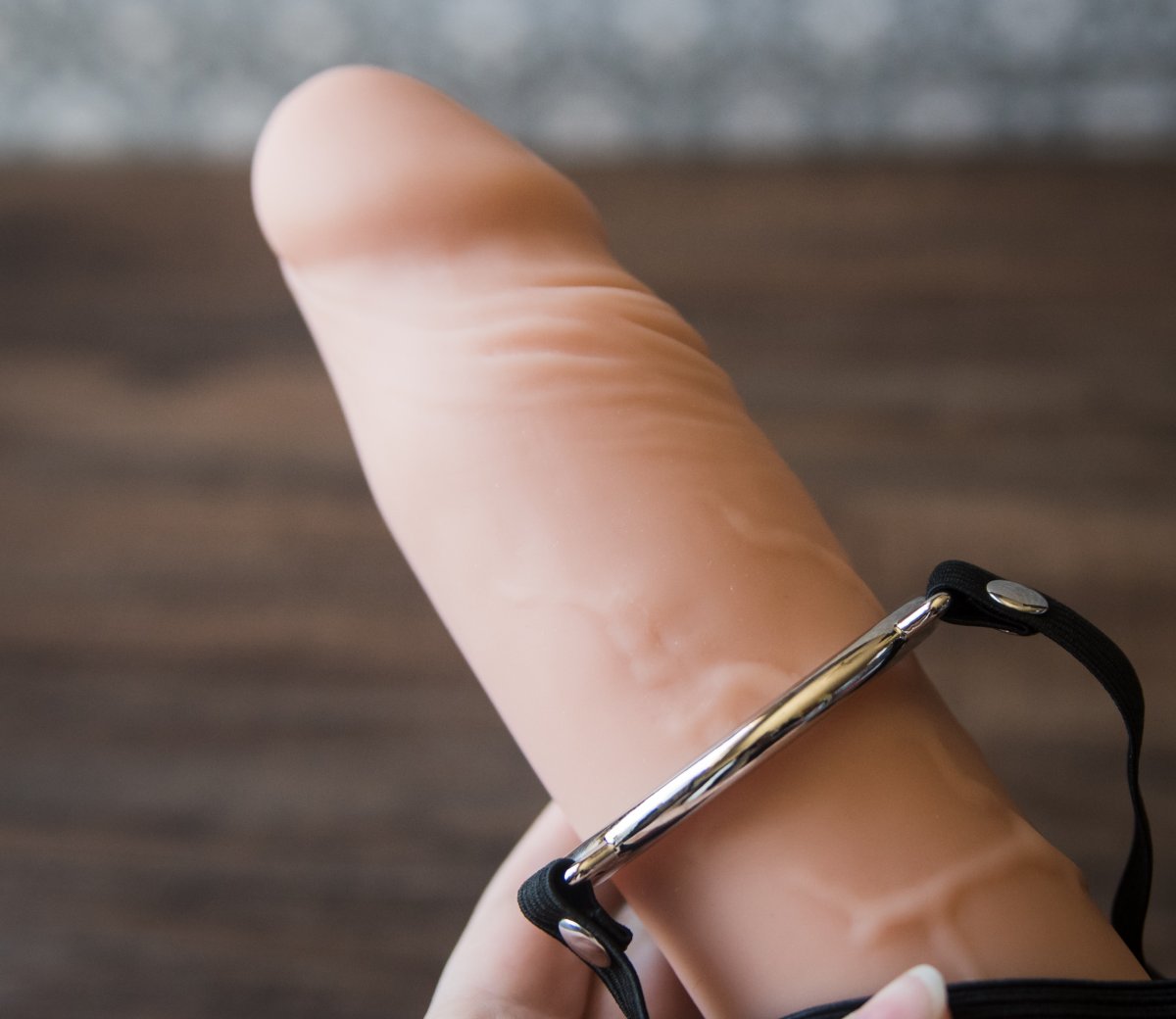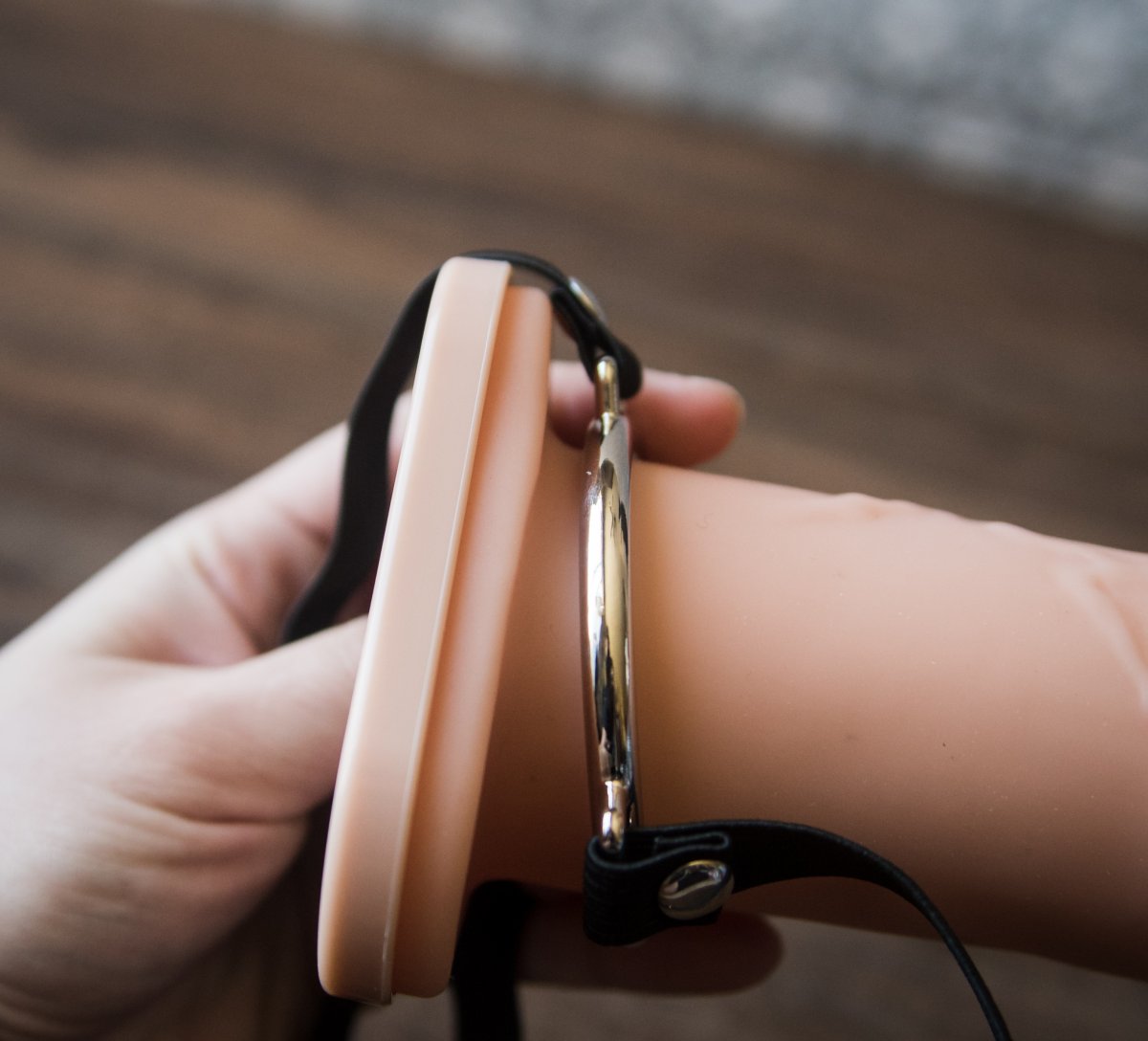 On another note, with thorough cleaning and sterilization, the elastic harness and O-ring can be removed from the base of the extension, and this dildo can be slipped into any strap-on harness. Which means that it can be used for pegging or by a person who doesn't have a penis. The included elastic harness also allows for pegging/non-penis use. For many people, as cuckolding/submission fantasies tend to coincide to an interest in pegging/anal sex, this allows for an easy, multi-purpose toy with one purchase.
However, don't assume that this Fantasy Xtensions 9″ Silicone Extension must be used with kink purposes in mind. It can be just as useful for non-kink sex between partners who love large, filling toys and stretching their bodies. The thick size and long length allows for a larger experience than most biological penises – and it offers a secondary bonus of being able to be strapped on comfortably by someone who owns a biological penis.
(Most penis extension options that come with harnesses don't have a simple way to remove the harness. The fact that this does offers more flexibility and fun.)
This dildo will not stay on the body/penis without using the included waist harness. When it comes to the waist harness, it is entirely removable. The D-ring just slips off of the top of the dildo when no tension is applied. With the flared, harness-compatible base of this large silicone penis extension, this means you can use this extension in your own favorite harness if you'd like.
Want to take advantage of the included harness, though? The harness is made of a super-stretchy spandex material that will stretch out to fit over a 50″ body. Despite its ability to stretch so thoroughly, thicker bodies will likely find the very-thin spandex bands to get uncomfortable/tight against the skin with longer use periods. In addition to the spandex material of the harness, both the waist strap and the between-the-legs strap offer a sliding buckle that alows you to lengthen or shorten the straps. The harness may not be snug on someone of a 28″ waist, but it should provide enough support to keep the huge hollow penis extension on the penis. Do be aware that the penis extension is noticeably hefty 9 especially when jutting out of the body – and making sure to keep the harness as snug as possible will help support the weight best.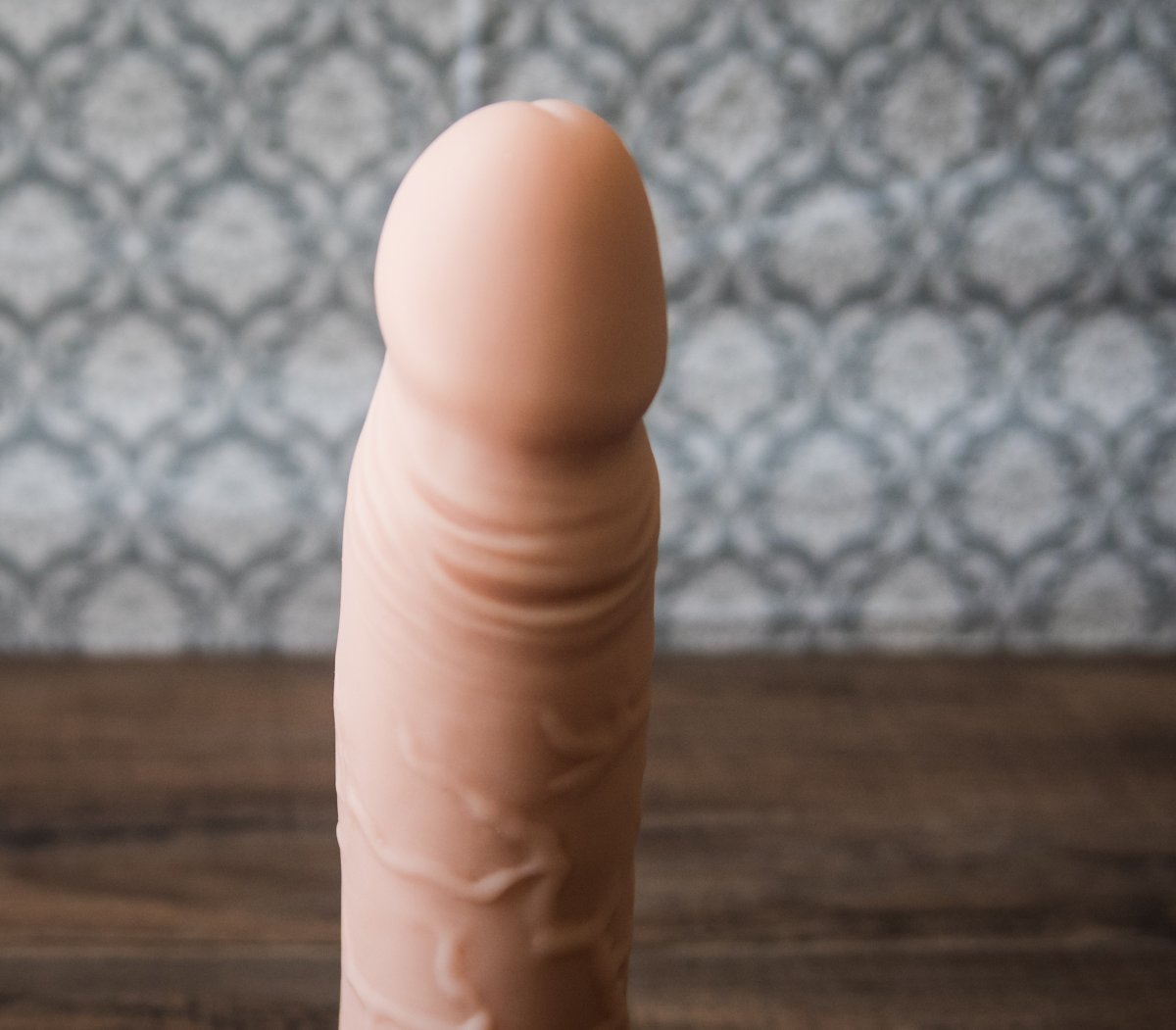 There are two things to consider cleaning when finishing up with your Fantasy Xtensions 9″ Silicone Extension. You'll need to make sure both the exterior and the interior of this dildo are clean and ready to go. As the interior is a closed-tunnel, high-pressure water or a gentle bottle/cup cloth will work to clean out the inside the best. The interior is made of plastic, but I'd recommend against abrasive brushes to avoid scratching up the plastic. Any sort of deep scratches against this plastic are going to be frustrating/irritating during use. For external cleaning, this dildo can be cleaned with a warm water/anti-bacterial scrub. Between those two things, you should have a happy and clean toy that's ready to play with.
Due to the width and length of this extension, if you plan on covering it with a condom, a large-sized/Magnum-sized condom will be the least frustrating to roll on. You will also want to use water-based lubricant with it – for both the external and internal lubrication needs. For storage, I (personally, thought I haven't tested it) am not convinced it's made of entirely, 100% silicone due to the manufacturer, so I tend to store it in a plastic bag with the rest of my silicone dildos as it's become a favorite. You could also choose to utilize the cardboard storage box – though it's noticeably larger than the size of the toy itself.
Overall, the Fantasy XTensions 9″ Silicone Extension isn't going to be a sex toy for everyone, but it's going to be an amazing fit for those who it's designed for. Along with being versatile and functional as a regular dildo, this extension allows for minimal sensation to the wearer alongside a functional harness that will fit a wide variety of bodies. Plus, the dildo is just gigantic! Thanks to BoudoirNoir sex toys for providing this large extension for a penis for my Fantasy XTensions 9″ Silicone Extension.