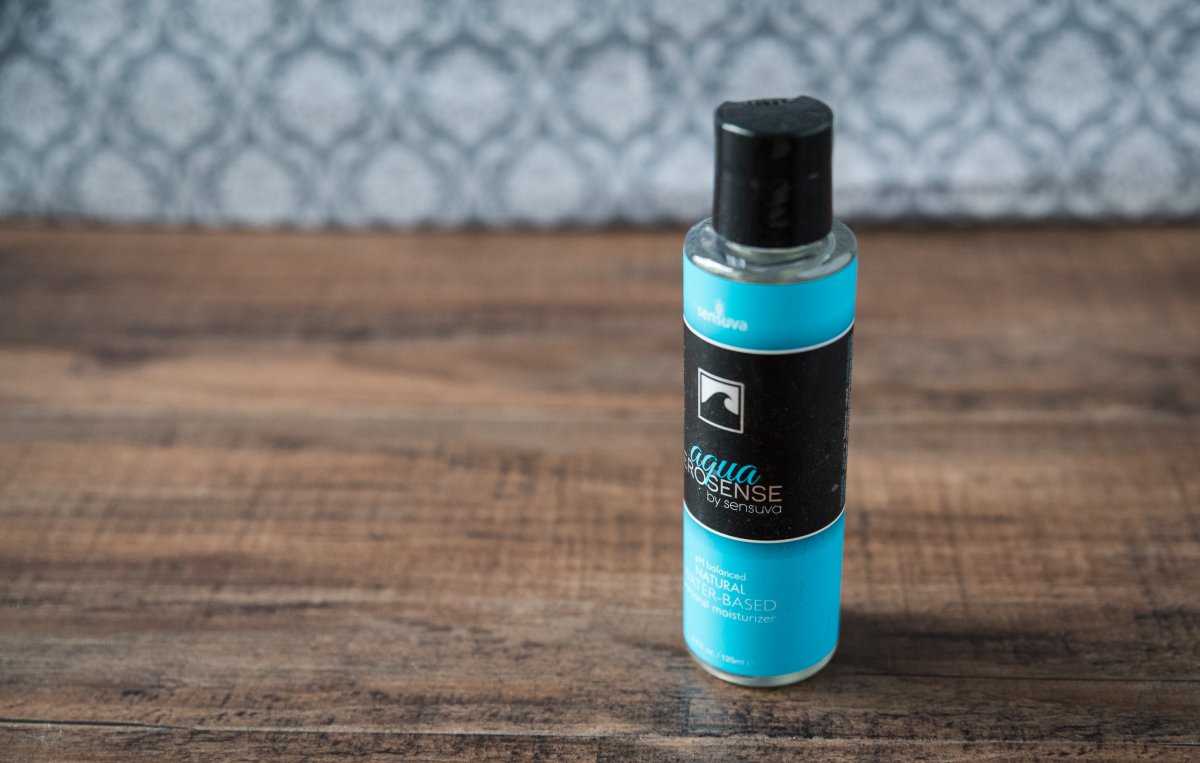 Water-based and designed to be body-friendly, the Aqua Erosense Water-Based lubricant is a lubricant with a long list of features produced by Sensuva and sold by Lubezilla. THis lubricant is paraben-free, vegan, glycerin-free, and cruelty-free. It also says it's gluten-free (though I haven't heard of gluten being an issue with lubricant?). It's also supposed to be pH balanced, and it has a use life of 24 months. This lubricant is made by Sensuva – the makers of ON, a popular female arousal oil. This particular bottle is a 4.2 ounce size.
This water-based lubricant comes in a standard plastic bottle. The bottle has a push-top lid, and it allows lubricant to be applied pretty liberally. You'll need to use lighter squeezes if you're only trying to apply a little bit. On the bright side, because of the consistency of this water-based lubricant, you'll likely get to use every drop of this bottle without too much issue. I've never had any problems with the bottle leaking.
Unlike some lubricants, Aqua Erosense is definitely on the thinner-liquid side. Some water-based lubricants seem more like a thick gel while this one is definitely closer to water consistency. This means that it'll run off of the area you apply it to particularly easily. This can be a good thing – or a not-so-good thing, but it's something you need to keep in mind. In particular, I find it really helpful for re-lubricating toys without needing to touch the toy again. Squirt a bit onto the slightly-off-center tip of a dildo, and it'll run down the entire shaft – lubricating as it goes. On the other hand, though, if you aren't careful, it drips pretty easily onto surfaces. (But it's non-staining and very easy to clean up, so that's also something to keep in mind.)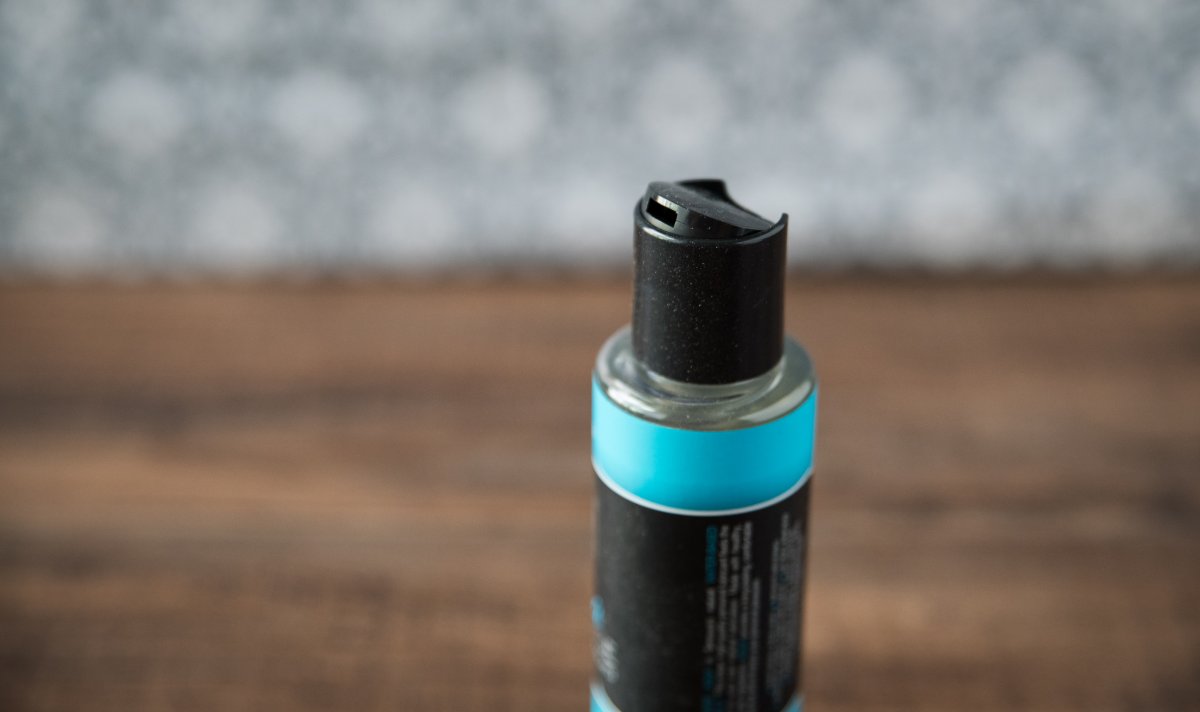 When it came to lubricating an area, the lubricant does a pretty good job – but it's a relatively thinner lube, and it doesn't do it for particularly long. When it's working, it works great, and it lubricates nice and easily without much added thickness. However, it'll require a reapplication relatively soon – probably within five minutes of first applying it. It doesn't get gunky or gross once the lubricant is drying up, but you'll definitely notice a tug along the skin as-if it wasn't lubricated. This makes it work pretty well for shorter sessions (especially quickies), but any marathon/Tantric/anal sex might be better suited for a different lubricant. This one is great if you just require a little bit of added wetness/slickness for what you're doing.
As a water-based lubricant, it's pretty easy to clean up. Warm water and anti-bacterial soap will clean it right up off most surfaces. I don't have much of a problem with a wet wipe getting rid of all of it with this one either. (Or just toilet paper for intercourse use) As a water-based lubricant, it's also safe for all uses – intercourse, masturbation, sex toys, with latex barriers, or any other use you could think of. You could even use it to lubricate a squeaky door (though that's probably not the best use for it). Try to store the bottle upright during storage, but I'll admit I've never had any problems with leaking, so it may not be a huge deal.
According to the bottle, Aqua Erosense Ingredients: Certified Organic Aloe Vera Juice (Aloe Barbadensis) Water, Cellulose, Propanediol, Potassium Sorbate, Sodium Benzoate, Citric Acid, Natural Flavors.
Overall, the Aqua Erosense is a fantastic lubricant if you're worried about ingredients and aren't concerned about regular reapplication of the lubricant. If you tend to masturbate for long periods of time or have sex marathons, you might want to pick a lubricant that doesn't require as much reapplication. However, if you're concerned about ingredients and happy to enjoy a worry-free lube experience, this one might work out okay for you. (Though if you're worried about ingredients, I'd offer Good Clean Love or Blossom Organics.) Thanks to LubeZilla for providing this Sensuva water-based lubricant for my Aqua Erosense review.