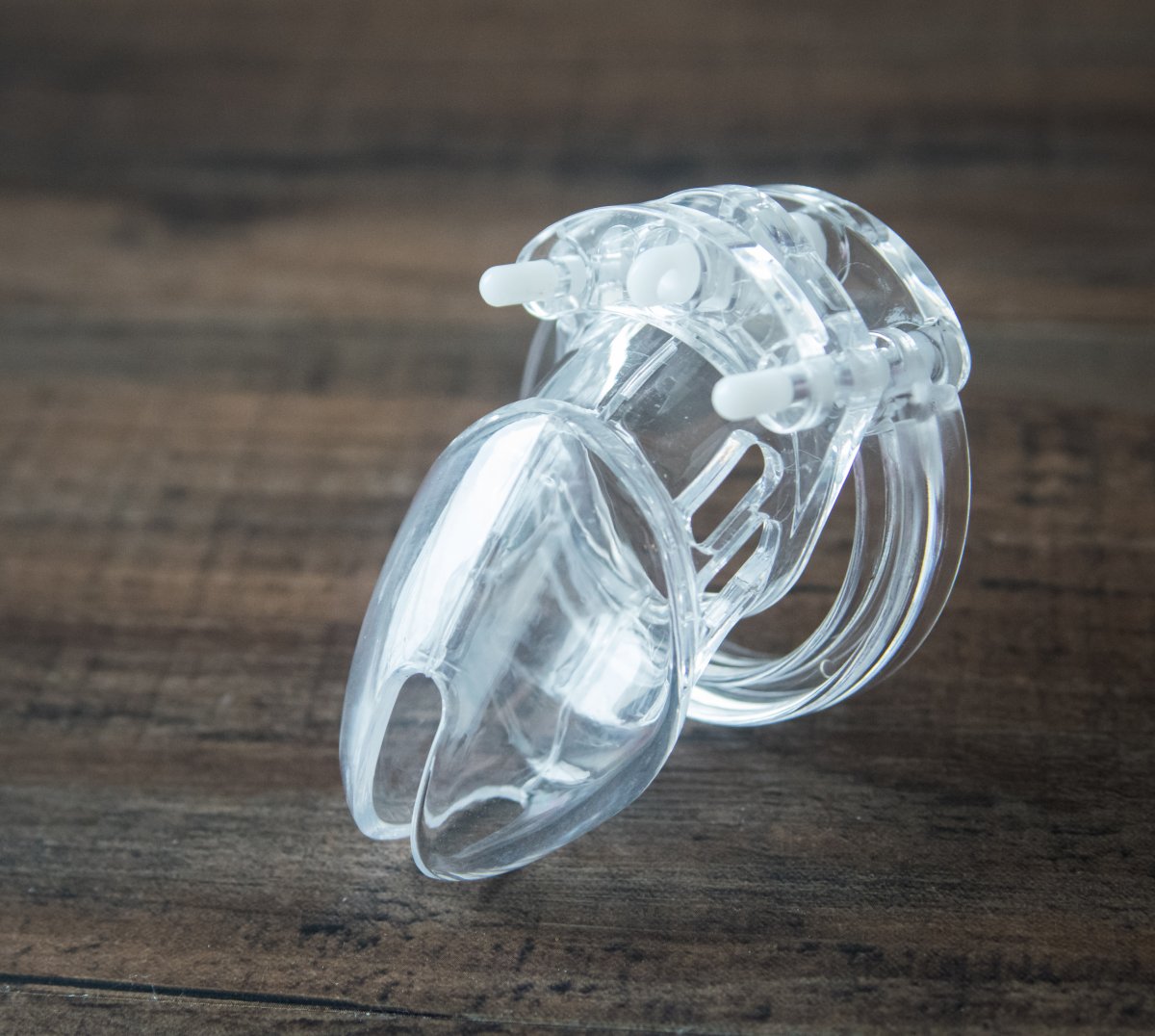 Interested in chastity? Welcome to the Lock Your Man Up! Male Chastity Device made by Sexy Slave and sold on Amazon. Made entirely of plastic, this cage comes with everything you'll need to place a penis into chastity. A generic version of the CB-6000, this cage is offered in two varieties: a longer shaft cage and a shorter shaft cage. Best measurements are provided by checking the Amazon page, but the longer version is 3.25″ in length with a diameter of 1 3/8″ inside the cage. The shorter version is 2.5″ in length with a diameter of 1 3/8″ diameter inside the cage. Both cages come with the same-sized base ring size diameters: 1.5″, 1 5/8″, 1.75″, 1 7/8″, and 2″.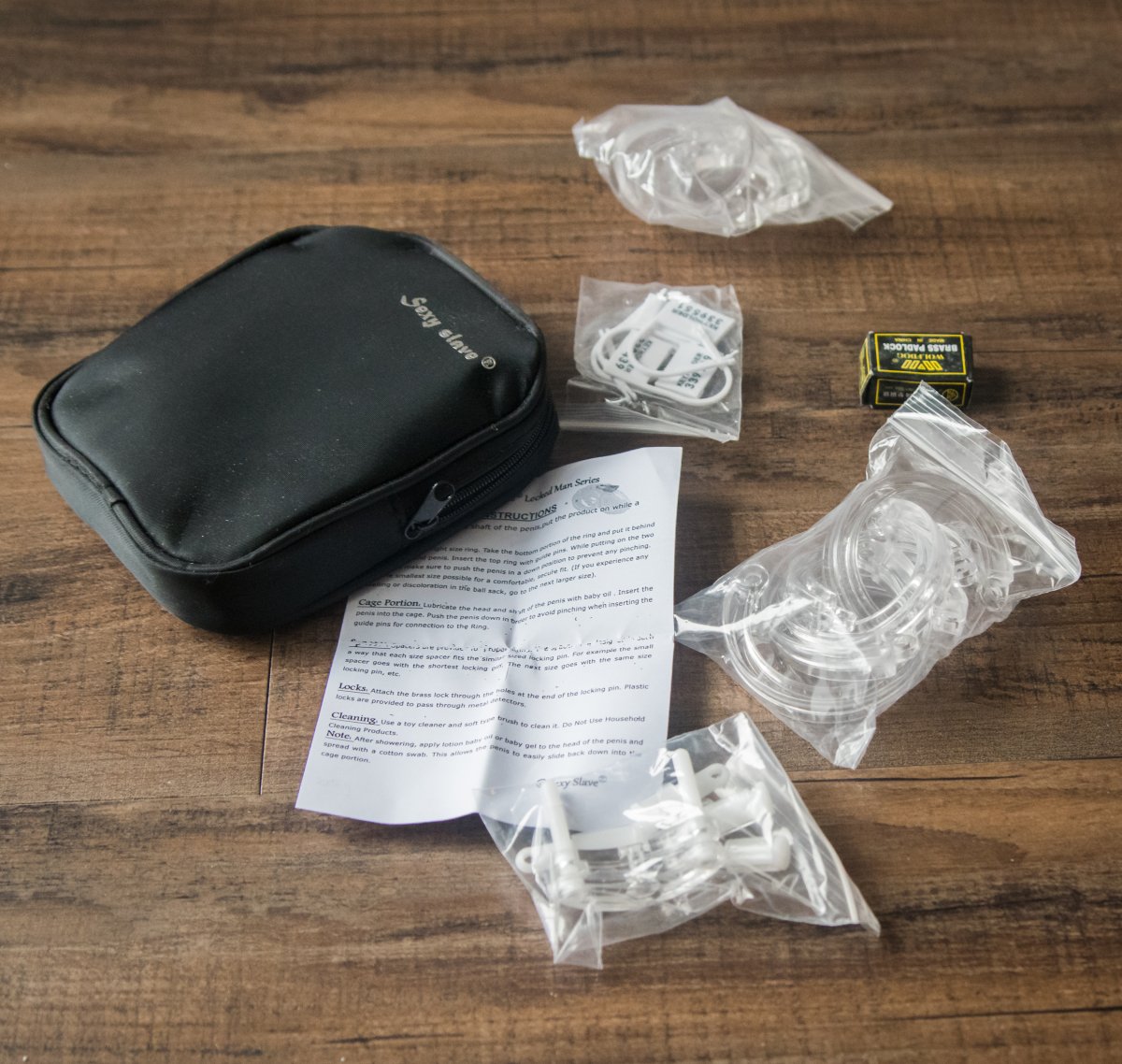 All of the parts of the Lock Your Man Up! Male Chastity Device come squished together in a zipper pouch. Getting them all back into the pouch is a tight fit, but it's entirely do-able. The Lock Your Man Up! Male Chastity Device comes with the cage itself, five base rings, 3 different-sized locking pins and spacers, one brass padlock, and 5 individually-numbered plastic locks. Once you get the perfect equipment for the best fit for you, you might want to consider keeping all of the "bonus" parts in a plastic bag within the zipper pouch to make it easier to grab out only the chastity cage parts you want.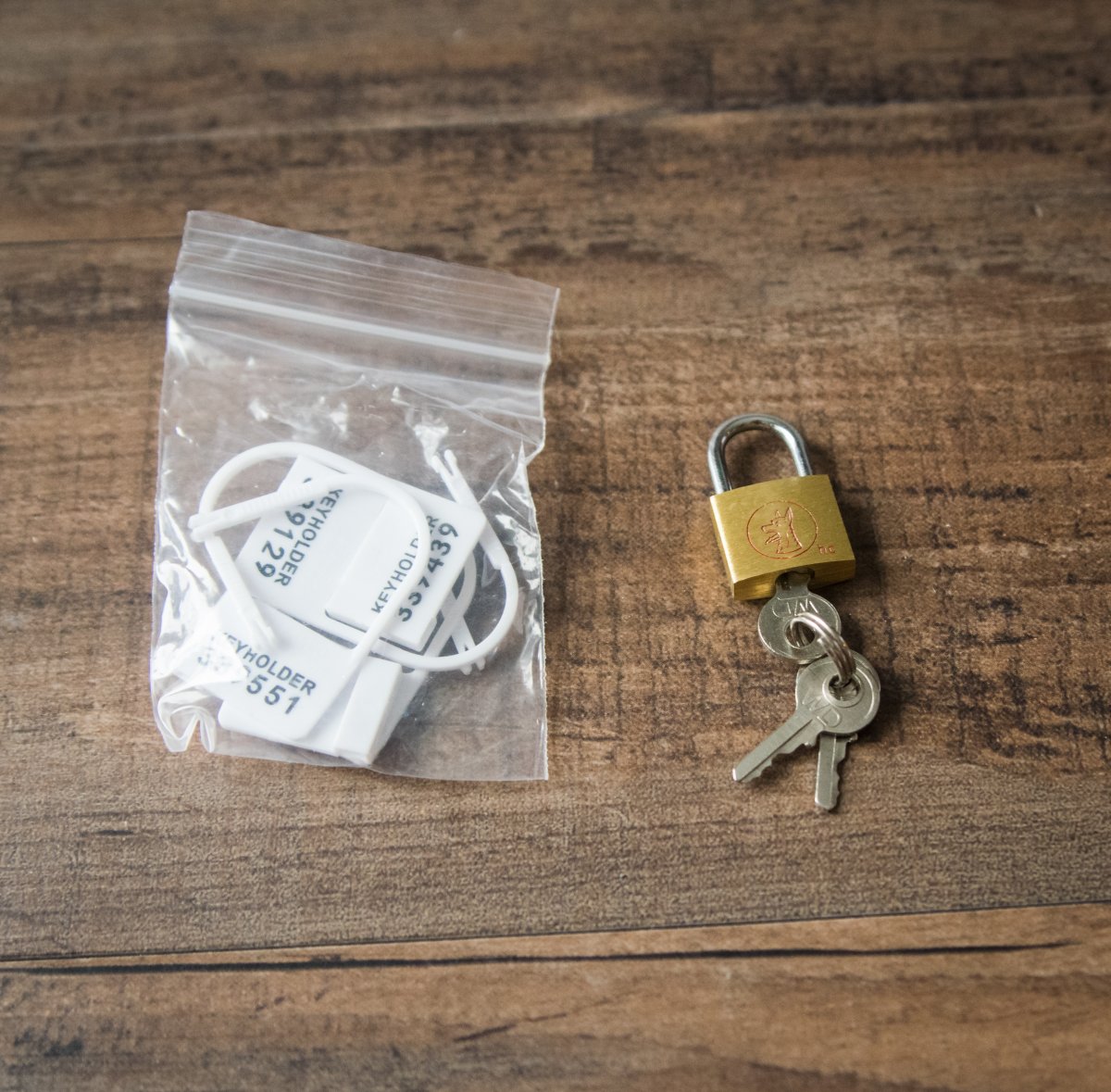 The Lock Your Man Up! comes with multiple types of locks. You'll receive a brass padlock in addition to five plastic locks. Each one of these plastic locks has an individual printed lock on it. Similar to a zip tie, the only way to get these locks "off" is to cut them off. So if you want to avoid using a relockable lock like the brass padlock, you use one of the numbered locks, your keyholder makes note of the number, and then he'll/she'll know if you change the locks without telling them. As you can imagine, those are single-use locks, but the brass padlock can be reused over and over. I'd recommend testing out your brass lock multiple times on its own to ensure it opens and shuts smoothly to avoid getting "stuck" in your device.
Once you have the cage, this set also includes instructions for use. The instructions are words only with no illustrations. The instructions gives basic information about how to put on the chastity cage. It seems the semi-sleek paper the instructions were printed on can lose the words with multiple folds (along those seams), so I'd recommend not crumpling it up if you can help it.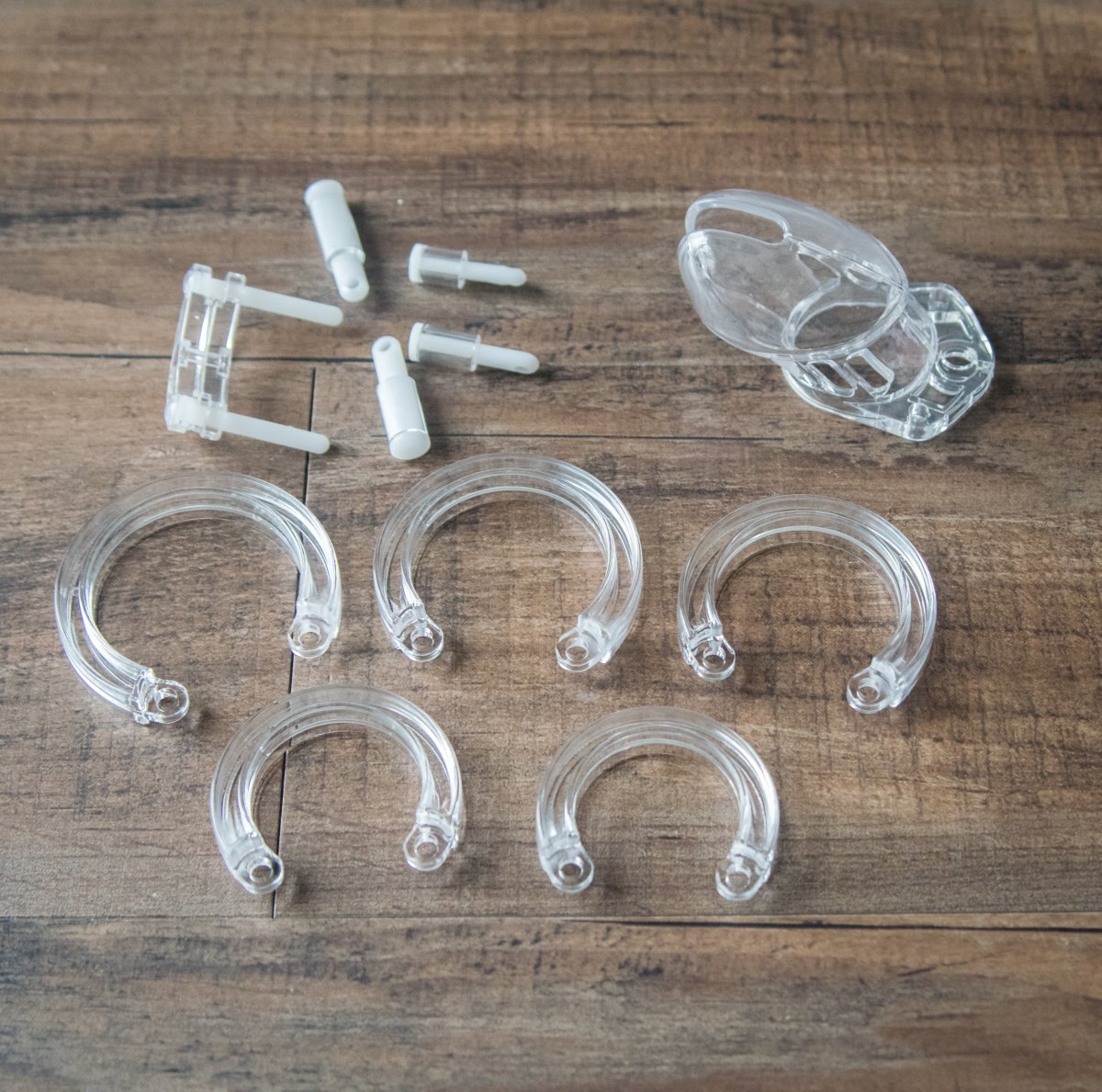 The instructions do a decent, but not fantastic, job of teaching you how to put on the cage. You'll figure out the exact way to get it on with time and practice, but I highly recommend watching a YouTube or other video of a similar-style cage. Seeing everything in real-time really will help with getting this one properly situated. That being said, if you have nothing else, the instructions will help – it just might be a bit of a case of trial and error until you get it right.
As with any chastity device, the most important aspect is going to be "fit". This device could be the most-perfect-item you've ever bought – or it could be frustrating and never work right. That's the magic of a properly-fitting device. With that in mind, the company offers a longer version and a shorter version depending on flaccid penis length. Make sure to pay particular attention to the measurements before selecting a cage as getting a properly-fitting cage is the secret to having a great time with the cage.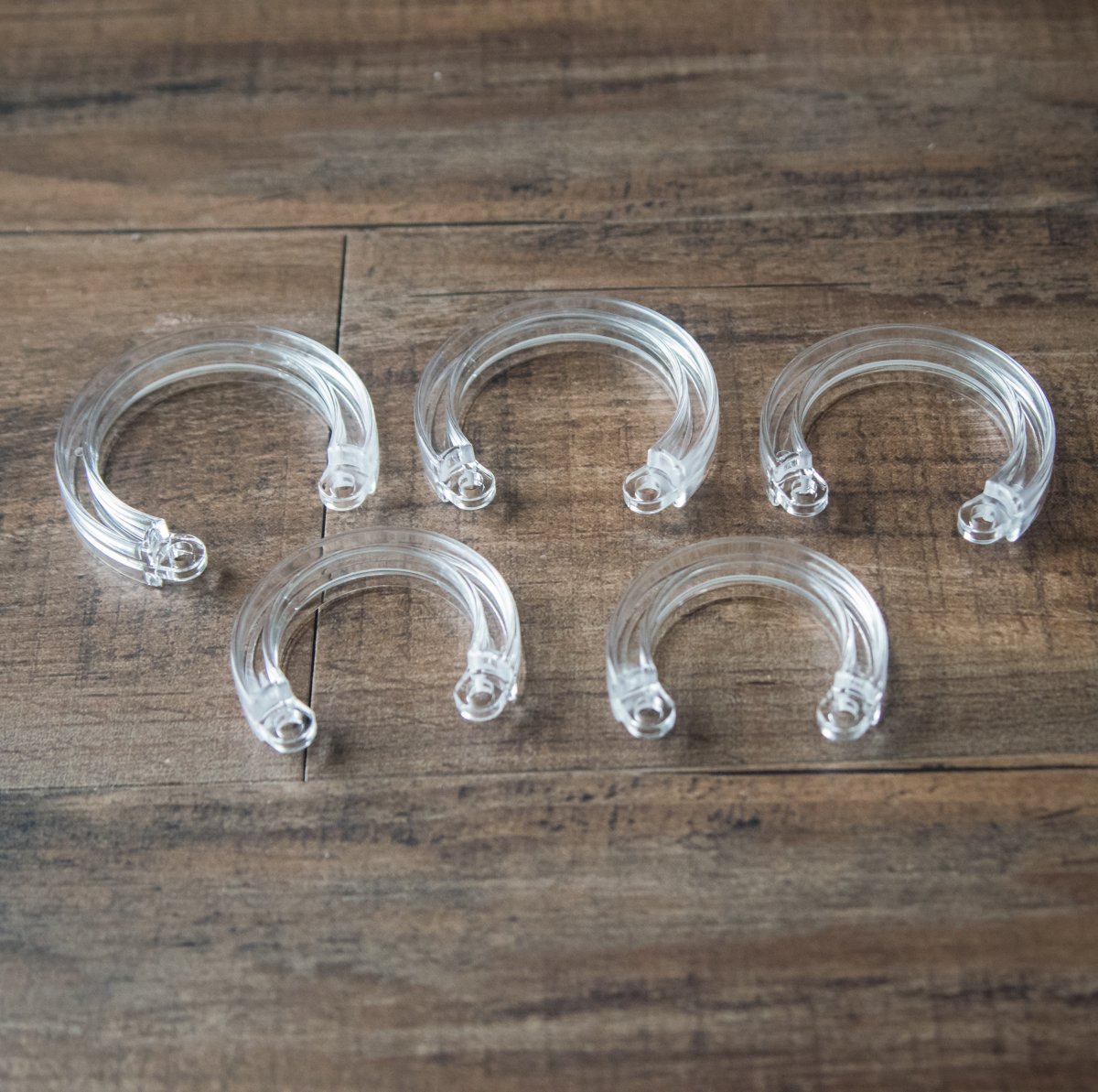 Now, chastity cages can run from $20 all the way into the $2-4 grand range. So this is definitely on the "lower end" of chastity cages. That being said, that doesn't make it problematic or useless. In fact, if you're not sure chastity is going to be your kink or if you're going to like the feel of a chastity device, something like the Lock Your Man Up! Male Chastity Device is a good, affordable purchase. You shouldn't spend your entire savings on something you're not sure you'll love. That's where this budget item fits in.
That being said, the perfect-fit mentions given above pushed aside, this cage is still made from plastic. The plastic does appear to be smooth along all of the areas that might potentially touch the bottom, but due to the design, it does get a pinchy once in awhile. It's not always a problem, but when it happens – well, you'll notice. Using lots of lubricant near the base definitely does help a bit, but it requires a very good fit on the cage itself to ensure the extra lubricant isn't going to result in a cage slipping off the penis.
That being said, if you get a perfect fit and have no problems with the cage, I can't come up with any reason you shouldn't be able to wear this as long as you'd like. Keeping in mind that you should strip it off once a week for cleaning and maintenance (and maybe a bit more often if you don't line up with the urination hole), if the cage fits comfortably, I see no "warning" concerns about the fit or design. There seem to be more possible "ouch" opportunities than some of the higher-end cages, but this cage should work fine for trying out chastity or only keeping someone in a cage for days at a time instead of weeks at a time.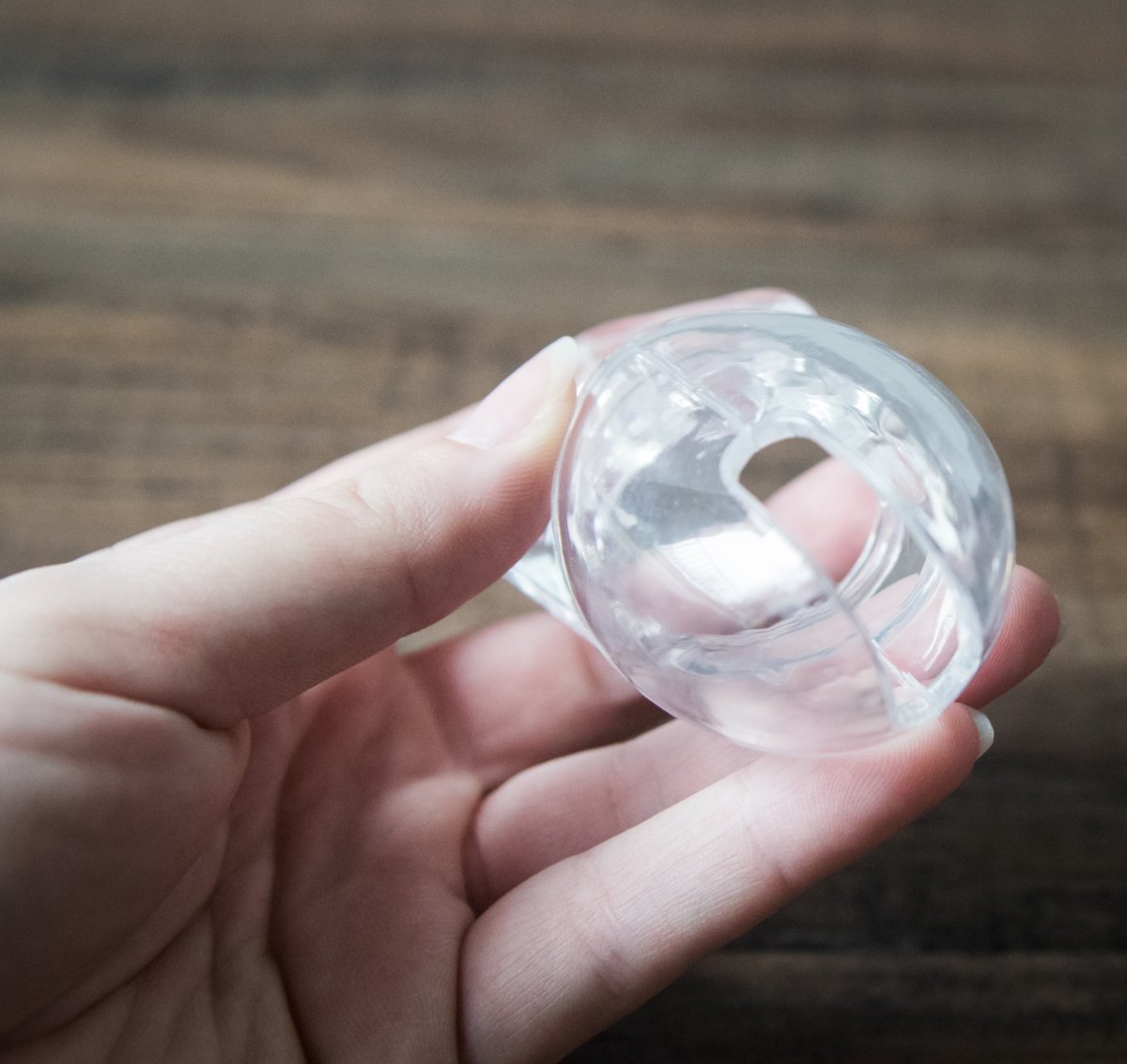 This cage could be worn 24/7 if desired. There's a hole for urination at the tip. Depending on your body, your penis may or may not align perfectly with the pretty-large hole, but it will allow the urine to drain regardless. This particular hole will also begin to make erections pretty uncomfortable. Because this hole is decently large, the skin will try to escape this way, and you'll soon find yourself trying not to get hard (which is the point of a chastity cage, really) to avoid feeling that sensation. I've been told that it's definitely not pleasant.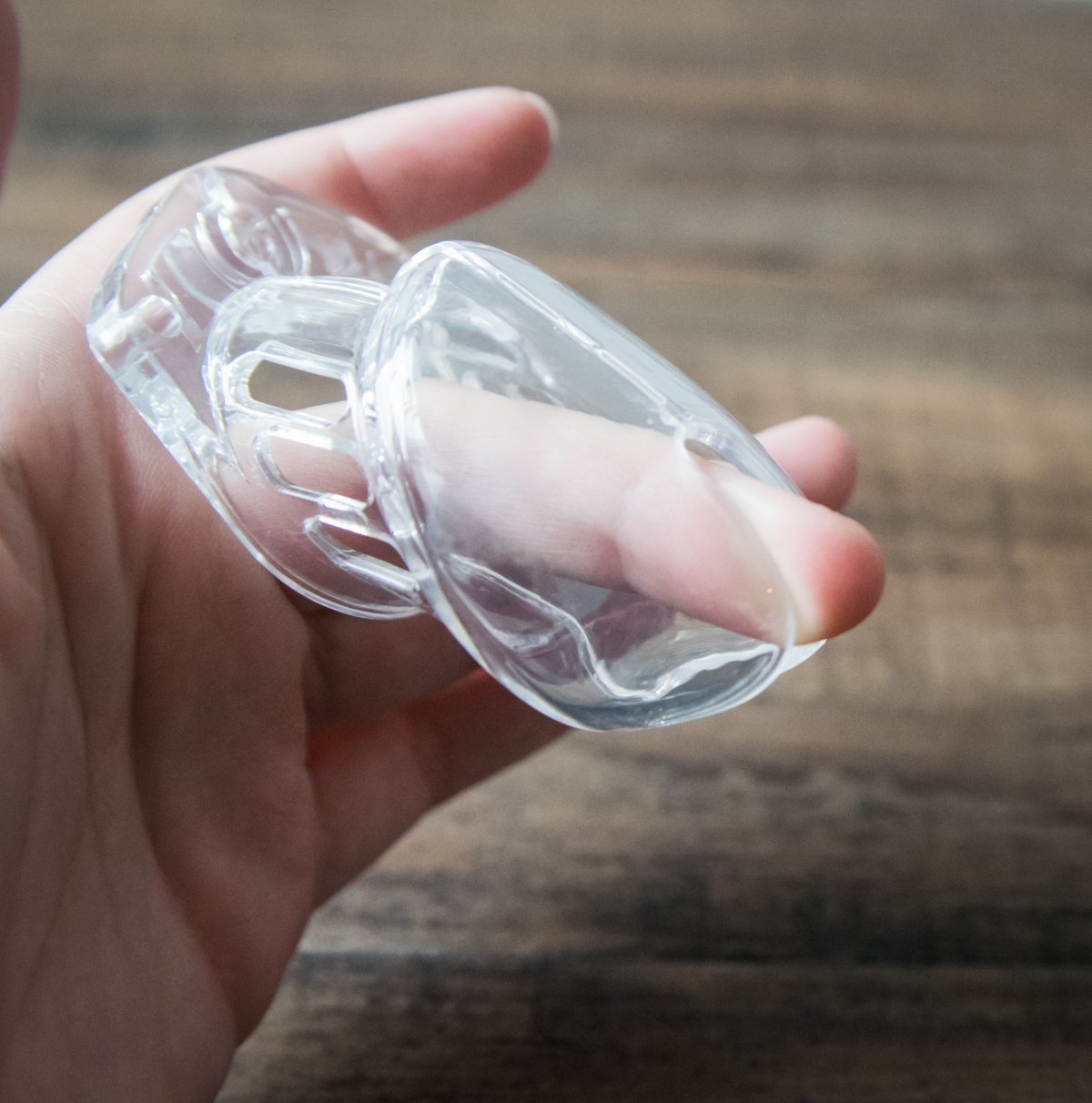 When it comes to cleaning a chastity cage, you'll have two parts: the human and the cage itself. The interior of the shaft portion seems to get the most dirty with this cage. Attempting to get shower water to slide down the cage's shaft does help keep it a bit cleaner. The cage needs a thorough cleaning after every use, and if you've found a good enough fit for long-term use, make sure to strip this off of your partner once a week. The cage should be cleaned with warm water and anti-bacterial soap – and make sure to get a non-abrasive brush that can slide into the shaft cage and clean the walls of the cage. The human penis should be cleaned too. Use water-based or silicone-based lubricant when attempting to put on the cage – different lubricants will not harm the surface of this cage.
Overall, while you may want to upgrade to a non-budget device for long-term wearing, the Lock Up Your Man! Male Chastity Device offers a lower price point to allow couples (or solo people!) to try out chastity without worrying as much about their budget. This device allows for a bit of adjustment to fit your body as best as possible while also including instructions and generally functioning as a good "introduction" to what a chastity device could possibly offer. Thanks to Sexy Slave for providing this affordable male chastity device for my Lock Your Man Up! Male Chastity Device review.