(Click on any of the images to view a larger version of the image.)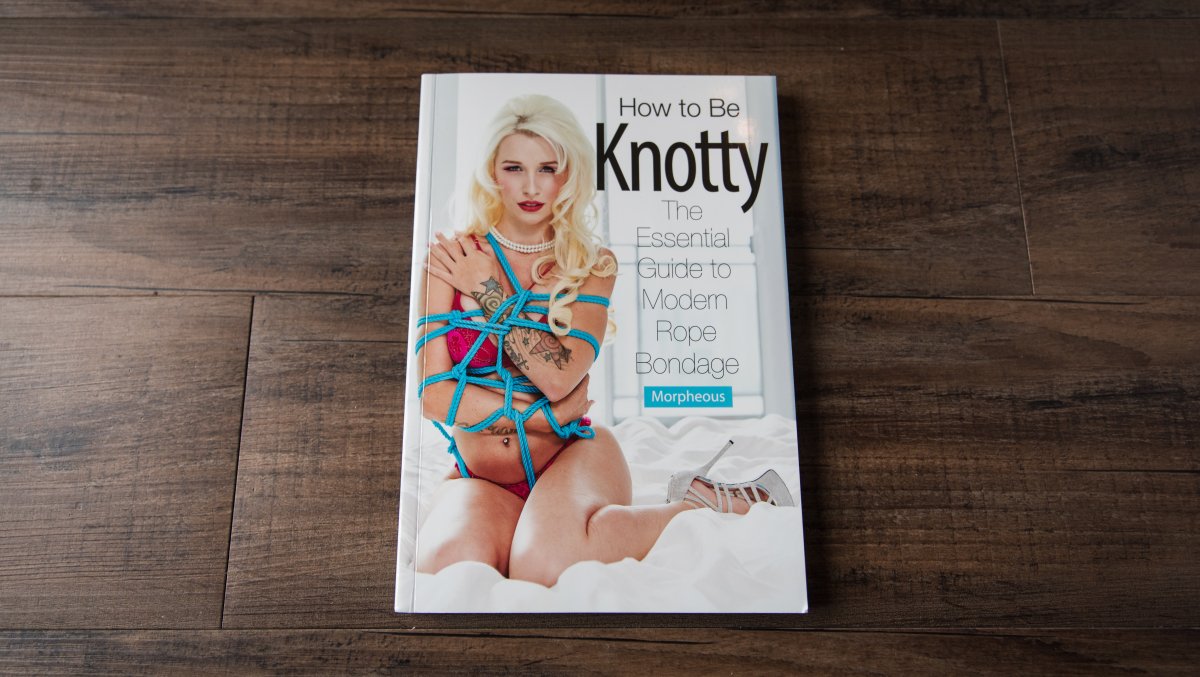 Continuing his trend of releasing full-color, how-to BDSM books, Morpheous' latest book, "How to Be Knotty: The Essential Guide to Modern Rope Bondage" has recently found its way onto bookstore shelves. Softcover and 231 pages long, this book is printed fully in-color and on high-quality photo pages.
Table of Contents:
Introduction: For the Love of Rope
Beyond the Beginnings
Safety, Safety, and Still More Safety
Intermediate Equipment
Binds for Sex, Binds for Art, and My Modern Fusion Style
Easy Intermediate Ties
Medium Intermediate Ties
Difficult Intermediate Ties
Becoming a Bona Fide Rope Bondage Obsessive
Glossary/Resources/About Author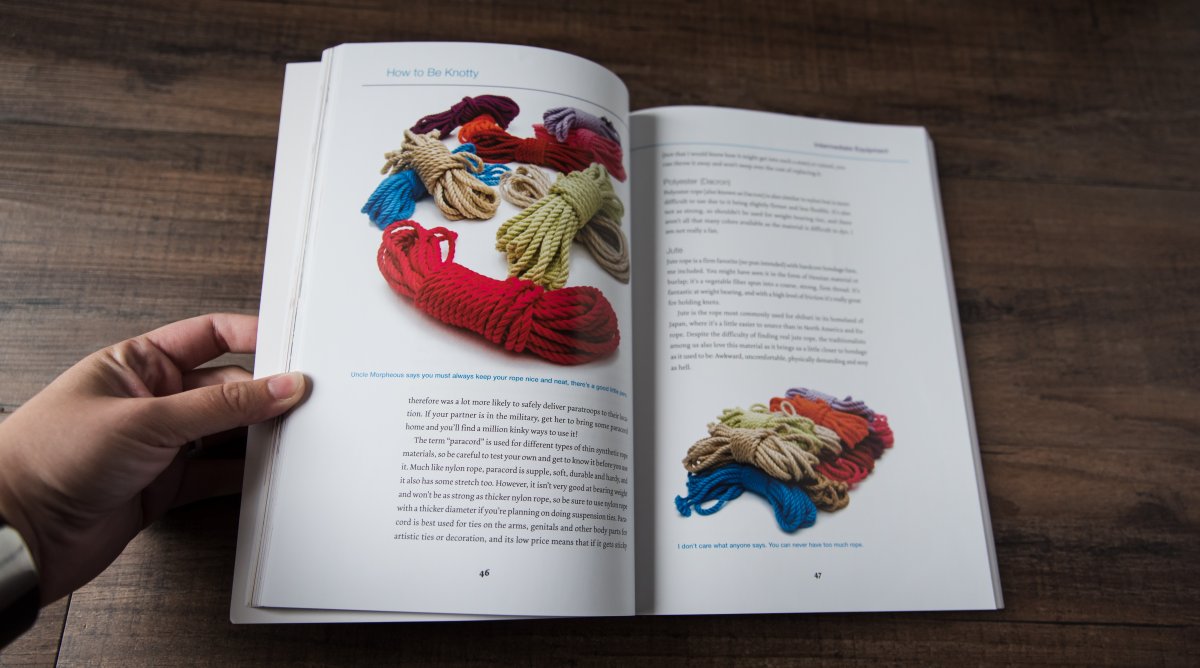 As you can see, the rope goes from the "basics" to "more advanced" as you go along in the book. Harder ties may build along some of the things you learned in the "basics" section, but nothing requires that you have gone in order – it'll still explain steps. The majority of the introductory chapters are lots of words, but honestly, it's words that you really should be reading. There's some good information about safety, rope choice, and other things you'll likely find applicable to actually using the suggestions in the rest of the book.
The book is particularly gorgeous and well-designed as well. High-color photo pages? Check. Nice, easily-organized information? Check. It's possible to easily work through this book starting from the first tie and moving towards the end – it's nice and "progressively harder" like that. It's also possible to skip around and pick one particular tie you want to do at that given moment. The book is pretty well-organized, and you'll find it pretty easy to find the tie you want.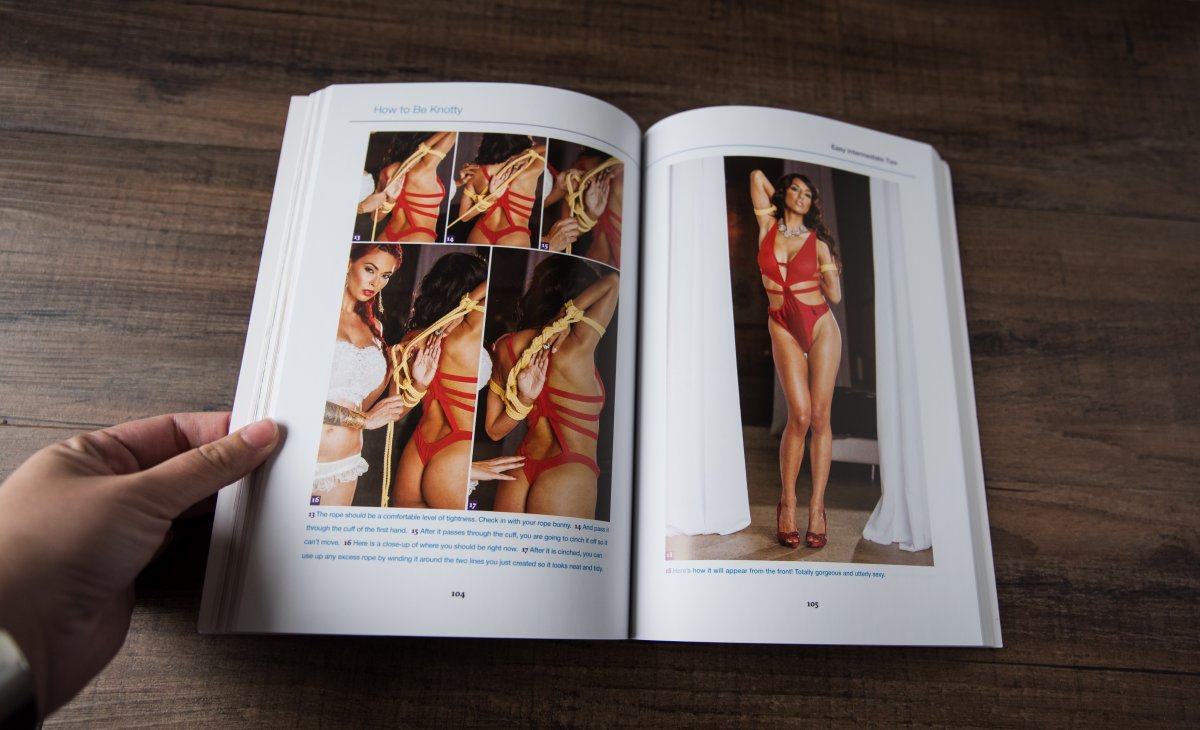 As for the rope work itself, it's a mixture of "mostly functional and somewhat decorative". Some of it is haphazard-looking – and that's on purpose. Most of the rope bondage suggestions in this book will focus on functional ties that will actually restrain your partner. Expect a lot of wrist, chest harness, and leg-to-thigh ties. There are a couple ties that are mostly decorative, but the overall theme seems to be "pretty, decently-easy, and fun ways to restrain your partner with rope".
With all that in mind, how much experience should you have? Well, I'd recommend having touched rope a couple times and used it to restrain your partner a couple times, but nothing intensely important is required. The author will name knots by name a couple times, but if you're willing to do a quick Google search while following the instructions, you'll be able to follow along with the rest of the instructions. Lark's Head is mentioned quite a few times along with "cinching" or "make a knot". If you truly want to prepare, learn how to do a couple basic knots and single column ties and take your time going through the first instructional chapters, and you'll likely be fine.
And finally: how easy is it to follow the instructions? I will, personally, probably always be much more of a fan of following instructions for rope bondage via a video instead of photos. That being said, it seems to depend on the tie. Some of the more complicated, decorative ties seem like they could have used more photos to truly get across what was going on. Some of the more basic, functional ties seem to do just fine with the amount of photos they have. Either way, you'll likely end up doing a bit of "trial and error" on a couple ties until you figure out what the author was trying to communicate.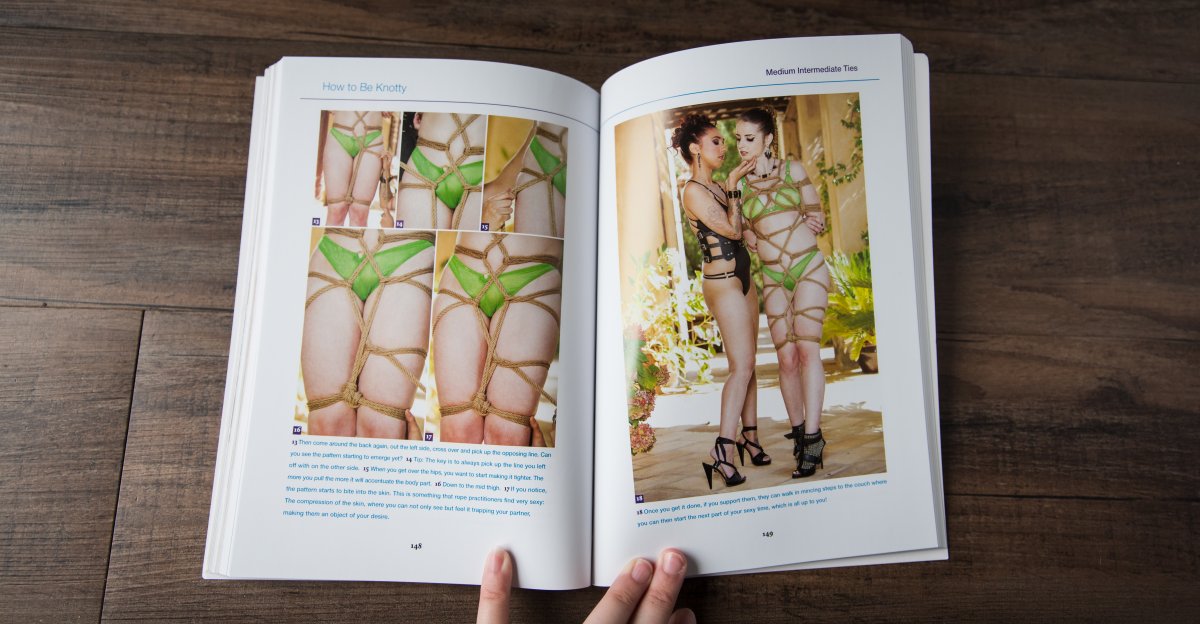 The spine of the book doesn't lay flat particularly well (a complaint for any book that offers instructional steps I'm supposed to be referencing while I do something). I've had to crease the hell out of the spine AND use heavy objects on both sides of the book to try to hold the book open while I'm trying to follow the printed steps. A spiral-bound book would have worked better for this purpose, but I'm not sure it's financially-suitable or would have high-enough durability. This effect is particularly pronounced compared to other types of rope bondage books because of the high-quality photo paper that makes the book thicker.
One of my biggest complaints about this how to do rope bondage book is that almost all of the photography feels "male gaze" pornographic. Lots of lesbian shots. Lots of women in barely-there lingerie looking orgasmic in rope. A few fully-clothed-in-suits male rope tops with – you guessed it – women in lingerie looking lustfully at the camera. One (maybe two?) sets with a female rope top and a male rope bottom – again, with the woman in lingerie while the man has an unbuttoned shirt. All bodies are "model" bodies with slender women with large breasts and very muscular men. In the book's defense, nothing is blatantly hardcore pornography, but it definitely feels on the "softcore, male-gaze-focused" side of things. There are female butts (with panties up the crack) and some barely-visible female nipples through lingerie. If that sounds like something that would turn you and your partner on and make it more fun to practice, have at it! However, be aware that it exists in case it'll cause you to feel uncomfortable.
Despite that "porn" issue with the photography, Morpheous does do a good job of giving some "context" to ties. As-in, if you're doing a wrist or upper-body tie, the "final product" photo will show you a particular predicament that the model is in. It might just be laying on the bed, or it might partner that upper body tie with one tie that restrains the leg/thigh and a second that has her other leg restrained to a bed post. These "finale" photos will give you some good inspiration for how/where to use the ties – even if they do look more like shots from a rope porn more than an instructional book.
(All things aside, Morpheous is a good photographer. The shots are well-lit, clearly show the steps, have flat, clearly-showing-everything lighting, and look pretty. I would definitely guess that he shoots kink porn shoots for a living/hobby.)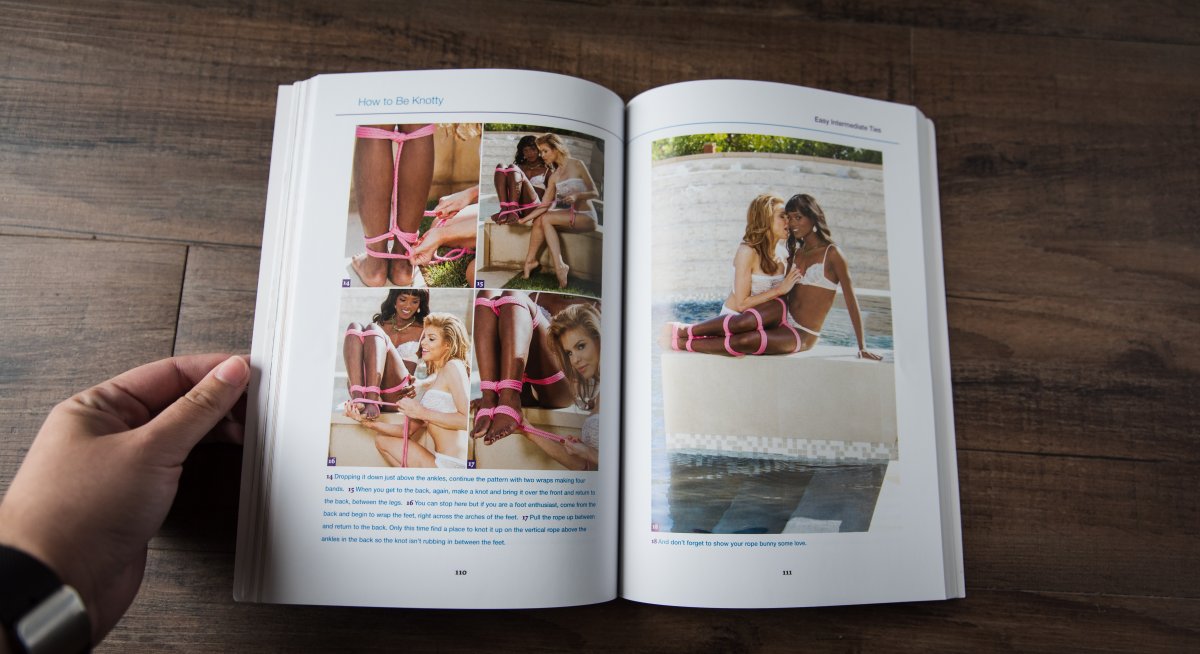 That all being said, I've read a couple of Morpheous' rope/kink books, and this one is probably my favorite. Many of Morpheous' previous books fell victim to pretty photography that wasn't particularly applicable to the topic in the text. This seems to be mostly-ish eliminated in "How to Be Knotty". Since the entire book focuses around rope, all of the photos are mostly on-topic. No longer will there be a photo of ball gags next to information about finding your local community. All the photos are on topic. (Which was usually one of my biggest pet peeves)
Overall, this book is well set-up, offers a lot of good information, and is intermediate enough for people who have experience with rope without going off into the stratosphere of difficulty like some "advanced" rope bondage books tend to do. I have some bones to pick with the not-average-looking models they choose to use for the modeling, and I think some steps could have been better illustrated, but it's, overall, a solid book that you'll likely pick up a good amount of information from. Thanks to Morpheous for sending along this intermediate rope bondage book for my "How to Be Knotty" book review.