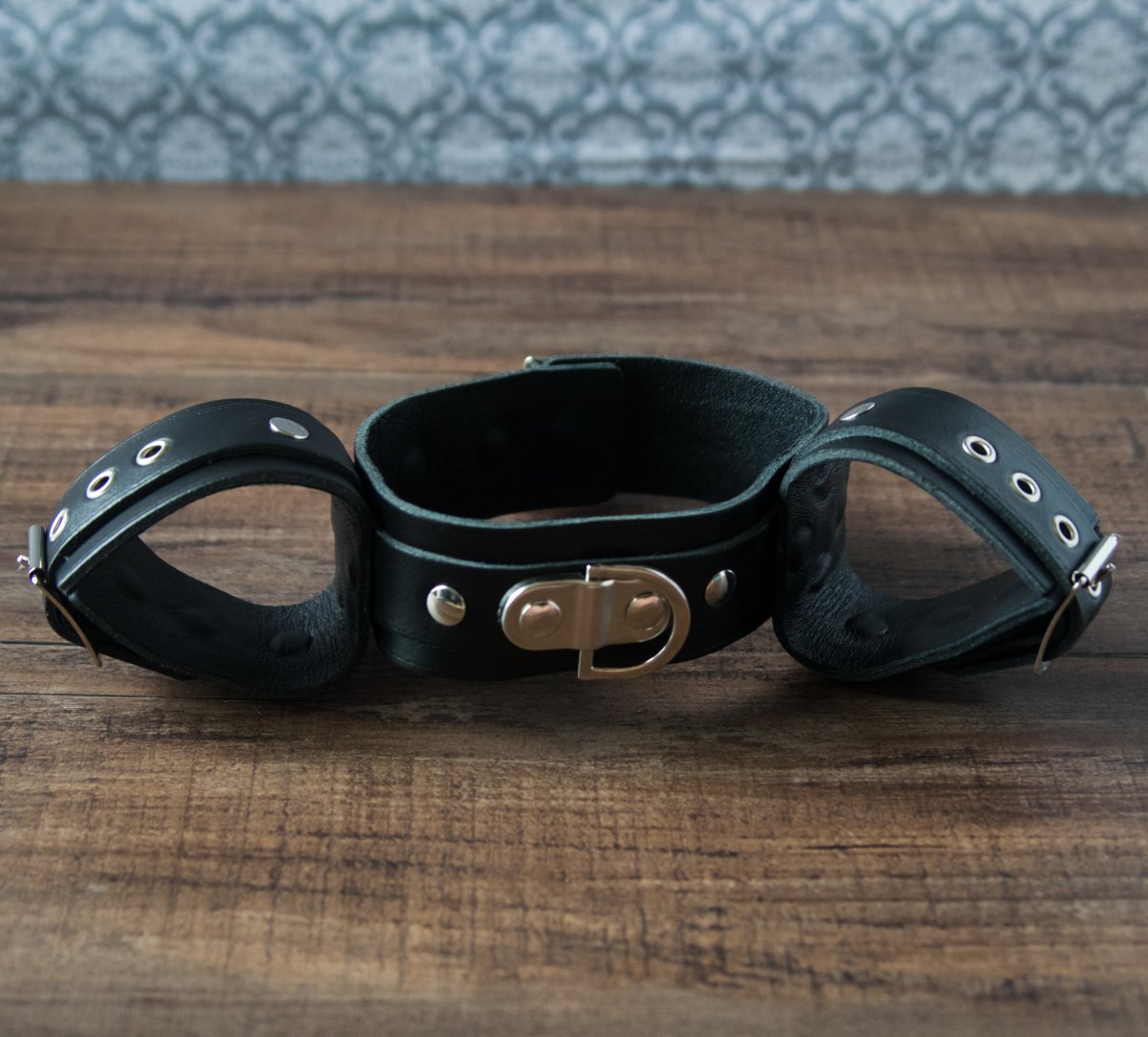 For a unique restraint experience, consider the Leather Restraint Collar with Attached Cuffs from Sh! Women's Emporium. A leather "stocks-like" restraint, this collar has two attached, static wrist cuffs that hold the wrists up against the neck for upper body limb immobilization. Available in either leather or rubber, the collar and cuffs are 2″ in width for a more comfortable wearing experience. Typical of many of the Sh! Women's Sex Toy Store items, this stock-style leather restraint is also available in multiple, fun colors in addition to the standard black. The collar fits a circumference of 14″ to 18.5″ while the cuffs fit a circumference of 5″ to 8″.
Sh! Women's Store does a fantastic job of packing their in-house-made items. Your restraints will come wrapped in tissue paper to make for a lovely, elegant time opening your item. The item will be packaged in a plain, brown box for shipping. Be aware that there aren't any instructions for your Leather Stock Restraints, but it's pretty self-explanatory.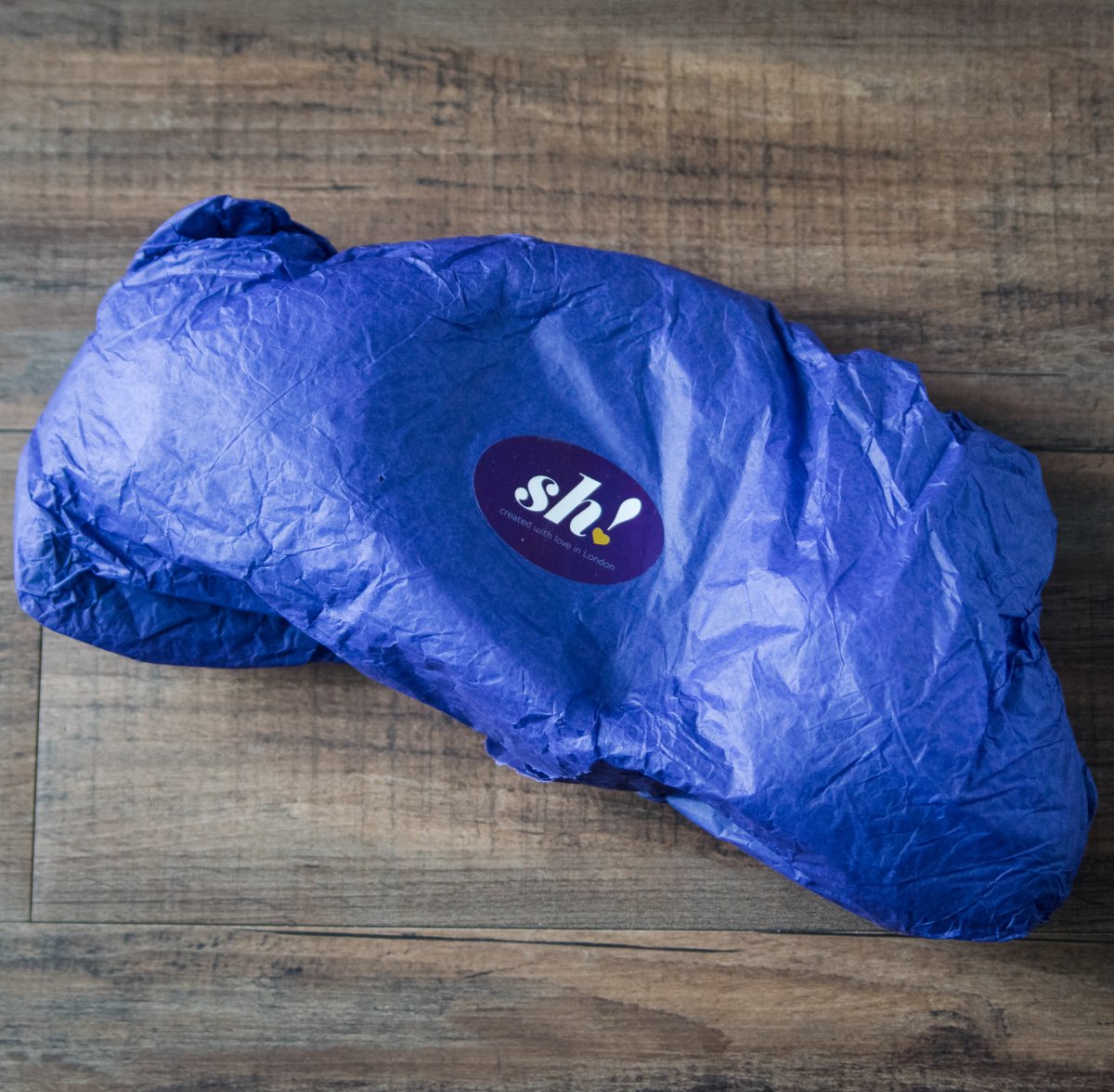 The Leather Restraint Collar with Attached Cuffs follows a pretty simplistic design – there's a thick, leather collar, and attached to it, are two cuffs. The cuffs are static, and their angle cannot change. This means that it will basically force the wearer's elbows out in front of them with their wrists right up against the neck/collar. For further bondage possibilities, the collar offers a single D-ring on the front of the collar. This D-ring is well-fastened against the leather, and it makes virtually zero noise (unlike some D-rings) as the wearer moves around. All of the buckles for the collar and wrist restraints are standard buckles with no locking buckles to be scene. However, once the wrists are securely fastened into the collar and cuffs, I wouldn't expect your "captive" to be able to escape anyway. It'll be near-impossible without third party help or destroying the restraint in some way.
When it comes to adjustability, the cuffs and collar will fit a decent size range. You might find yourself more limited by the wearer's flexibility than the cuffs and collar themselves. It can be pretty stretching on the triceps to have the wrists up against the neck like this. I'm a bigger girl, and the cuffs and collar fit me with multiple open slots to spare. My slimmer partners have no problem with it – but they do wear it on the smallest setting. Even at a bit loose, though, it still restrains just fine.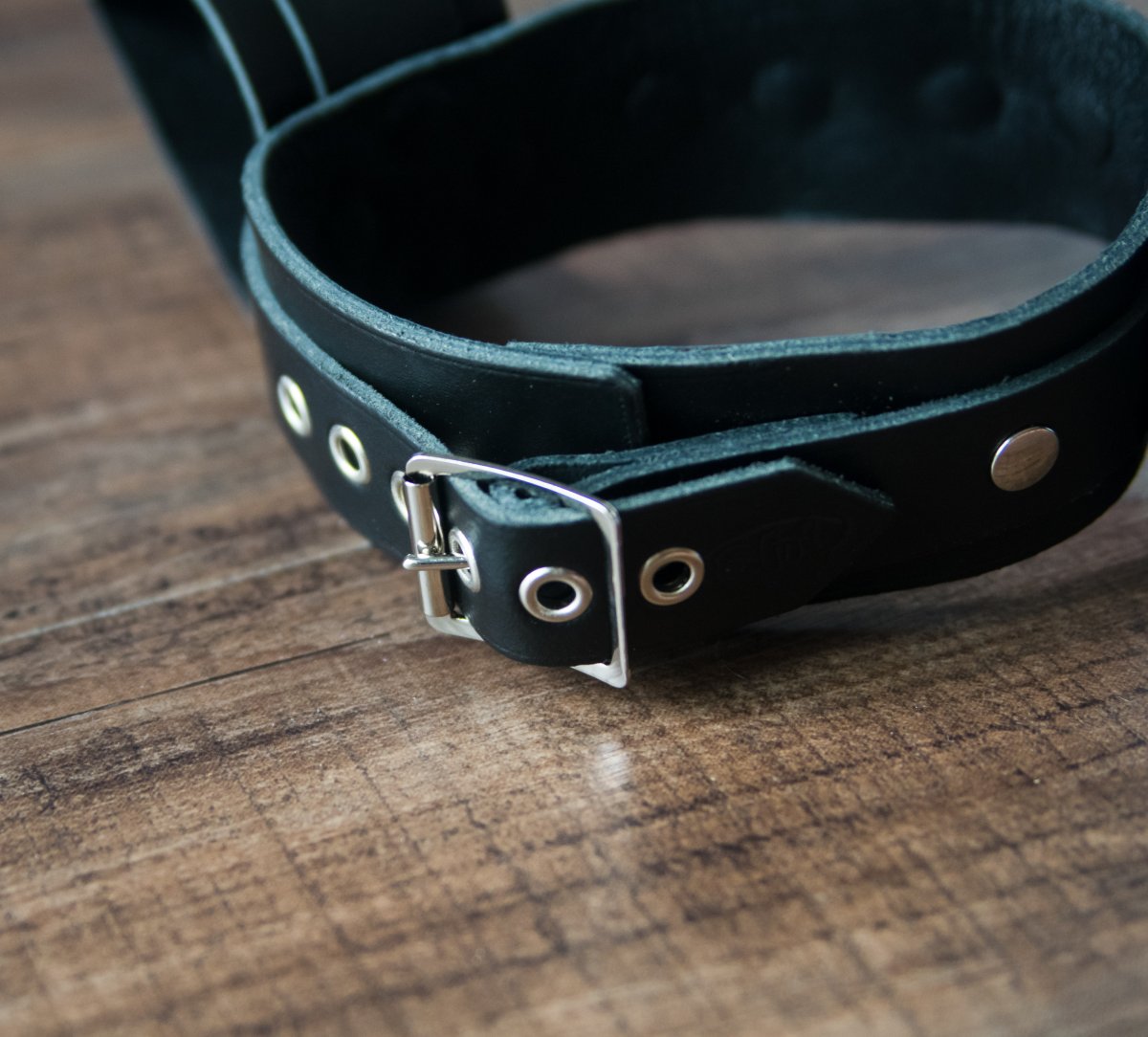 And for durability? Your partner will have a pretty difficult time destroying this one. The biggest "weak" point would likely be the attached of the cuffs to the collar, and to solve this, Sh! used four (covered-on-both sides by leather) rivets to attach the cuffs to the collar. Outside of that, almost all of the high-tug areas feature added rivets – with all of the rivets that would touch the wearer's skin being covered by another layer of leather. I've had absolutely no concerns about durability – even with someone tugging to the best of their ability.
As you can imagine, a "stock-style" restraint can start to be particularly tiring after a bit. For that reason, try to keep your play sessions on the shorter side with the Leather Restraint Collar with Attached Cuffs. While it's pretty comfortable and fun to actually have against the skin, your wearer will likely find their hands starting to go numb or "tingly" from lack of blood flow after longer periods of time. Releasing the hands temporarily and putting them back in can solve that problem if you're hoping to keep your partner in these restraints for a longer period of time.
You will also want to be careful about the wearer's positioning. There's no way for them to safely fall, and they will likely break an elbow (and more) if they land hard on their face. For that reason, using this restraint while fully (and safely!) standing or while sitting or laying tends to be the safest (and most comfortable) for the bottom. Many wearers are going to find themselves losing a bit of their balance with their hands forced into a stocks-like position.
For example, this is a fun leather stocks restraint I'd use at home while in a seated or well-secured scene – not for dragging my partner around a busy play party.
With how long the wearer will be in this bondage implement, how comfortable it is? Well, aside from the positioning issues (which is likely what's going to cause you two to take off the restraint), the collar and cuffs itself is comfortable. The leather does feel like unbreathable leather against the skin, but it's slightly softened (though not plushy). The thicker bands help make the restraint feel more comfortable and less pinchy, and it's always been the positioning of the wrists – not the feel of the collar and cuffs itself – that make my partners want to tap out of this one.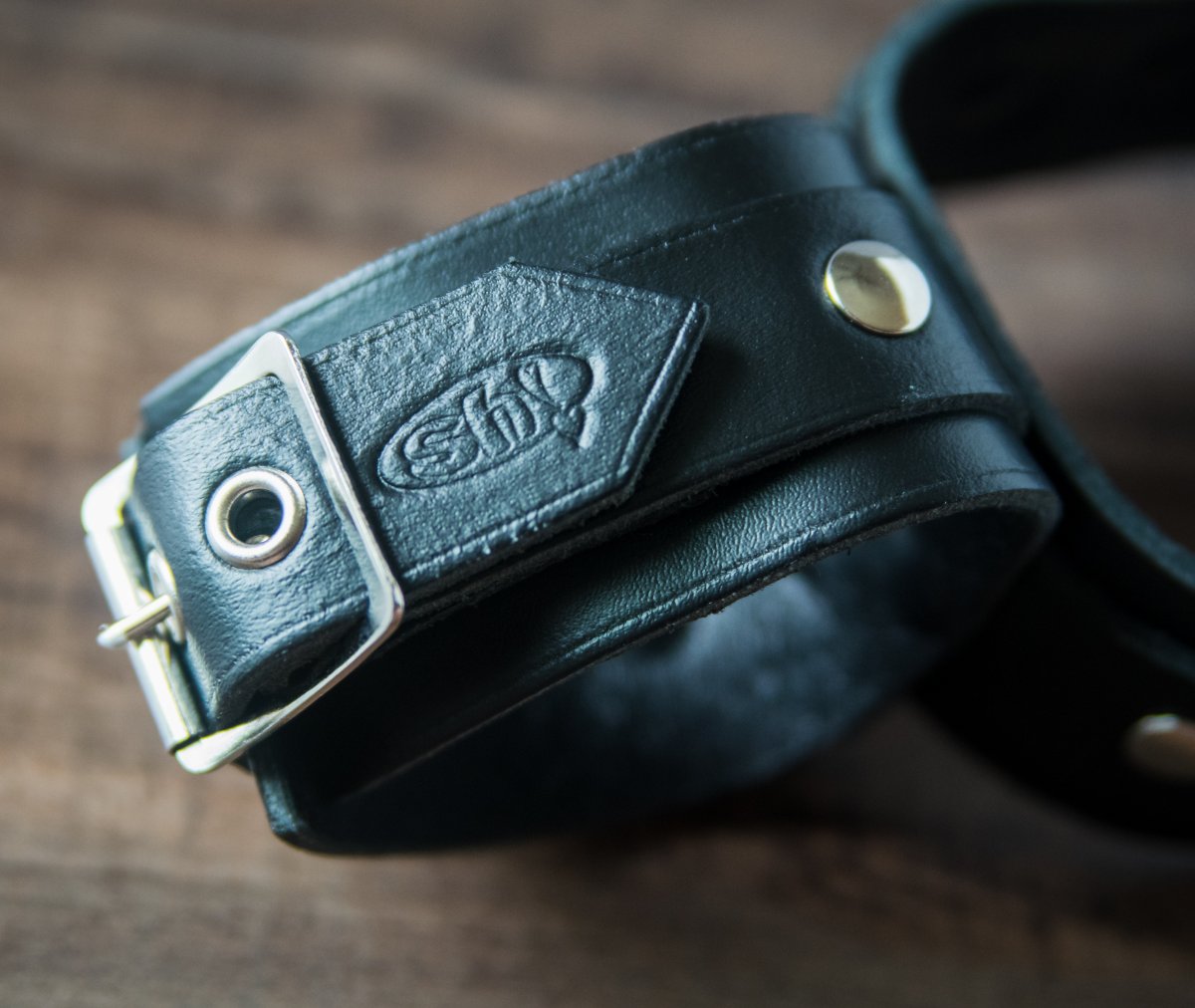 When it comes to cleaning a leather restraint like this, you'll want to treat it like typical leather. It shouldn't be dunk or submerged in water very often. Use leather cleaner, or if you don't have that, use a slightly-damp washcloth to wipe down the surface of the material. It goes along the neck and skin, and it makes sense that there may be a build-up of oils, but if you wipe it down often, your leather cuffs should continue to feel relatively clean. However, try to avoid getting bodily fluids or lubricants on the restraints if you can manage it. For storage, try not to flatten the leather or circular design. Aside from that, feel free to store it virtually anywhere as long as it's not cramped and not in direct sunlight.
Overall, the Captive Collar and Cuffs in Leather do exactly as they're designed to do – they hold the wearer in a "stocks-like" position without requiring use of an expensive stocks toy. The wider strap length makes them a bit more comfortable to wear, but still be aware that the wearer will still likely be only able to stay in this a half-hour to an hour. The D-ring on the front offers more bondage possibilities while the multitude of color selection lets you choose a restraint that matches your personal style. Thanks to Sh! Women's Store for providing this neck and wrist restraint for my Leather Restraint Collar with Attached Cuffs review.