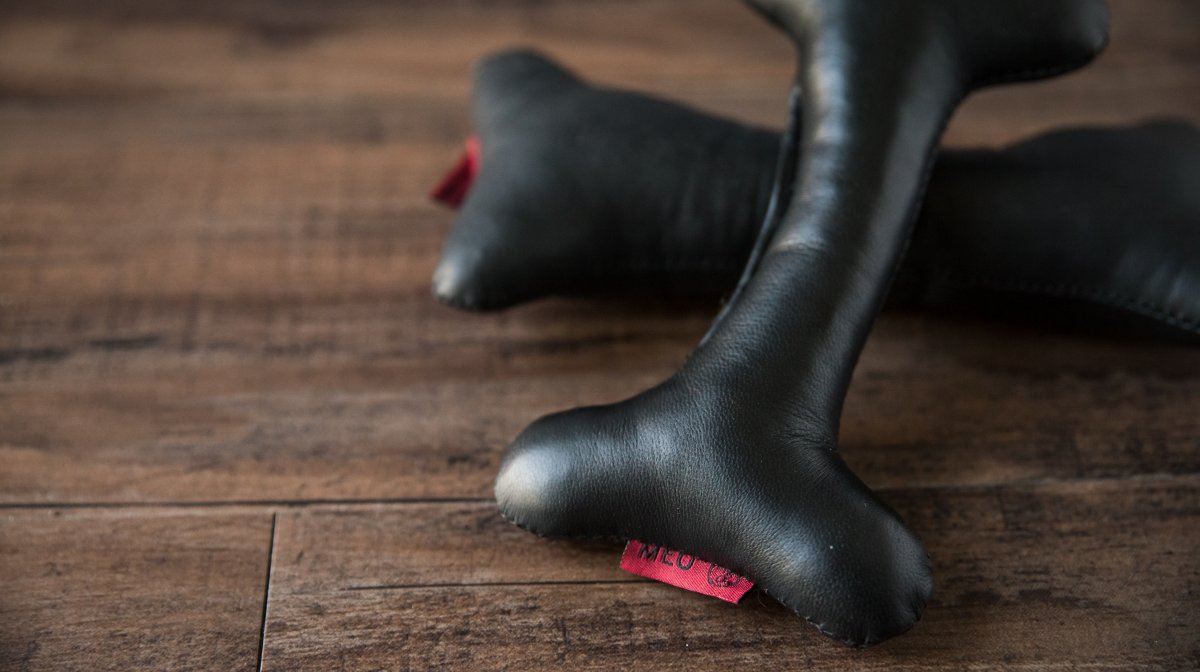 When you're looking for a fun and authentic puppy play experience, it doesn't get much more authentic than letting your "pup" play around with some toys! While real-life dog bones are much too tough for human teeth, this leather alternative can provide all of the fun with a safe, padded, soft toy. The Dog Play Leather Bones from MEO.de are made from Nappa leather, and they come in a small and large size. Each bone is stuffed with some stuffing for a fluffier bone. The small bone measures in at 6.5″ in length, 4″ in width, and 3.5″ circumference around the bitey area. while the large bone is noticeably larger at 8″ in length, 4″ in width, and 5.25″circumference around the bitey area. As you can tell from the photos, each bone has a unique and different appearance as well.
Like all MEO.de items, your bone will come packaged in a see-through plastic bag. This bag has no information outside of warehouse information and the item's name. This bag must be destroyed in order to get the bone inside, so it's not a great long-term storage idea. However, these bones fit fine into a gallon-sized plastic baggie, so I'd recommend one of those for storage.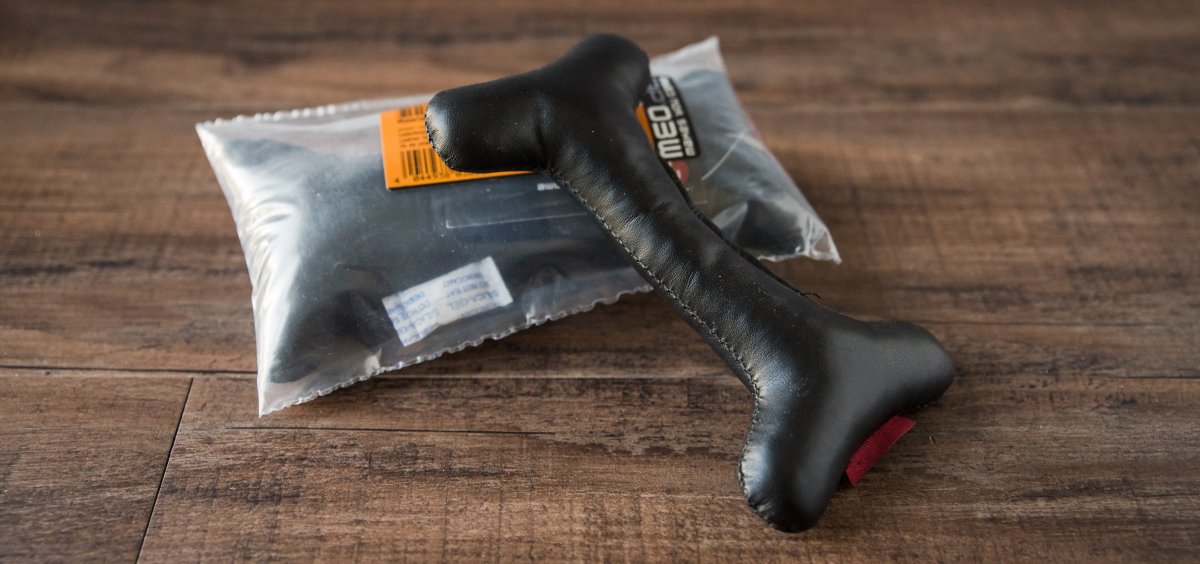 These bones look pretty durably-made. Since human teeth can't rip things apart like canine teeth can, even at your worst, your "pup" likely shouldn't be able to destroy these bones with any sort of ease. The bones are nice and fluffy, and aside from the stitching area that isn't uniform with the rest, the stitching and design of the bones look great. The Small bone has more of a noticeable "bone" design while the Large bone just looks a lot more thick.
However, I was surprised to see that some of the dog bone seams aren't entirely lined up. While it doesn't affect the use of the BDSM Puppy Play Bone, it does make the bone look a lot more sloppy and unfinished. This un-matching seam was present on both bones, but it does give somewhere for the teeth to easily "grip" to carry around the bone without stretching out the mouth.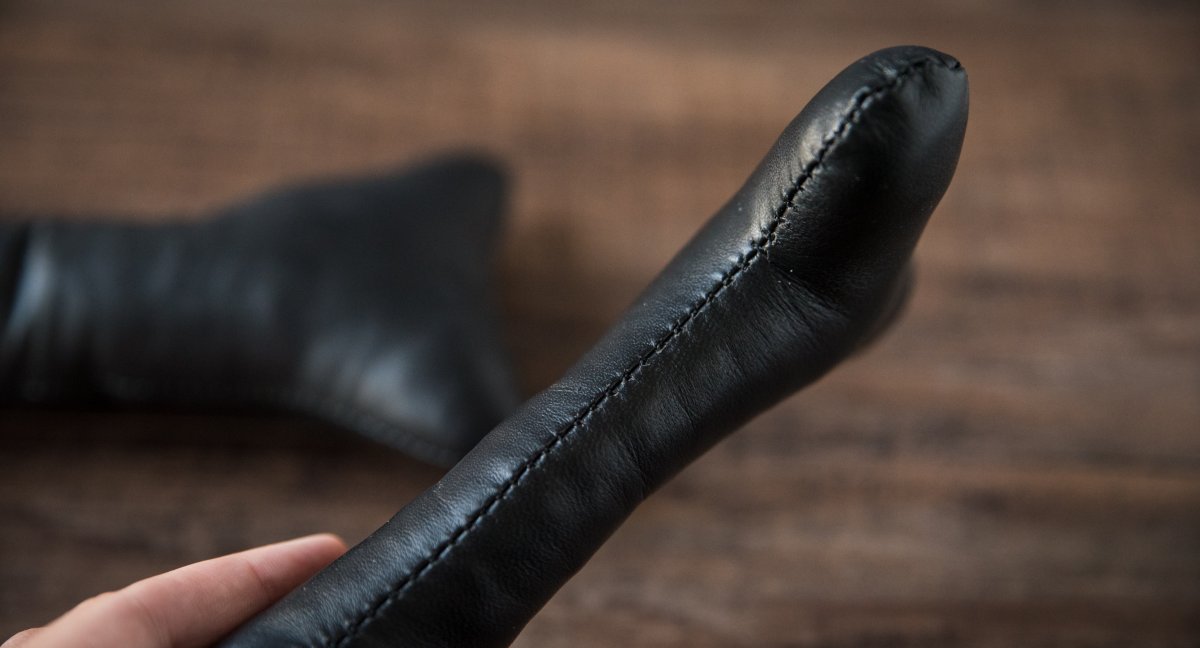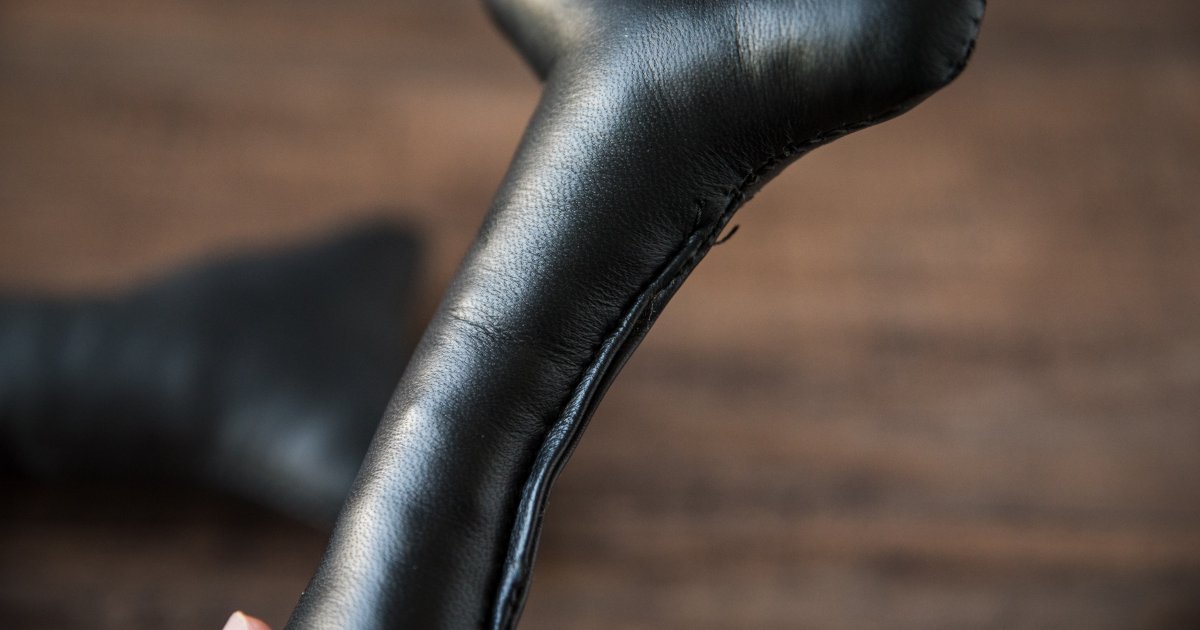 If you're looking for a more "authentic" puppy bone experience, I'd highly recommend the smaller bone. The smaller bone seems to have a lot more of the realistic mouth-to-bone ratios, and it also has a much smaller width which makes it easier to fully grasp in the mouth. If you're a larger "breed" who wants a larger bone, feel free to go with the larger one, but be aware that it doesn't quite have the same true-to-life ratios as bones-to-canines that the smaller bone seems to have.
That being said, the larger bone is noticeably, well, large. It's not an easy size to fit into the mouth. If you use larger gag sizes or know you have a larger mouth, the bone will likely fit in there just fine, but remember that you're likely going to be picking up these bones off the floor/furniture without hand assistance, so if you have a smaller mouth, you might find more realism in using the Small size. The Large size bone is hard for me to get into my mouth without hands, and my partner says it's a noticeable stretch for him. So keep that in mind. And if in doubt, consider bunching up your clothing to the same diameter measurement and trying to chomp into that to see if the Large leather bone will be a good fit for you.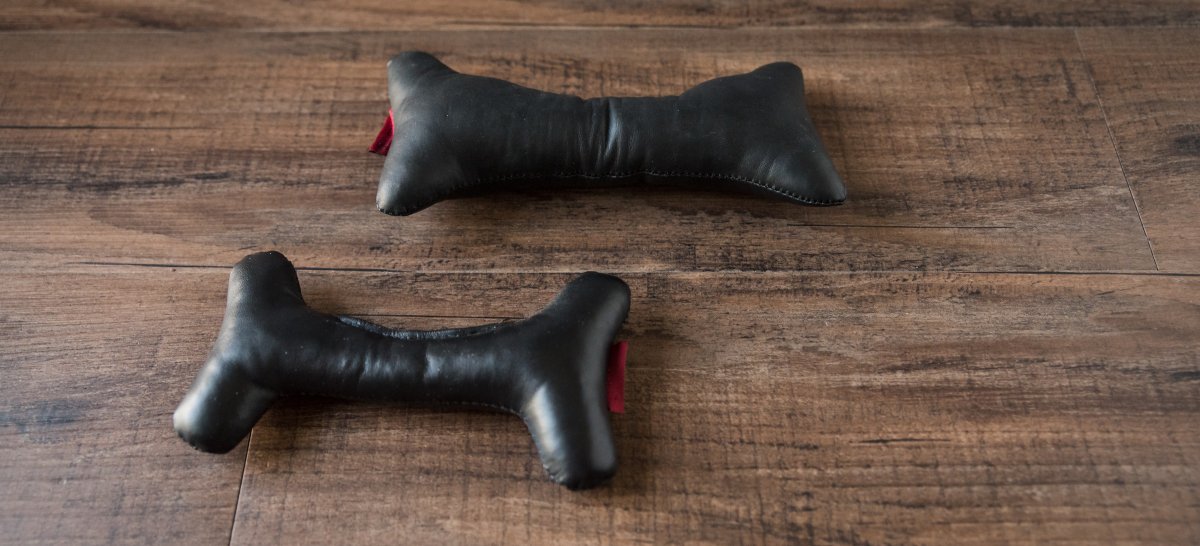 As these bones are made from leather, you should be aware that they're not going to be the most sanitary toys to share. Make sure your puppies are okay swapping saliva with whomever you choose to share these leather bones with.
Cleaning resembles how you'd choose to clean any other leather item in your collection. You'll need to use specific leather cleanser, and I'd highly recommend letting the bone sit out for a few days before playing with it again to avoid too much of the cleanser getting ingested. However, some people like that taste, so play safely and within your preferences. I'd avoid submerging the bones in water, though. The stitching is great at keeping the stuffing in the bone, but I don't think it will keep water out.
For storage, these bones are pretty simple. Just store these leather toys anywhere you'd like – but make sure you don't accidentally crush them under anything. As long as you don't flatten them or leave them out in direct sunlight for too long, they'll be a-okay.
Overall, we're particularly fond of the Small leather puppy play bone from MEO.de. It fits pretty easily into the mouth, is comfortable on the teeth, and is well-made enough to ensure most human pups aren't going to tear it apart within the first couple of uses. You do have to be a bit more careful about care and cleaning of these bones, but it can be worth it to offer a realistic puppy play experience for your roleplaying partner. Thanks to MEO.de for providing this puppy play leather dog bone for my Dog Play Leather Bone review.