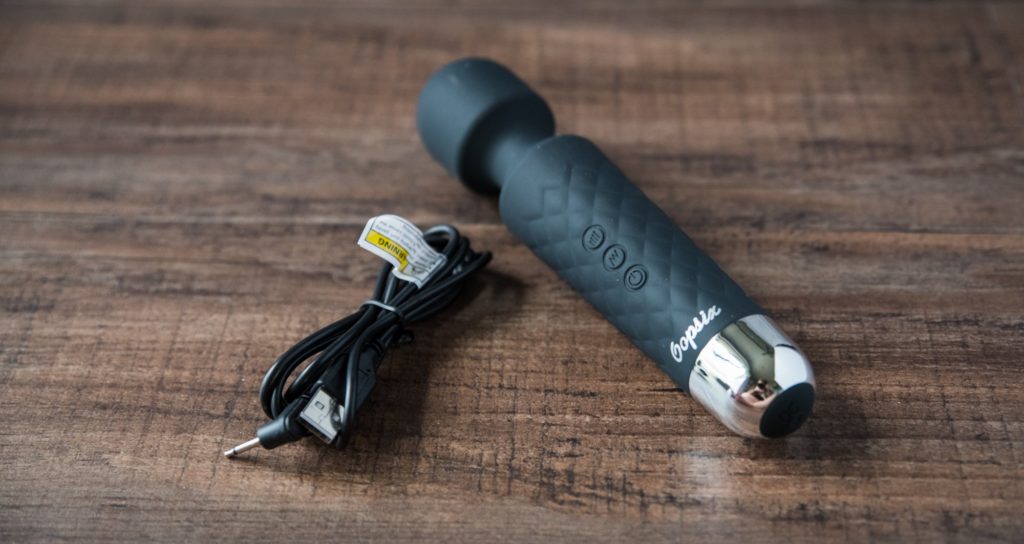 Affordable for most and made of a body-safe silicone material, the Oopsix Wand Massager is a portable wand massager option made by Oopsix and sold on Amazon. Entirely waterproof, this toy is USB rechargeable and almost 8″ in length (which makes it relatively short by "wand massager" standards). The toy is available in multiple colors, and it's marketed as a "body massager" for sore muscles.
The Oopsix Wand Massager vibrator comes in a standard cardboard box. This box is relatively thin, and it will likely get crushed if other items are stacked on top of it. The box does have some information about the massager itself, but a lot of the copy was clearly written by a non-native English speaker. It does, however, present the massager decently well, and you will understand enough of the packaging to understand the basics about your toy. The wand comes with a 50% charge according to the instructions. The wand includes the instructions, the wand itself, and the USB charging cable.
Making it so you never have to worry about batteries, this massager is rechargeable. The base of the vibrator features a small port where the charging cable can be plugged in to recharge the vibrator. The vibrator comes with a USB cable to charge the massager, but if you don't plan on charging it directly from a USB port, you'll need to provide your own wall adapter. The vibrator takes about an hour and a half to fully charge, and the light on the toy will go out when the wand is fully charged. I haven't managed to drain the battery fully yet during a single use, but I tend to only use it for about 20 minutes at a time – and for about two sessions – before I recharge the toy to full again. The instructions say it should last for 3 hours on a full charge, though, so I'm probably being overly cautious. (Is there anything worse than a vibrator dying mid-use, though?)
Controlling this vibrator is a pretty simple task as well. The wand massager has three buttons on its silicone surface. One button turns the vibrator on and off. Another cycles between all of the patterns. And finally, the third button allows you to adjust the intensity level of each one of those patterns. Yes, you can make each pattern stronger or softer – depending upon your preferences. Each one of these buttons is easy to press – but hard to press accidentally – and gives a nice, satisfying "click" when the button is pressed down. The toy is extremely easy to operate.
So how are the vibrations? They're pretty good. They aren't quite Hitachi-level, but they're on the more-powerful side of what vibrators usually offer. The vibrations aren't quite on the "thuddy" side of things, but they aren't entirely surface-level either. They will likely get numbing if you use the highest intensity for long periods of time – that includes both the area you're using it on as well as your hand. However, if you prefer to take advantage of patterns, take breaks instead of using it for 20 minutes straight, or use softer settings, it becomes less of a problem. I'm particularly sensitive to becoming numb via buzzy vibrations, and while this isn't the worst vibrator offender out there, it does cause some temporary numbness if used in one spot for a long time.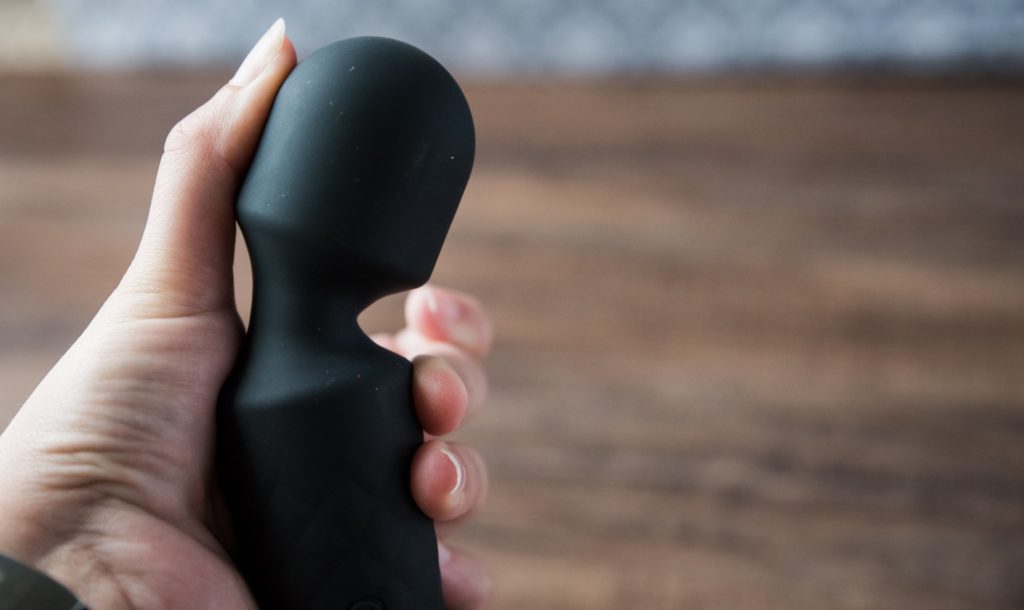 That being said, those vibrations are also decently powerful. They were enough to get someone to orgasm through their clothing without much of a problem, so while the vibrations can get to be a bit much, they're also particularly pleasurable at the same time.
When it comes to the noise this vibrator makes, though, you'll want to be a bit more careful. While it doesn't sound like a power tool, it can be heard pretty easily in the same room with music/television on. It gets harder to hear through a closed door, but in a quiet place, it can still be heard. If you're hoping to use it in close quarters, I recommend shutting your own door and turning on music to a decent level in the room you're in. That should mask the noise for anyone outside the door – even on the highest setting.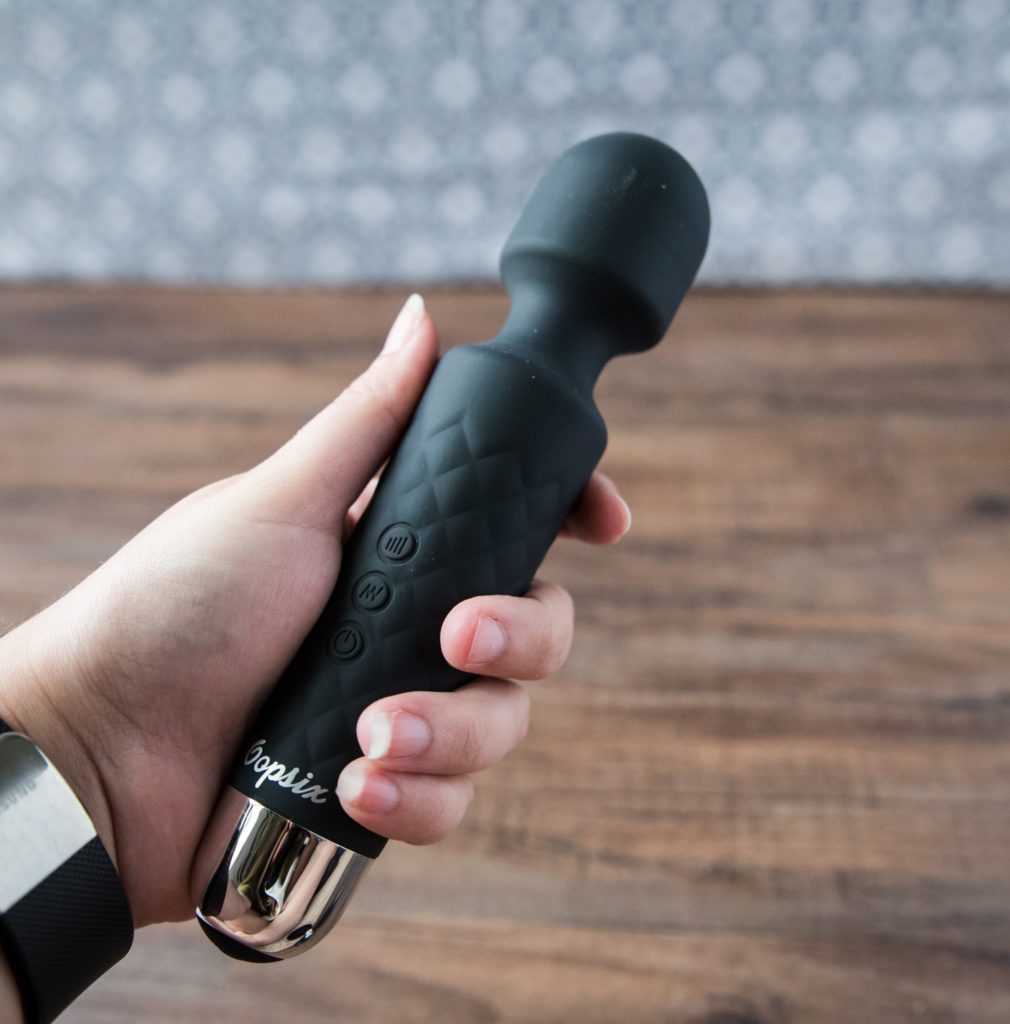 Of course, who doesn't love a vibrator that's covered in silicone. The silicone that covers the Oopsix Wand is nice and silky-smooth. It glides against the skin with very little resistance – especially with any lube or wetness. The head of the massage does offer a bit of flexibility, and it can be bent to the side with a bit of pressure. It doesn't, however, seem to deaden the vibrations. The vibrations seem just as strong whether the silicone massager's head is straight up or slightly bent to the side.
It is worth noting that the vibrations in this silicone wand massager, unlike the "standard" wand massager design, don't seem to stay focused in the head of the massager. Instead, you can definitely feel the intense vibrations from this toy all along the handle of the vibe. This can quickly begin to numb your fingers if you're sensitive to lots of finger shaking. The effect is less pronounced at softer vibration levels, but it can still be felt.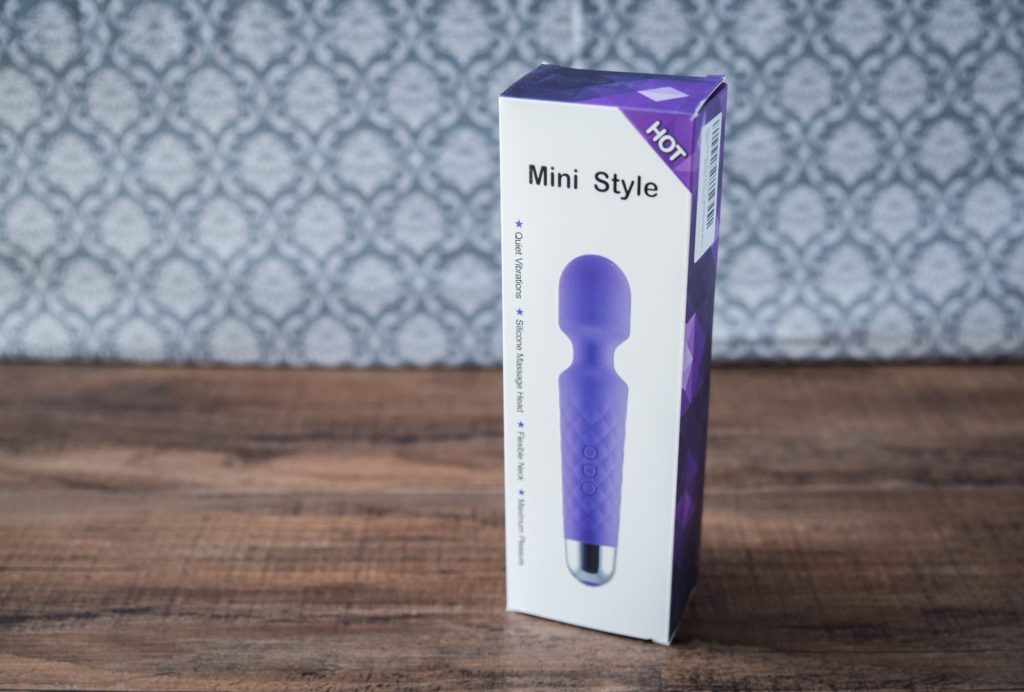 Cleaning a waterproof massager is pretty simple. Like any other waterproof massager, you'll just want to use warm water and anti-bacterial soap. You don't have to stress about getting water in any of the ports, so feel free to be as liberal as you'd like for cleaning. Especially if you ended up getting bodily fluids anywhere near the handle of the toy, make sure to spend a bit of extra time near the handle to get into those gently-etched patterns. For the most part, though, with its full silicone surface, the head wipes off extremely easily and with no problem. If you choose to use any lubricant with this toy, make sure to choose water-based options to avoid harming the silicone material of the wand massager.
Overall, while I'm unsure about the durability of a massager at this price point, I have virtually no complaints about the Oopsix Wand Massager. It has powerful vibrations, is made of a nice, body-safe material, and functions really well – and really easily. If you don't like vibrations on your hand, however, this may not be your favorite purchase. If you're on a budget and want a body-safe toy with moderately-strong vibrations, though, the Oopsix Wand Massager can provide. Thanks to Oopsix for providing this cheap wand massager vibrator for my Oopsix Wand Massager review.