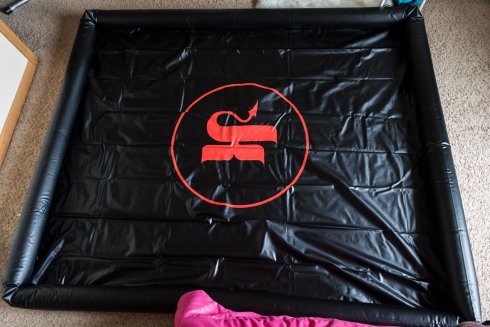 Whether you want to protect your floor during watersports, a Nuru massage, wet and messy play, or just want an easy "boundary" for any type of wrestling, the Kink Wet Works Ultimate Surrender Wrestling Ring is the simple solution. Made from thicker PVC material, this Wrestling Ring has inflatable edges that keep the "mess" inside the waterproof ring. Entirely black aside from the printed red Kink.com logo in the middle, this Nuru massage mat is 67″ in width with a length of almost 79″. The edges of the mat can be inflated for use and deflated for easy and discreet storage when not in use.
This Inflatable Wrestling Ring comes packaged in a thick, sturdy cardboard box. This box is of a decent weight, and it clearly displays what the product is and what it's used for on the box. While you might be able to use the box for storage, only a few very-talented people will likely be able to get this ring to roll back up to its original size to fit into the box, so you'll likely need to consider the box garbage after you take out the wrestling ring.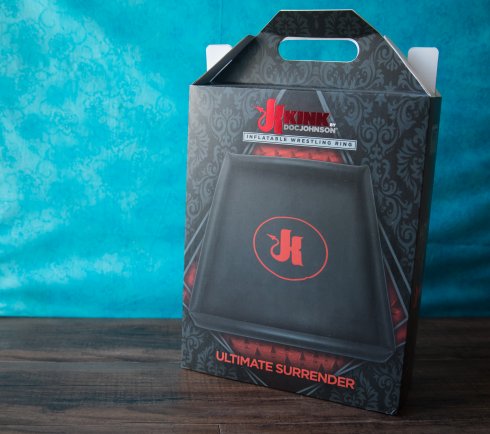 The Wrestling Ring isn't made of a sticky or "grabby" material. You know what I mean: like when you use a plastic tarp and you get sweaty from sex and the material "sticks" to your body and pulls off the ground. The Wrestling Ring doesn't do that at all. It's one of the things I love most about it. It has a thicker, PVC material that's heavier and not-sticky. It doesn't "cling" to the body – even while wet or sweaty. The slightly-textured surface of the PVC provides a bit of traction when everything is covered in lube too. It's still not "stable" when entirely lubricated, but it's certainly a lot easier to move on the Wrestling Ring than on hardwood floor.
Do be aware that the Wrestling Ring doesn't actually have any "padding" in the floor of it. Many Wrestling mats, actually for wrestling, do. This, however, is just a thick sheet of PVC along the floor for waterproof ability.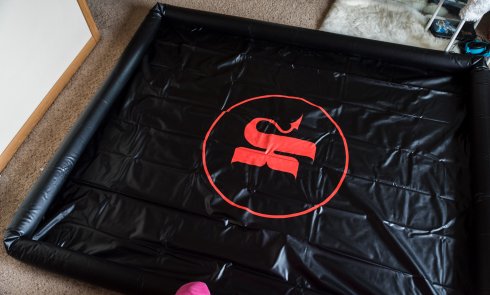 Of course, you want the Wrestling Ring to be large enough to actually "use" as well. The ring is large enough for two people to comfortably lie down – and if you use the mat over carpet, it's actually relatively comfortable for laying too. (Well, as comfortable as your carpet is!) If you're going to play with multiple people, the mat is easily large enough for a big scene to go down. It'd easily encompass 5-8 people if everyone was standing up around a center point.
Setting up the Wrestling Ring isn't too difficult. In fact, it's really designed to be portable and discreet with its inflatable design. It can be folded entirely down into a small package – though, honestly, you're going to be hard-pressed to get all of the air out so that it folds down as small as it came in its original box.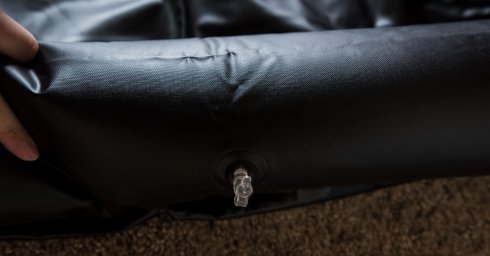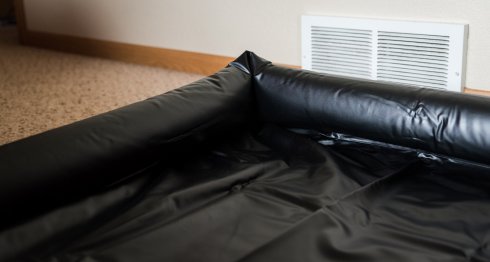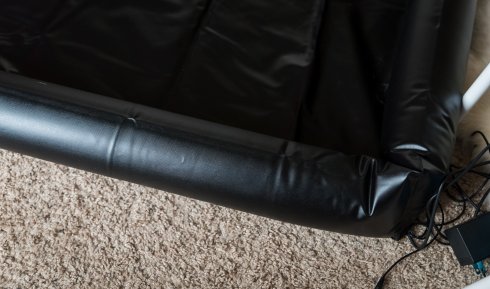 I'd highly recommend an air pump of some sort to inflate the edges of this wrestling ring. It includes a blow hole – like with inflatable pool toys – but the last thing most people want to be doing before sex is blowing up a giant pool toy. That being said, the Wrestling Ring only includes one of those blow holes – for the entire inflated edge of the toy. This, unsurprisingly, makes inflating the Ring a particularly slow-going process. Even with an air pump, it took the mat over 15 minutes to entirely inflate. That one little air pump has to be able to get air all the way to the other side of the mat, and it takes quite a bit of time. This would be frustrating to inflate by mouth – and honestly, considering most people would likely be playing with a partner anyway, it's a bit frustrating that there aren't two blowholes on the Ring.
When it comes to holding in liquids and other messes, that's what the Wrestling Ring is designed to do, and it does a pretty darn good job of it. The thick PVC seems pretty sturdy, and while the ring doesn't include any sort of "PVC repair kits", you could likely get one online if necessary. Despite pouring a ton of water onto the surface of the mat to test its waterproof-ability, it didn't leave a single bit of mess on the carpet – even as the water-level was creeping up the edges of the inflatable boundary. To be honest, though, most people will get no-where near that level of use, and it's certainly more-than-enough for most Nuru massage or watersports purposes. There don't seem to be any holes in the floor of the mat nor along the edges that allowed any of the liquid to escape. If you're extremely-worried about where you're placing the watersports mat, though, just make sure to do a quick check of the material to ensure you haven't accidentally poked a hole anywhere.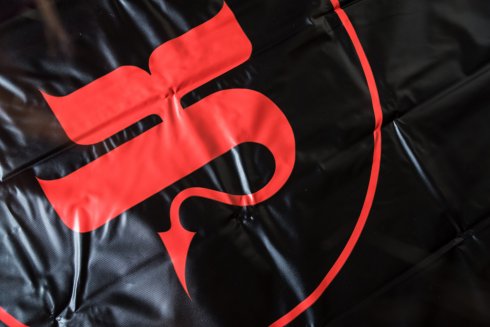 The waterproof wrestling mat can also be used without inflating the spill-proof boundary if you're not planning on having a huge mess. However, you'll have to deal with the excess PVC material sitting stupid-like along the edges. If you're only playing near the center, it's not too much of an issue. If you're hoping to roll around and use the mat to its entirely, you'll likely want to inflate the edges just to make the edges less annoying. As a note, the Kink.com Wrestling Ring doesn't have any particular sharp edges or painful spots when inflated, but when the edges aren't inflated, the edges can be a bit rougher on the skin. Not sharp-rough, but not particularly comfortable.
Now, the big question is "Would this be better than a cheap tarp?" when it comes to cleaning up messes. It really matters what "mess" you're dealing with. Only using a bit of chocolate syrup or whipped cream? You might be better off with a disposable tarp. If you're going to play in a lot of liquids, though, or splash things around, the Wrestling Ring's elevated edge is surprisingly awesome and takes any "overflow" messes down to near-zero. This is especially helpful for Nuru massages (tons of lube), very full watersports play (lots of liquid), and anything else where there may be a lot of liquid. It's also a better option if you're playing in a particularly sensitive area. If you're playing on a tarp in the middle of hardwood floor, you may not care if you get a bit of overflow. If you're playing with colored liquids/messes and in the middle of your brand new carpet? Yeah, the Wrestling Ring is a much better choice.
Cleaning up the wrestling ring after use can take a bit of time. I recommend leaving the border edges inflated as you clean it. It helps lift the excess material away from the crevices on the edge of the mat. Make sure you take your time cleaning around the edges if your mess happened to get that far into the crevices. Any type of cleanser should work fine, but if you only made a small mess, the material easily wipes up with towels or paper towels as well. Once you wipe up the spill, you can use anti-bacterial wipes to clean the surface for smaller messes. For a large mess like a Nuru massage or anything more solid (like foods, etc.), you'll likely want to get in there with a washcloth and cleansing solution. Having a place to clean it outside can really help as it can be a mess to get it cleaned inside a bathroom or on the carpet.
When it comes to storage, you'll likely want to keep it easily folded up somewhere. I've found that a small plastic storage container allows you to store the wrestling ring discreetly while keeping it in a small space and ensuring it doesn't end up touching anything sharp. It's a pretty sturdy material, though, so unless you put it near something sharp on purpose, it seems to hold its own pretty well.
Overall, while the Wrestling Ring could really use a different inflation method design, it's otherwise amazing. The mat doesn't stick to the skin, can be folded up for entire discretion, holds *all* sorts of messes really well, and feels durable enough to last a long time. My only complaint is that it's hard to convince myself to spend the time beforehand to want to inflate the sides; a single added inflation blow-up hole would have likely fixed this. Otherwise, if you're someone that enjoys messes and doesn't want to ruin your carpet or furniture, you're going to absolutely love the Wrestling Ring. Thanks to Eden's Toy Store for providing this nuru massage mat for my Kink.com Ultimate Surrender Inflatable Wrestling Ring review.