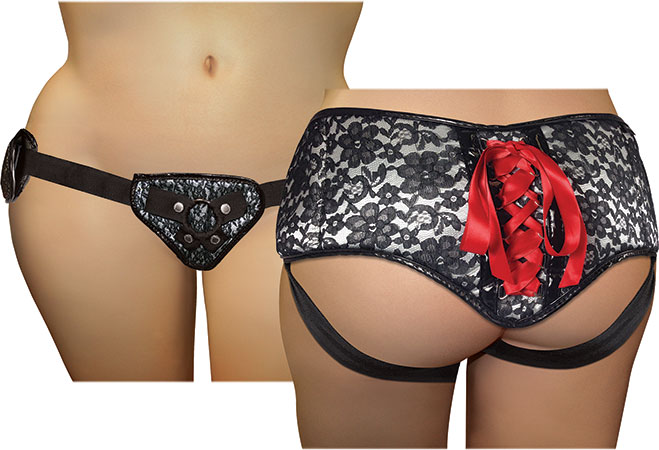 Designed for plus-size bodies to enjoy the feeling of strap-on sex, the
Sportsheets Plus-Size Grey & Black Lace Corsette Strap-On
is a strap-on harness designed for larger bodies that's sold by SheVibe. Its fully customizable design allows the harness to fit bodies between women's size 12 and size 30 (US sizing) and hips up to 72″ in size. That's a lot larger than most strap-on harnesses – even plus-size ones!) The harness is made with a four-strap design (jock strap style) and includes two metal O-rings that are interchangeable (one at 1.5″ in diameter and the other at 2″). The harness includes a small pouch for a bullet vibrator to pleasure the wearer, and it doesn't include a bullet vibrator or a dildo. However, it is compatible with all strap-on harness compatible dildos.
This harness comes in an easy-to-wrap, large box. The harness slides right out of the box and is ready for play. The box is a lot larger than the harness, so you may not want to use it for long-term storage. It's also not particularly discreet, but it does a good job of getting your new harness to you.
In terms of sizing, this harness has "plus-size" absolutely DOWN. This isn't just a sad "oh, it can fit a size 12 in women's" plus-size. This one goes way past my body all the way up to size 30 in women's. These straps are quite long, and it's clear that they were designed to be able to fit smaller and larger plus-size women. Since the back design is pretty large and covering itself, it also looks normal whether it's covering a size 18 or a size 30. However, if you're on the smaller end of the spectrum, you may end up wanting to cut down the excess strap length. The nylon straps make it so the harness is extremely adjustable, but they also cause a lot of dangling excess if you're on the smaller end of the spectrum.
When it comes to customizing the size, the nylon strap system makes it pretty simple. While it's really easy to use, I'd still recommend having most of your sizing concerns taken care of before your first play. It takes a bit to customize and pull the nylon straps for the size of your body. The corset design on the back is (luckily) just for decoration, so all you have to worry about is the two waist straps and two thigh straps. The thigh straps are more of a pain to adjust than the waist straps, but both use a simple system that just requires you to pull tautly on the strap near the buckle. It's much harder to loosen if you get things too tight, but in terms of how easy it is to pull on and tighten for a good fit, it's extremely easy. I can't say that I'm entirely fond of how this harness fits, but it's more personal preference than anything. I prefer my harnesses to sit lower, but the design of this harness seems to have it sitting higher up on the body than I'd prefer. It tends to place the dildo more on the lower area of your stomach than over the vulva area. Some people really prefer the excess padding and angle of having a dildo situated there, but it's not my preferred arrangement.
As for comfort, though, this harness definitely has it. The entire Grey and Black Lace Corsette Strap-On from Sportsheets is very comfortable. Beyond comfortable, actually. It doesn't rub uncomfortably anywhere and (important for plus-size bodies), most of the contact points are relatively large to avoid digging into skin. The front panels and back panels are actually slightly padded and backed with a soft, satin-like material for added comfort. The nylon material seems sturdy, and since you're able to easily customize your own size, you can keep the harness from being "too" tight in order to avoid the nylon straps getting into the skin.
The dildo fastens into the harness really simply through the four buttons on the front of the harness that hold the O-ring. Like previously mentioned, this harness comes with multiple O-ring sizes. Just unbutton the buttons around the O-ring, and you can switch out the O-ring. To simply switch out the dildo while still wearing the harness, it's easy to unbutton a single button, pull the current O-ring (with dildo) away from the body, and slip in another dildo. This makes it easy to switch out dildos in the middle of play.
To make it easy after playtime, this harness was designed to be machine washable. I've thrown it in a lingerie bag, put it in the washing machine, and then put it in the dryer on a gentle setting. It has had no problems with that. I keep it relatively bunched up in a drawer, but it doesn't seem to mind that either. If you want to keep the back-end lace looking as gorgeous as possible, though, I'd recommend at least laying that part flat. It helps reduce any creasing in the material or padding. Overall, for a plus-size body, I don't think I've seen many better harnesses. Not only does this one fit much-larger bodies than a lot of plus-size harnesses fit, but it also was designed for a plus-size body, and it's easy to take care of. I'm not as fond of how the harness sits on my body, but that's a personal preference that others may not share. I would definitely recommend it for plus-size bodies – and it's gorgeous. Thanks to SheVibe for providing this plus-size harness for my Sportsheets Plus Size Grey & Black Lace with Satin Corsette Strap-On harness review.