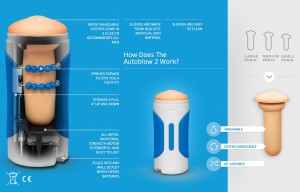 Sex toys can kinda seem like the same old thing, over and over, once you get used to them. That's why I think it's so important that we help fund and improve technology, so we all can have the sex toys that bring us pleasure while also being different from the standard toys that everyone seems to sell.
The latest Autoblow 2 project from Brian Sloan. Experienced in making sex toys, the Autoblow 2 is going to be their first revolutionary sex toy that really stands out among all other male masturbation sleeves. Designed to be the most realistic robotic oral sex stimulator, this toy is fully automated. Instead of the standard sex toy that requires you to move your own hand, the Autoblow 2 male masturbation sleeve brings lots of changes to the table.
For one, they don't use batteries. You won't have to run through your entire supply of batteries. Instead, it plugs into a wall outlet to lead to sustainable power AND stronger stroking. To make sure it always has the perfect fit for you, the Autoblow 2 is going to work with 3 interchangeable sleeves. Change out the sleeves for the girth of your penis, and you'll have a sleeve that's perfect for your size – not too big and not too small. The removable sleeve also means that it's going to be a breeze to clean as well.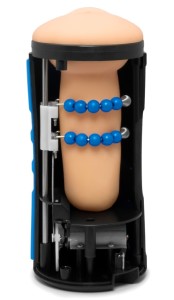 The design also allows for effortless use as well. Just hold the masturbator in place (or have your furniture hold it into place), and that's all you have to do! The motors will provide the stroking motion for you. With its outlet power source, the slower motions still function properly, so you can enjoy the gentle caress of softer thrusts just as much as the harder thrusts.
For those that are concerned about the price, realize that the Autoblow 2 is actually pretty reasonably priced. If you back now, you'll get it for $50 off which is awesome. A regular, non-powered male masturbation sleeve can set you back $75. If you're a female, a decent-quality vibrator could set you back $150. So in terms of pricing, I'm actually surprised the Autoblow 2 is priced as affordably as it is. I like it!
Doesn't that all sound awesome? It does, right? Well, the Autoblow 2 is currently working on an IndieGogo campaign to get their development fully funded. They've already hit their original goal, and they're working on their stretch goals now, so if you contribute, you're definitely going to get the contribution perk you choose (yay!) The Autoblow 2 toys will be shipping out in July 2014, so you're going to get your masturbation sleeve pretty quickly here too. (Faster than some online orders I've made, actually)
So, head on over to the IndieGogo campaign and contribute to help them reach their goal. They're almost to their first stretch goal which will allow them to make vaginal sleeves alongside the current oral sleeves they have!