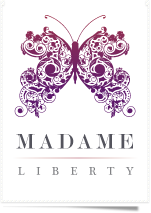 A new site that I hadn't heard of, called Madame Liberty, contacted me and wanted to help one of my amazing readers win some gorgeous lingerie! Madame Liberty is an online story that specializes in luxury adult toys and designer lingerie. Among their brands is Jimmyjane, LELO, Leaf, Baci Lingerie, Tenga, Jopen, and Pleasure State. I'm definitely quite impressed by a good chunk of their lingerie choices.
To help celebrate their amazing store, Madame Liberty is letting one winner win a £60 / $100 voucher for anything in the store! You can choose your favorite sex toy, or you can spoil yourself and choose some stunning lingerie. In particular, I'd recommend the LELO Ella, Key Comet G, any Tantus dildos, or many of the other items that they sell!
Of course, Madame Liberty ships internationally with no restrictions as well, so you don't have to just live nearby in order to take part in their fantastic selection.
So, use this Rafflecopter entry form to enter to win this AMAZING voucher to have a mini sex shopping spree on their website! This giveaway will go until March 28th!