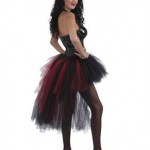 The Vampira Red and Black Burlesque Tutu is a tutu made of tulle designed sold by TabuToys adult toy store. With a high-low design, this one-size-fits-most red and black skirt is much shorter in the front with a much longer design in the back. It hits about mid-thigh in the front and about mid-calf in the back. This makes for a very interesting design with this tulle skirt.
This tutu comes in a standard "costume bag". This bag shows the skirt and an example outfit on the front, and the tulle skirt is packaged into the bag. This is a good and bad thing. It's good since you have a reseable bag to store it in. It's bad because this squished-up bag messed up the tulle from being packaged so tightly.
The first thing you'll notice is that the tulle on the skirt is not nearly as flat and full looking as in the pictures on the website. It's squiggly, and it's curved in different directions. I think this is from being packaged in the packaging for a long time. The tulle is pretty messy, and it's not as nice and as straight as the tulle skirt in the picture is. Instead, it's furled into curly-q's and just twisted up. It seems like it's going to stay that way for awhile, too. While I can lay them straight, they go right back to being curly after I let them go. With a heavy object on top of them, though, they might straighten out if I leave them there awhile.
The twisted tulle isn't such a bad thing, though. It gives the tulle skirt a very unique look. It may not be quite the look that you were going for in the first place, but it's definitely something that is unique compared to most regular tulle skirts. The crumpled factor of the tulle also means that it tends to "poof" out more than I think it would have originally. It doesn't lay flat, and it actually looks really cute hanging like that.
The Vampira Red and Black Burlesque Tutu is a pretty cute piece. However, it may not go with everything you own. In particular, it tends to go well with a longer corset piece over the chest, or it also could be layered underneath a dress for a poofy-er appearance. Be aware that it really doesn't cover your panties as it is see-through, so you'll want to have short-shorts or be okay with exposing your underwear if not wearing anything on the bottom. It's hard to see from the back, but again, it's see-through tulle, so it won't do a 100% job of keeping out the views to your bottom and crotch.
It's also worth mentioning that it's not really a "petticoat" nor a "skirt". Those two things usually have some sort of material or fabric towards the top and then the tulle is attached to the bottom of that fabric. The Vampira Red and Black Burlesque Tutu is made differently. There's a stretchy piece of elastic that's the waistband, and the tulle is all just tied around this piece of elastic. If I'm being honest, it probably wouldn't be hard to replicate it on your own if you wanted. So just be aware that it just has that single band of elastic where all the tulle is located.
And finally, what about the fit? My partner is a size 5/7 in jeans, and the skirt fit fine. He says that it could easily stretch to twice that, and my personal estimation is that it will probably fit up to a size 12. It's a very stretchy elastic, and for most average sizes, it will probably fit just fine.The length will differ for everyone, but for most people, I imagine the front will be around mid-thigh and the back will be around mid-calf in length. My partner is six foot, and you can see where the tutu hits him in the picture.
Overall, the Vampira Red and Black Burlesque Tutu is absolutely adorable! It's not quite what was pictured on the packaging, but it still works really well, and it will work great for a vampire costume – or after Halloween, it will make a fantastic pair with a bra or corset for sexy gothic-type lingerie. It seems like it will hold up pretty well to frequent use as well which is always a plus! I definitely do recommend this if you have an idea for use in mind! Thanks to TabuToys for providing this red and black tulle skirt for my Vampira Red and Black Burlesque Tutu review.